St George's Day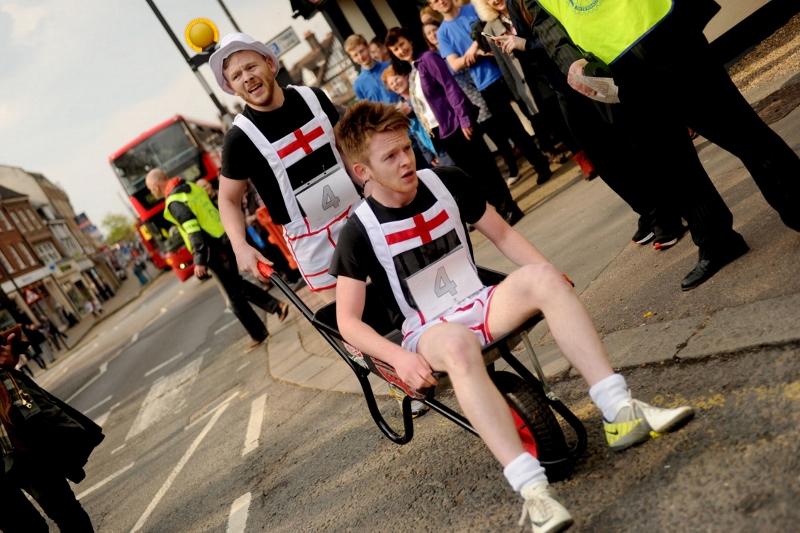 The annual celebration in Pinner High Street, featuring the famous Pinner Wheelbarrow Race
The annual St. George's Day celebrations are held in Pinner Village High Street on a Sunday in April close to St George's Day. The picturesque High Street is closed to traffic for the day and transformed into a family friendly venue for celebrating the patron saint of England, St George.
This year's St George's Day celebrations will be held on Sunday April 23rd - St George's Day!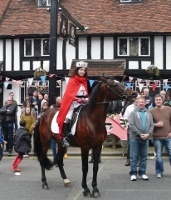 The celebrations begin with the Mayor of Harrow leading a parade of District Scouts to the War Memorial where the Scouts renew their Promise in the presence of the District Commissioner.
The entertainment includes St George on his trusty steed (with the occasional dragon), singer Gemma Turner, the Merrydowners Morris Men, Punch and Judy, a petting farm, children's rides plus many other stalls and entertainers and the ever popular fire engine.
The Queens Head holds a beer festival and barbecue, Friends Restaurant produces a tasty hog roast and many other local food outlets and stalls tempt the revellers with their own culinary delights.
The centrepiece of the celebrations is Ye Olde Wheelbarrow Race, a unique Pinner event in which teams of two take it in turns to push their partner in a wheelbarrow, drink beer and race round the streets of Pinner.
Watch the 2015 Wheelbarrow Race courtesy of Harrow Radio