Helping Richard
Domitille de La Gorce, from Youth Action for Change International (YACI) was at our 12th April meeting to tell us about Richard Anigle, founder of the international charity, Espoir de Demain.
Richard lives in Porto Novo, Benin, in West Africa with his brother Hervé. Orphaned at just 11 years old, Richard thought his education was over. With no one to pay his school fees or buy his books he thought his dreams of becoming a doctor would never be fulfilled.
He made a meager living tutoring children in their village. However, his earnings were barely enough to buy food, let alone cover his school fees. A chance meeting with Domitille in 2004 changed everything. Since then, Domitille, her friends, and supporters of the charity YACI have been helping Richard and Hervé through secondary school and university.
Richard is now in his final year at a medical university called the "Faculté a Caractère Spécial de Formation Médicale de Porto-Novo (FCSFMP)" and in just a few short months he hopes to graduate as a doctor and serve his local community, where there is a huge need for medical professionals. However, the costs of graduating are huge.
Richard is in 7th and final year of medicine studies and he just needs to present his thesis to be able to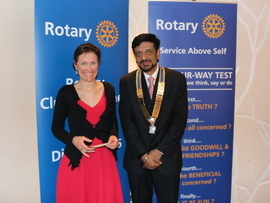 become a general practitioner. YACI has been able to pay for his 7th year of school fees but have now completely run out of money. To be allowed to practice as a doctor, Richard has to first present his thesis. The costs of preparing his thesis, getting his university's supervision and presenting the thesis are €1,145 / £1,600. President Shirdi presented Domitille with a donation to help go towards covering these costs.
The nature of Richard's studies means he won't be the only one to benefit from our donation. There is a severe shortage of doctors in West Africa, particularly those willing to serve poor communities, and Richard is determined to support children who need him most in Benin.