LEND WITH CARE.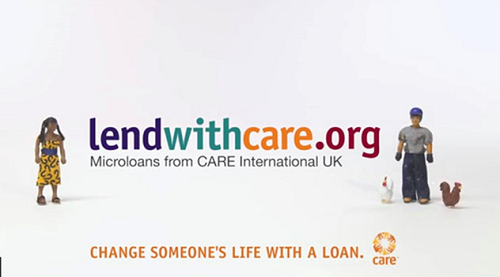 Lendwithcare is a revolutionary way to help some of the world's poorest people work their way out of poverty with dignity. Lendwithcare allows you to lend as little as £15 to fund a small business and once your money is repaid you can choose to recycle your loan to support another poor entrepreneur, or withdraw your money. Lendwithcare is currently working in ten countries.
Lendwithcare is an initiative of poverty fighting charity, CARE International UK.
100% of the money loaned through Lendwithcare goes to the entrepreneur. For more information Click Here
Chatteris, £20 MILLION has just been lent to over 93,000 entrepreneurs through Lendwithcare!



This is all thanks to

YOU

and the rest of the Lendwithcare community. I hope you enjoy our short film featuring some lenders sharing what they love about Lendwithcare and why we need to spread the word:
Thank you so much for being a part of Lendwithcare. Every £ you've lent has helped to make this happen. It is wonderful to have your support.
With my warmest wishes


Tracey Horner
Head of Lendwithcare
CARE International UK
Report for May 2019
Repayments in the month – 184
Additional loans fully funded - 52.
Total repaid - £7,157.07.
Amount reinvested – £875 including £20 towards administration.
Total lent - £9,653.23
Account credit - £59.71.
Cash at bank to reinvest - £24.16.
Cash in hand to be paid into bank account - £9.
Entrepreneurs helped – 2,2,04.
Family members helped – 7,359.
Number of loans made – 641.
Jobs created – 1,201.
There are now 72 Clubs in the 1080 Group supporting LendwithCare, and they have collectively loaned £271,389.43.