The Hub Staines
At a recent meeting in June, we welcomed Ms. Kerry-Louise Trevor as our guest speaker who came to tell us a bit about the work of the Hub which opened an office in Staines in 2015, and Kerry was appointed its first centre manager.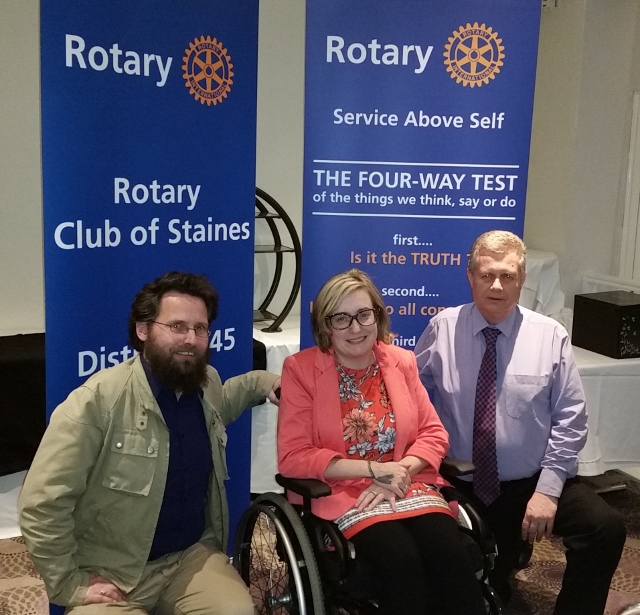 Kerry herself is disabled and wheelchair bound but doesn't let this inhibit her. She clearly loves her job and spoke with evident passion of the work the Hub carries out. Kerry was accompanied by Keith, who is a volunteer. Kerry explained to us the work of the Hubs "Staines Hub is part of a County wide volunteer organisation called The Surrey Hubs. The Surrey Hubs are local services that provide information and support to help people stay independent. They are based in the heart of the community and are open and accessible to everyone. Our teams of experienced volunteers provide a fast, efficient and knowledgeable information service. The Hubs offer access to advice and signposting to services for disabled people, older people, carers, families and the wider community."
The Surrey Hubs are gateways to information, advice, advocacy and services to help more people to find the information they need to make informed choices about care and support options available in the community.
Whilst some of the funding comes from Surrey County Council, the Hubs are a partnership of Surrey Disabled Peoples Partnership which provides advocacy support on a range of issues for the disabled and elderly; and Get Wise which provides information, support and advice on all aspects of welfare benefits, including home visits.
Kerry explained that such services are not immune from budgetary forces, and that in the last two years two of the smaller hubs in West Surrey have had to close, whilst office hours cut back to 10am to 4pm.
Also operating from within the Staines Hub, is Choices café, part of Surrey Choices; the café provides an opportunity for disabled persons to receive training as a Barista so that they can then seek work as a Barista with one of the well-known local coffee shops. Choices is open Monday to Friday from 9.30am to 2.30pm and offers range of drinks, paninis and sandwiches, as well as a range of coffees – of course!