A Poem for Her Majesty
Children from schools across Staines and Laleham celebrated the Queen"™s 90th birthday by writing Her Majesty a birthday poem.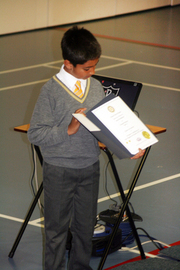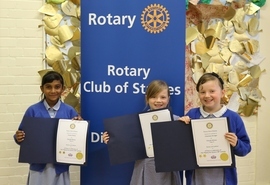 The 'Poem for Her Majesty' competition was organised by Rotary in Great Britain and Ireland for 7 to 17 year olds to get creative and give the Queen a special birthday gift.
Having received a magnificent selection of entries, four poems were selected and put through to the regional finals; the winning entries being sent off to Buckingham Palace for Her Majesty to enjoy.
President Elect, Kevin Bridge commented: "There has been an excellent response from schools submitting over a hundred poems. The winning poems were imaginative, well written and a joy to read and I hope The Queen feels the same way."
Rotary is committed to providing opportunities to young people, running a number of annual national competitions to develop their skills. These include Young Chef, Youth Speaks, Young Photographer and Young Writer.