Young Musician Dundee Final - Instrumental
Dundee Final - Rotary Young Musician
Instrumental Final of RotaryInDundee's Young Musician of the Year
On Friday night the Dundee Instrumental Final of the Rotary Young Musician of the Year took place in the University Chaplaincy.

Eight talented young players had won through to the final after the semi-final on Wednesday. Adjudicator Jerry Randalls and a large audience were treated to an eclectic mixture of music from piano and violin to drum kit, clarinet and flute. Composers from Bach and Beethoven to Rush's Neil Peart and Miles Davis featured in a superb display of Dundee's instrument talent. Supported by their music teachers and accompanists they again demonstrated why Dundee youngsters have won the District round of the Rotary Young Musician of the Year for the last three years. Playing a Back Prelude and Fugue in C minor and movements from Grieg's only Piano sonata, Robert Zhan won the handsome cup and will lead the team of five to Perth on the 25th February. Joining him will be drummer Kailas Narayanan, vilonists Tabitha Kobine and Rachael Lindsay and fellow pianist Abhisri Chaudhuri. They will join the five vocalists from last week's final led by winner Lynden Nicely.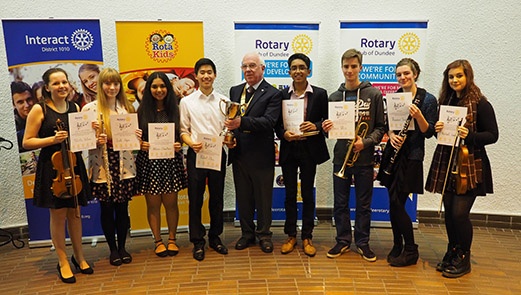 The cup was awarded to Robert by President of Dundee Rotary Club's Peter Leyland. Agreeing with Jerry Randalls he said we had listened to an outstanding evening of music by very gifted young performers and he thanked the music staff and parents for all the support they give our fine young musicians.