STOP PRESS: TONIGHT'S MEETING CANCELLED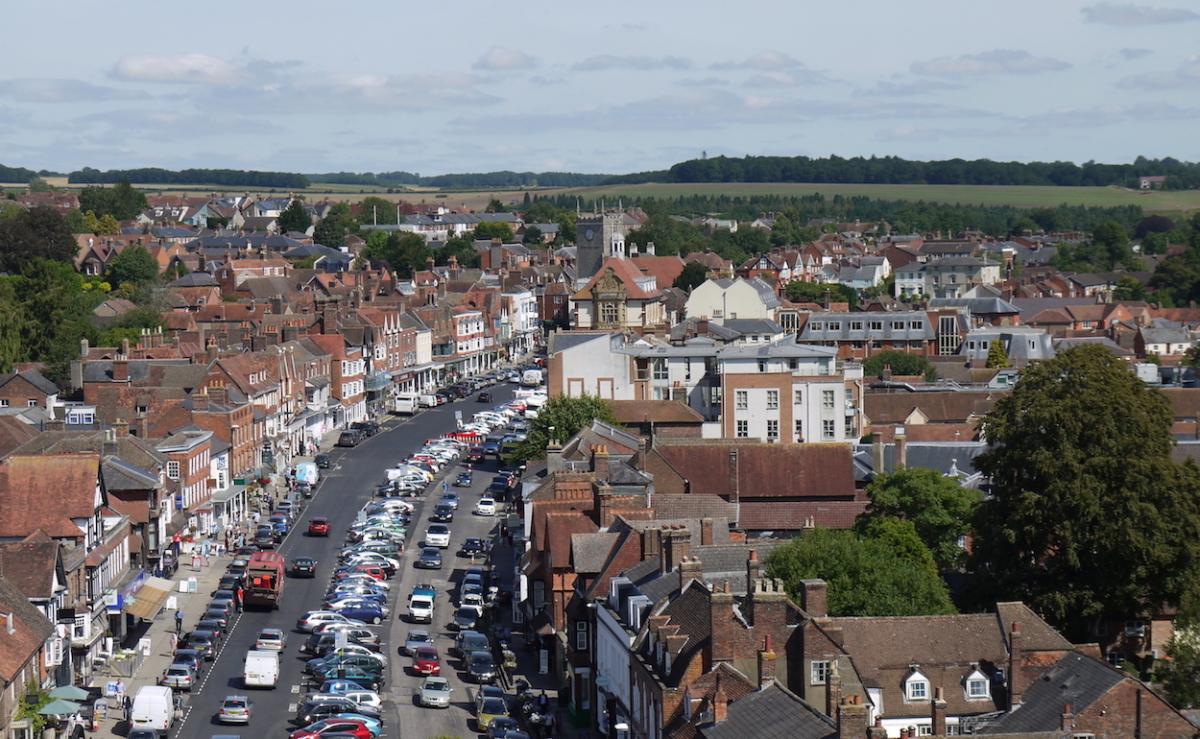 CLUB NEWS
News of the many social and charitable activities and events undertaken by Marlborough and District Rotary Club
Reports of earlier events are in Club News Archives (found under "What We Do")
---
15 March 2018: Morgan Factory Visit Great Success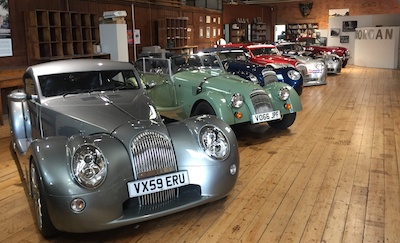 Last Thursday morning 8 Rotarians and partners met at the golf club car park to start their journey to Great Malvern and a much anticipated list to the Morgan factory.
Arriving in good time the party, led by Tony Green, feasted on sausage rolls, pasties and coffee to get up the energy for the forthcoming two hour trip around all sections of the Morgan manufacturing process, from initial woodworking in ash to make the body shapes through the "tin bashing" shops, engine and gearbox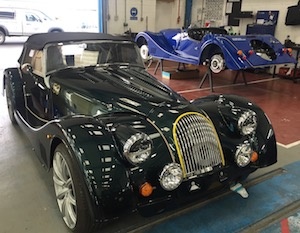 assembly, upholstery and trim to the finished painting and detailing. It was fascinating journey through the old skills of coach building a timeless motor car. Our guide "David" an owner of a Morgan Plus 4 showed great knowledge of the marque and helped make the trip most interesting.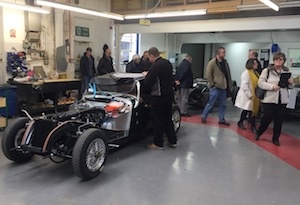 The group saw all models being made from the Morgan 4/4, through the Plus 4, the 6cylinder Roadster, a special final edition of the Morgan Plus 8 as well as the Aero 8 and the new three wheeler. The visit finished with a visit to the museum which housed some of the rarer versions of the marque.
Soon it was time to load up into our more prosaic transport and head sedately back to Marlborough. Thanks to Tony for his excellent arrangements and commiserations to the Rotarians who all missed an excellent day out.
Editors Note: If you are wondering why there have been no event and activity reports for the past two months it is because I have been away and none have been sent to me for publication.
8 January 2018: Rotarians Hear from a Unique Designer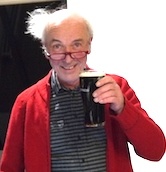 Stewart Dailly, President Elect, conducting the first meeting of the club for the New Year introduced guest speaker Fred Baier from Pewsey, who presented a fabulous talk on his life long work making furniture mostly in the baroque style. He began by describing his young life in Hull where by his own admittance he was not good at the three 'R's and was far more inclined to art, which he would follow at college. He subsequently spent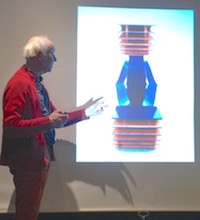 several years with a hippy group where his ideas would challenge the imagination. His designs of the most unusual furniture are found in museums world wide, which Fred displayed vividly with many photographs. In the vote of thanks Paul Cowan said Fred's imaginative creativity allowed him to design and finish unique pieces of furniture to an exceptionally high standard.
---
18 December 2017: Christmas Party at the Golf Club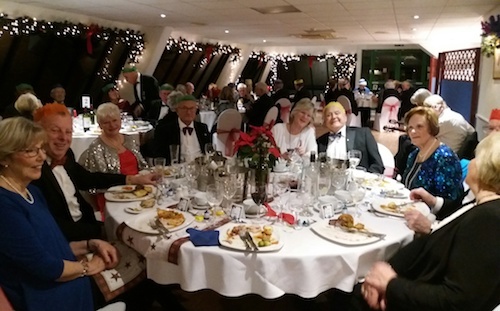 Rotarians, partners and guests gathered at the Golf Club for their Christmas Party. President and the evening's Master of Ceremonies, Cedric Hollisworth opened the festivities by thanking the social committee for organising the event and arranging the entertainment, the guitar playing Gauloise Brothers from Bath. The guests quickly entered the spirit of the evening, conversation flowed, crackers cracked, poppers popped and the golf club provided their usual excellent fare. All to soon the Gauloise Brothers had finished their set, the coffee and chocolates had been consumed, the wine bottles were empty and taxis were waiting by the front door. An excellent evening had come to an end and the Rotarians and guests went out into the cold night and headed home.
---
3 December 2017: Chris Jensen Entertains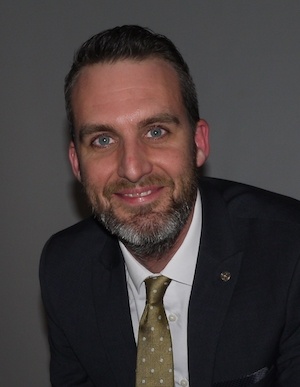 Our newest member, Chris Jensen, entertained Rotarians with an interesting talk on his life, family and career at our meeting last Monday.
He talked about growing up in Newcastle and the surrounding countryside, his initial lack of diligence at school before suddenly realising the benefits of education. His exploits at university were glossed over, probably to avoid embarrassing the Rotarians present, but evidently he did undertake sufficient academic work to enable him to receive his degree.
A marriage to his wife, Rachel, met whilst at university and two sons established Chris as family man while a career in banking and financial services provided sustenance. He led his audience through his career with several well known high street financial institutions before recently branching out on his own to be a financial adviser linked to a well known Wealth Management Company.
The talk was most interesting and it was no surprise to learn that at one stage he had had a part time job as presenter on local radio station.


1 December 2017: Father Christmas, his Elves and the Marlborough Lights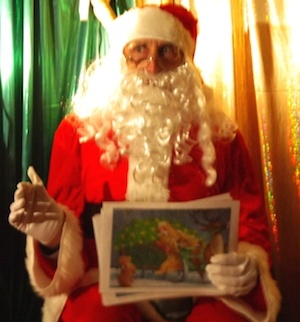 The work to prepare for Father Christmas' Grotto in Marlborough Town Hall commenced in earnest on Thursday 30 November, the day before Father Christmas and his elves were due to arrive. Organised by Gerry Hooper a team of Rotarians and partners started to erect the grotto under the watchful eye of Jennie Larsson, an ex-Rotarian who had kindly given up her time to lend her expertise to supervise the finer points of grotto making. Half way through the process Christmas trees arrived from Wootton Rivers to provide a forest entrance to the grotto. With most of the work done the team repaired to the Royal Oak for a well earned lunch and refreshment before adding the finishing touches. As well as the grotto the cafe was established and looked attractive and ready for the goodies to be served on the day.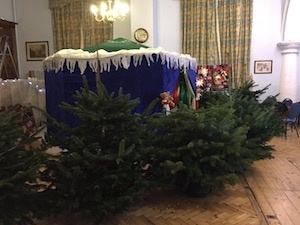 Friday dawned cold but dry and by early afternoon Father Christmas and his elves and arrived in their grotto and the cafe was stocked and ready to welcome customers. Soon the Town Hall and its grotto was alive with excited young children anxious to see Father Christmas for a story and then go on to his naughty elves to receive their present. Meanwhile parents and others were sampling the delights of the cafe's cakes, teas coffees and mulled wine.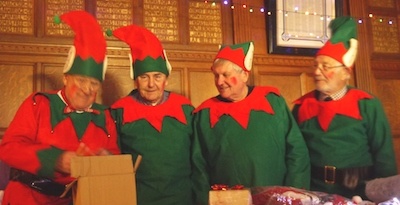 Outside, in the cold, stalwart Rotarians, assisted by council staff and military personnel were keeping watch on the road closures and the crowds assembling for the switch on of the Marlborough illuminations, including the Rotary Christmas Tree (donated by T H White). Soon it was time for another Father Christmas (most confusing, I thought there was only one) to travel around the town in his sleigh before the lights were turned on by a presenter from BBC Radio Wiltshire.
Choirs sang and bands played to entertain the crowds for an hour or so but by 8pm it was almost all over; all of the Father Christmases had gone home, followed by their elves, the crowds had departed, the stalls in the High Street were packing up and Rotarians were clearing the Town Hall. By 9pm everything was back to normal, awaiting Christmas 2018.
28 November 2017: Rotary Quiz Team Almost Win - But No Photo to Record this Feat
Three brave members, Peter Waine , Martin Couchman , and our President ventured into enemy territory at Ogbourne Downs Golf Club , supported by our scorer Gerry, to do battle with Cirencester and Thamesdown.
As usual the Quizmaster was Peter Hayman , who valiantly tried to keep order, despite what was clearly a massive variation in the degree of obscurity of the questions, depending which team was answering.
Marlborough quickly fell into their stride and took up the bottom position, as a result of not knowing that Redditch housed the National Needles Museum , and that the Gilbert and Sullivan Opera played in the 2012 Proms season , was Yeoman of the Guard.
However not despairing the team picked up some bonus points and by half way were still in touch with the leaders Cirencester, having at one time been 14 points behind.
After a refreshment break, which clearly did reach all parts , Marlborough stormed into the final session , and picked up more bonus points , so that after 10 rounds were level with Cirencester on 51 points, having overtaken Thamesdown.
A request for a recount failed to change the scores , as Gerry had been very diligent , and totally unbiased
Thus the quiz ended as a draw with Marlborough and Cirencester on equal points, however despite answering more questions correctly the rules stated that Cirencester were the winners , because they had more individual questions correct, by 10 to 7.
So we maintained our record of not going beyond the first round, but it was a close run thing.
26 November 2017: 5000 Crocuses Planted for End Polio Now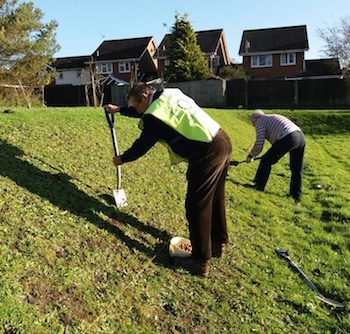 The Rotary Crocus is one of the leading international fundraisers for the End Polio Now Campaign.
Since 2012 Rotary Crocuses have raised around £1,200,000 and been distributed in 15 countries.
They are an easy way for every Club to reach out to your wider community to raise funds and awareness for End Polio Now. At the same time they help to raise the public profile of Rotary.
This year the club decided to plant 5000 bulbs throughout the district, a task ably led by Jack Torrens and closely supported by other Rotarians. Jack and an assistant are pictured planting some of the bulbs in Pewsey.




26 November 2017: Rotary Christmas Tree Erected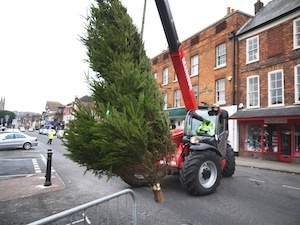 Last Sunday saw hardy Rotarians assemble in Marlborough High Street for the annual task of erecting the Towns's Christmas Tree.
After much negotiation with the Town Council and Wiltshire Council over the use of the parking bays it was decided that the tree could be placed in its usual slot. Once again the tree has been generously donated by T H White, who also loaned the lifting vehicle and driver, without which the task would have been almost impossible.
In true Rotary fashion the erection was completed, the surrounding barriers and signs added and then it was off for a welcoming and warming drink.
The donations collected by Rotary this year will be for Julia's House childrens hospice and other charities supported by Rotary
21 November 2017: Rotarians Enjoy a Magic Evening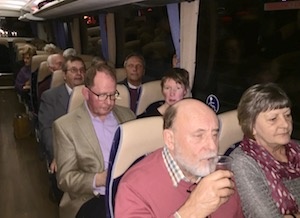 Last Tuesday found 30 Rotarians, partners and friends on a coach heading up the M4 to London for an evening of magic. The whole event had been masterminded and organised by Tony Green and everything went off without a hitch - well we couldn't really blame Tony for the M4 being closed for part of our homeward journey. Tony was ably assisted by Valerie who saw to it that none of us went hungry by providing copious quantities of sandwiches to go with the wine that Tony provided for the journey.
Despite the rush hour traffic we arrived at the headquarters of the Magic Circle, near Euston, where we were entertained by seven different magicians, all masters of their craft. Suffice to say that the disappearing and reappearing cards, the "mind reading" and other tricks were all of the highest quality and left the audience baffled with many exclaimations of "How Did he Do that?"
Soon it was time to get back on the coach for our journey home and before long most of us Rotarians were asleep whilst the driver Glen piloted us back to Marlborough and Pewsey where we then woke up It seemed like magic.
13 November 2017: Rotary Welcomes New Member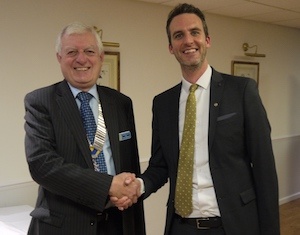 A warm welcome was extended to Chris Jensen when he became a Rotarian at our recent meeting, on Monday 13 November 2017.
During the ceremony President Cedric, asked Chris' proposing Rotarian, Paul Cowan, to formally introduce Chris to club members. Paul told us that Chris was born in Newcastle and after school he studied media studies and eventually came into banking, at one point in his career he worked for Nationwide. Just recently he has set up his own financial services business. Chris is married to Rachel and they have two sons Oliver and Harry and they live in Lockeridge.
President Cedric then presented the Rotary pin and membership pack to Chris who, in response, thanked everyone for welcoming him into Rotary saying that he considered it was a genuine honour to be a member in such wonderful company.
12 November 2017: President Cedric Hollinsworth Lays Wreath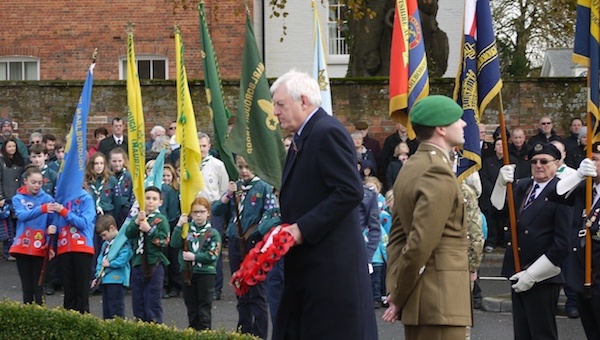 Rotary President Cedric Hollinsworth attended the Remembrance Ceremony at the Marlborough War Memorial and laid the wreath on behalf of the Rotary Club of Marlborough and District
---
6 November 2017: Stellar Speakers Educate and Entertain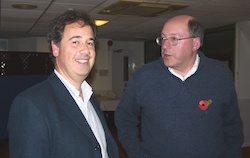 Rotarians were treated to a fascinating talk by two local cosmic photography experts, Gavin James and Jonathan Genton. They have recently collaborated on producing a book showing the photographs taken by Gavin from his garden in River Park. Gavin is a professional photographer whose speciality was photograhy of horses and Jonathan is a physics and maths teacher at Marlborough College, both using their respective knowledge to produce the book.
Rotarians were entertained with series of photographs of stars, nebulae and galaxies and Gavin explained the techniques he used to capture such distant objects with such amazing clarity, with Johnathan adding physical explanations to the pictures, using his teaching skills. Your correspondent now realises he should have taken notes to remind him of the facts, but he was captivated by the photography and forgot all about it! Fortunately there were no questions to answer.
Fortunately Stewart Dailly, who gave the vote of thanks, had been paying attention and warmly congratulated the seekers on their excellent and entertaining presentation.
30 October 2017: A Busy Night at Rotary Brings Surprises All Round
Rotarians, their wives and partners, together with guests, enjoyed an evening of surprises at the meeting during the evening of Monday 30th October.
A Paul Harris Fellowship was presented by President Cedric Hollingsworth to Paul Cowan for his service to the Club and his outstanding contribution to the local community, being a person who 'got things done' . Paul expressed his thanks and surprise on being awarded the fellowship and explained that amongst many worthwhile things he enjoyed about Rotary it was events such as KidsOut and RYLA that are so worthwhile for the younger generation and meant most to him.
The Second Paul Harris Fellowship was awarded to Peter Waine who, as President Cedric explained, has been a corner stone of the club, in particular during the last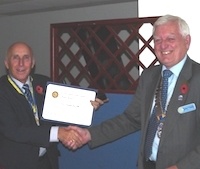 few years as Hon Secretary, providing all with his extremely wise council. Thanking the club for the fellowship and too much amusement Peter informed everyone that he had been in the club so long that he remembered John Robins when he was young. Peter gave his thoughts on his two main reasons to be in Rotary, firstly to enjoy a good laugh and the banter ,which helps relieve the stress of the day. Secondly, to be involved with public service which benefits both those in need and also ourselves for being in a position to help others who are less fortunate.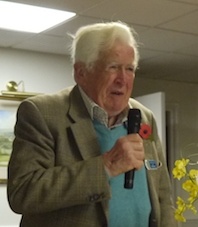 A major surprise during the evening was assistant District Governor Howard Small, on behalf the President of Rotary International Ian Riseley, presenting Geoff Harrison with a Fifty Year Award for his service in Rotary. The citation read, 'Congratulations on your years of Rotary service. Your continued passion for serving your community is inspiring to all of us. Every local and global initiative you have taken part in as a Rotarian has directly impacted current and future generations, both near and far. That is something you should be incredibly proud of. It is because of active and engaged members like you that we are able to serve the global community by Rotary Making A Difference. Thank you for you dedication to community service and being part of the Rotary family."
In response, Geoffrey stated how surprised he was and to much amusement informed everyone that perhaps he could retire now. He continued by saying how much he had enjoyed Rotary and also his earlier days in Round Table.
The guest speaker for the evening was Roger Day who provided an excellent talk on the roleplayed by Savernake Forest during the Second World War. With excellent black and white photographs Roger detailed the extensive ammunition dumps in the forest and the positions of the stores, some of which surprisingly held mustard gas. The British army originally controlled this enormous ordnance, which was one of the largest in the UK until it was taken over by the USA military forces. Of great interest was large explosion in 1946 that sadly caused the loss of life and a great deal of property damage. Roger went on to detail where sites could be found within the forest to this very day.


29 October 2017: Father Christmas Booking Site Live
Marlborough Rotary is one again organising the list by Father Christmas during the Christmas Light Switch on ceremony, between 3pm and 8pm on Friday 1 December 2017.
Register to visit Father Christmas from 9am on 1 November via the booking website, which has just gone live at
www.rotarysanta2017.eventbrite.co.uk.
Please visit the site and book for your children/grandchildren/ nephews/nieces or perhaps the next door children. We look forward to seeing you.
Price £5 per child
---
12 October 2017: "This is Rotary" Event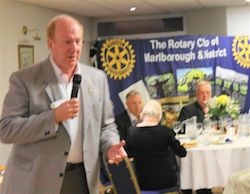 24 guests attended the evening at the Golf Club and were welcomed by Club President Cedric Hollinsworth, who gave an overview of Rotary before going on to outline some of the activities undertaken by Marlborough.
Richard Purdon, the current District Extension Officer and Immediate Past District Governor, then gave an account of his personal involvement in Rotary,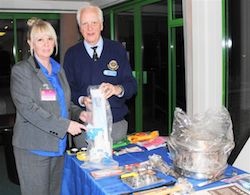 and told guests how Rotary has changed to reflect modern lifestyles, with no rigid attendance rules and flexibility in terms of meeting format and frequency.
Guests took the opportunity to look at displays featuring Youth activities and overseas aid including the full contents of a Water Aid Box.
The evening was rounded off by Paul Cowan, the chairman of the Membership Committee, who talked about individual activities, and urged the guests to consider if they felt able to contribute in some way to the work of Rotary.
---
10 October 2017: Rotary Donates Funds to St Mary's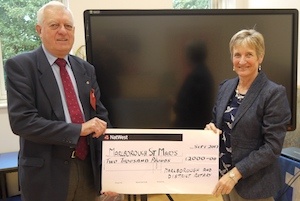 During a visit to the newly opened St Mary's Primary School in George Lane Rotary President Cedric Hollinsworth presented a cheque for £2000 to Head Teacher Ann Schwodler. The money was a donation towards IT equipment for the school. Ann explained that although funding had been provided for the new school buildings none had been provided to upgrade equipment and much of it is in need of upgrade, especially in IT.

The equipment shown in the photograph is a new Interactive C touch board, which is state of the art teaching technology and which the funding helped to provide.
---
9 October 2017: The Story of Whatleys of Pewsey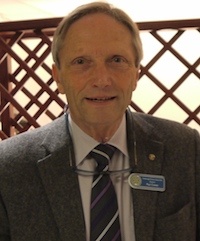 Whatley's in Pewsey was the subject of fellow Rotarian Paul Cowan's subject talk at our meeting on Monday. Founded originally in Wootton Rivers and named Whatley and Hosier they moved then moved to Pewsey. The foundry was successful in producing casting and many engineered items so that by 1900, with two furnaces in operation, the Company employed 120 people.

Paul gave a detailed account of the ownership held between the two families. The Hosier side of the business made milking machinery and milking parlour equipment whereas the Whatleys specialised in making water pumps, steam ploughs. In particular, Whatley's produced huge miller wheels for use on the canal at that time which were to be seen for many years until electricity changed the scene completely.
Concluding his account Paul described when the foundry ceased operation and the formation the Pewsey Heritage machinery museum within the old foundry building.
2 October 2017: Young Guests Thank Rotarians for Sponsorship
The club was pleased to welcome two young speakers on Monday evening, Josiah Hamilton and Amy Franczac, both of whom had been sponsored by the Club.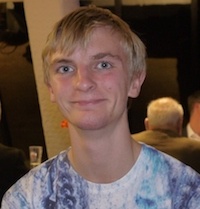 Josiah had attended the Rotary Youth Leadership Awards (RYLA) and he described the benefits he had enjoyed during the week long course, especially how it had had improved his confidence in public speaking. He explained that the week started with the 'iceberg' game designed to enable all the participants to meet and break the ice with each other. He told the audience about the many activities in which he participated, such as the the night walk where, with only map and compass, groups had to navigate through part of the Forest of Dean and of the building of a giraffe from paper mache. In conclusion, Josiah thanked the club for organising his participation in RYLA.
Amy described her recent visit to Romania with Charities Abroad to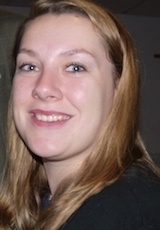 help the children and babies in the poor conditions of the state children's homes. She had volunteered and was accepted on but needed £1000 to participate so to help her achieve the target the Club had donated £300. Amy described the conditions she found in the homes and how, with other of students working with the charity, she helped re-decorate several rooms. One of her prime objectives was to teach English. which she carried out with the aid of an interpreter. During her second week she participated in a summer camp for the children. A memorable talk which was much appreciated by her captivated audience.


---
25 September 2017: Marlborough Mayor Accepts Honorary Membership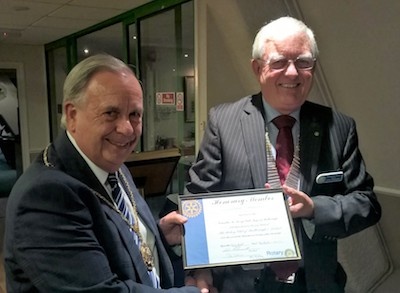 Marlborough Mayor, Mervyn Hall was guest of honour at our meeting on 25 September when he was awarded an Honorary Membership.
In making the award President Cedric Hollinsworth remarked that the Club works very closely with the town council on several important events and the honorary membership was long overdue. Mayor Mervyn Hall responded that he was most pleased to have been asked to become a member, adding that his evening had been most enjoyable and that he intended maintaining close relationships with the Club.