Our Club News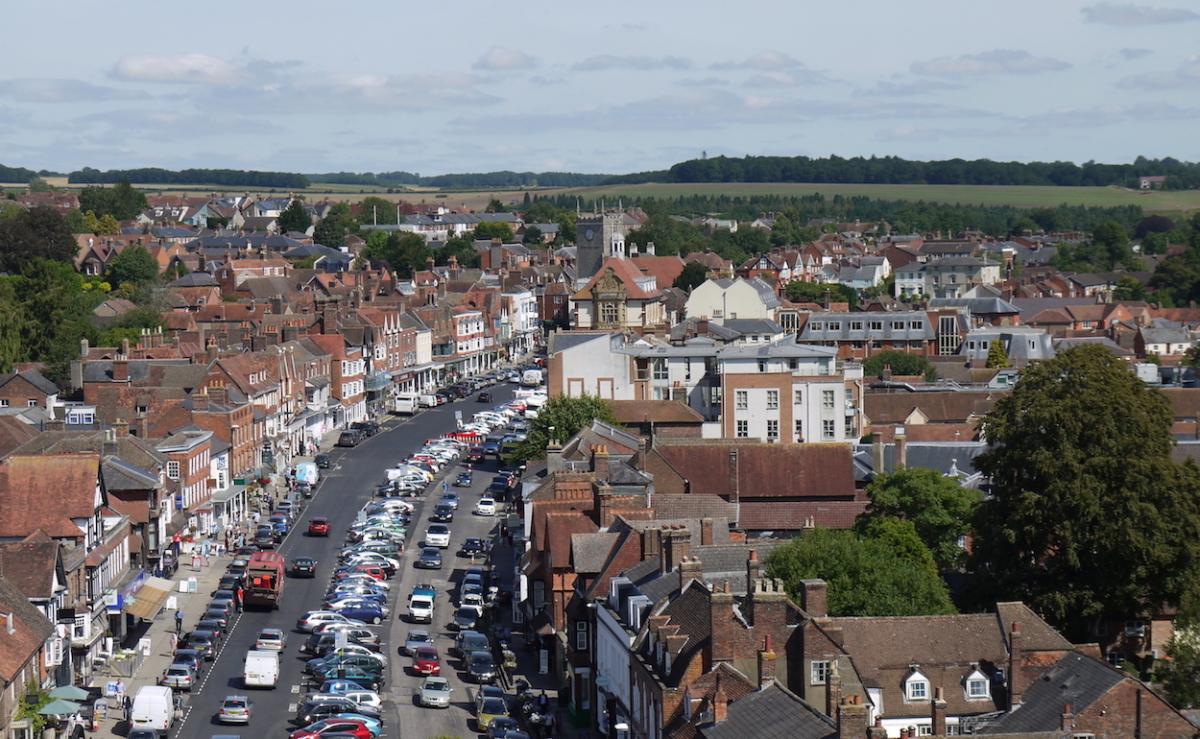 CLUB NEWS


News of the many social and charitable activities and events undertaken by Marlborough and District Rotary Club
Reports of earlier events are in Club News Archives (found under "What We Do")
---
3 December 2017: Chris Jensen Entertains
Our newest member, Chris Jensen, entertained Rotarians with an interesting talk on his life, family and career at our meeting last Monday.
He talked about growing up in Newcastle and the surrounding countryside, his initial lack of diligence at school before suddenly realising the benefits of education. His exploits at university were glossed over, probably to avoid embarrassing the Rotarians present, but evidently he did undertake sufficient academic work to enable him to receive his degree.
A marriage to his wife, Rachel, met whilst at university and two sons established Chris as family man while a career in banking and financial services provided sustenance. He led his audience through his career with several well known high street financial institutions before recently branching out on his own to be a financial adviser linked to a well known Wealth Management Company.
The talk was most interesting and it was no surprise to learn that at one stage he had had a part time job as presenter on local radio station.


1 December 2017: Father Christmas, his Elves and the Marlborough Lights
The work to prepare for Father Christmas' Grotto in Marlborough Town Hall commenced in earnest on Thursday 30 November, the day before Father Christmas and his elves were due to arrive. Organised by Gerry Hooper a team of Rotarians and partners started to erect the grotto under the watchful eye of Jennie Larsson, an ex-Rotarian who had kindly given up her time to lend her expertise to supervise the finer points of grotto making. Half way through the process Christmas trees arrived from Wootton Rivers to provide a forest entrance to the grotto. With most of the work done the team repaired to the Royal Oak for a well earned lunch and refreshment before adding the
finishing touches. As well as the grotto the cafe was established and looked attractive and ready for the goodies to be served on the day.
Friday dawned cold but dry and by early afternoon Father Christmas and his elves and arrived in their grotto and the cafe was stocked and ready to welcome customers. Soon the Town Hall and its grotto was alive with excited young children anxious to see Father Christmas for a story and then go on to his naughty elves to receive their present. Meanwhile parents and others were sampling the delights of the cafe's cakes,
teas coffees and mulled wine.
Outside, in the cold, stalwart Rotarians, assisted by council staff and military personnel were keeping watch on the road closures and the crowds assembling for the switch on of the Marlborough illuminations, including the Rotary Christmas Tree (donated by T H White).
Soon it was time for another Father Christmas (most confusing, I thought there was only one) to travel around the town in his sleigh before the lights were turned on by a presenter from BBC Radio Wiltshire.
Choirs sang and bands played to entertain the crowds for an hour or so but by 8pm it was almost all over; all of the Father Christmases had gone home, followed by their elves, the crowds had departed, the stalls in the High Street were packing up and Rotarians were clearing the Town Hall. By 9pm everything was back to normal, awaiting Christmas 2018.
28 November 2017: Rotary Quiz Team Almost Win - But No Photo to Record this Feat
Three brave members, Peter Waine , Martin Couchman , and our President ventured into enemy territory at Ogbourne Downs Golf Club , supported by our scorer Gerry, to do battle with Cirencester and Thamesdown.
As usual the Quizmaster was Peter Hayman , who valiantly tried to keep order, despite what was clearly a massive variation in the degree of obscurity of the questions, depending which team was answering.
Marlborough quickly fell into their stride and took up the bottom position, as a result of not knowing that Redditch housed the National Needles Museum , and that the Gilbert and Sullivan Opera played in the 2012 Proms season , was Yeoman of the Guard.
However not despairing the team picked up some bonus points and by half way were still in touch with the leaders Cirencester, having at one time been 14 points behind.
After a refreshment break, which clearly did reach all parts , Marlborough stormed into the final session , and picked up more bonus points , so that after 10 rounds were level with Cirencester on 51 points, having overtaken Thamesdown.
A request for a recount failed to change the scores , as Gerry had been very diligent , and totally unbiased
Thus the quiz ended as a draw with Marlborough and Cirencester on equal points, however despite answering more questions correctly the rules stated that Cirencester were the winners , because they had more individual questions correct, by 10 to 7.
So we maintained our record of not going beyond the first round, but it was a close run thing.
26 November 2017: 5000 Crocuses Planted for End Polio Now
The Rotary Crocus is one of the leading international fundraisers for the End Polio Now Campaign.
Since 2012 Rotary Crocuses have raised around £1,200,000 and been distributed in 15 countries.
They are an easy way for every Club to reach out to your wider community to raise funds and awareness for End Polio Now. At the same time they help to raise the public profile of Rotary.
This year the club decided to plant 5000 bulbs throughout the district, a task ably led by Jack Torrens and closely supported by other Rotarians. Jack and an assistant are pictured planting some of the bulbs in Pewsey.




26 November 2017: Rotary Christmas Tree Erected
Last Sunday saw hardy Rotarians assemble in Marlborough High Street for the annual task of erecting the Towns's Christmas Tree.
After much negotiation with the Town Council and Wiltshire Council over the use of the parking bays it was decided that the tree could be placed in its usual slot. Once again the tree has been generously donated by T H White, who also loaned the lifting vehicle and driver, without which the task would have been almost impossible.
In true Rotary fashion the erection was completed, the surrounding barriers and signs added and then it was off for a welcoming and warming drink.
The donations collected by Rotary this year will be for Julia's House childrens hospice and other charities supported by Rotary
21 November 2017: Rotarians Enjoy a Magic Evening
Last Tuesday found 30 Rotarians, partners and friends on a coach heading up the M4 to London for an evening of magic. The whole event had been masterminded and organised by Tony Green and everything went off without a hitch - well we couldn't really blame Tony for the M4 being closed for part of our homeward journey. Tony was ably assisted by Valerie who saw to it that none of us went hungry by providing copious quantities of sandwiches to go with the wine that Tony provided for the journey.
Despite the rush hour traffic we arrived at the headquarters of the Magic Circle, near Euston, where we were entertained by seven different magicians, all masters of their craft. Suffice to say that the disappearing and reappearing cards, the "mind reading" and other tricks were all of the highest quality and left the audience baffled with many exclaimations of "How Did he Do that?"
Soon it was time to get back on the coach for our journey home and before long most of us Rotarians were asleep whilst the driver Glen piloted us back to Marlborough and Pewsey where we then woke up It seemed like magic.
13 November 2017: Rotary Welcomes New Member
A warm welcome was extended to Chris Jensen when he became a Rotarian at our recent meeting, on Monday 13 November 2017.
During the ceremony President Cedric, asked Chris' proposing Rotarian, Paul Cowan, to formally introduce Chris to club members. Paul told us that Chris was born in Newcastle and after school he studied media studies and eventually came into banking, at one point in his career he worked for Nationwide. Just recently he has set up his own financial services business. Chris is married to Rachel and they have two sons Oliver and Harry and they live in Lockeridge.
President Cedric then presented the Rotary pin and membership pack to Chris who, in response, thanked everyone for welcoming him into Rotary saying that he considered it was a genuine honour to be a member in such wonderful company.
12 November 2017: President Cedric Hollinsworth Lays Wreath
Rotary President Cedric Hollinsworth attended the Remembrance Ceremony at the Marlborough War Memorial and laid the wreath on behalf of the Rotary Club of Marlborough and District
---
6 November 2017: Stellar Speakers Educate and Entertain
Rotarians were treated to a fascinating talk by two local cosmic photography experts, Gavin James and Jonathan Genton. They have recently collaborated on producing a book showing the photographs taken by Gavin from his garden in River Park. Gavin is a professional photographer whose speciality was photograhy of horses and Jonathan is a physics and maths teacher at Marlborough College, both using their respective knowledge to produce the book.
Rotarians were entertained with series of photographs of stars, nebulae and galaxies and Gavin explained the techniques he used to capture such distant objects with such amazing clarity, with Johnathan adding physical explanations to the pictures, using his teaching skills. Your correspondent now realises he should have taken notes to remind him of the facts, but he was captivated by the photography and forgot all about it! Fortunately there were no questions to answer.
Fortunately Stewart Dailly, who gave the vote of thanks, had been paying attention and warmly congratulated the seekers on their excellent and entertaining presentation.
30 October 2017: A Busy Night at Rotary Brings Surprises All Round
Rotarians, their wives and partners, together with guests, enjoyed an evening of surprises at the meeting during the evening of Monday 30th October.
A Paul Harris Fellowship was presented by President Cedric Hollingsworth to Paul Cowan for his service to the Club and his outstanding contribution to the local community, being a person who 'got things done' . Paul expressed his thanks and surprise on being awarded the fellowship and explained that amongst many worthwhile things he enjoyed about Rotary it was events such as KidsOut and RYLA that are so worthwhile for the younger generation and meant most to him.
The Second Paul Harris Fellowship was awarded to Peter Waine who, as President Cedric explained, has been a corner stone of the club, in particular during the last
few years as Hon Secretary, providing all with his extremely wise council. Thanking the club for the fellowship and too much amusement Peter informed everyone that he had been in the club so long that he remembered John Robins when he was young. Peter gave his thoughts on his two main reasons to be in Rotary, firstly to enjoy a good laugh and the banter ,which helps relieve the stress of the day. Secondly, to be involved with public service which benefits both those in need and also ourselves for being in a position to help others who are less fortunate.
A major surprise during the evening was assistant District Governor Howard Small, on behalf the President of Rotary International Ian Riseley, presenting Geoff Harrison with a Fifty Year Award for his service in Rotary. The citation read, 'Congratulations on your years of Rotary service. Your continued passion for serving your community is inspiring to all of us. Every local and global initiative you have taken part in as a Rotarian has directly impacted current and future generations, both near and far. That is something you should be incredibly proud of. It is because of active and engaged members like you that we are able to serve the global community by Rotary Making A Difference. Thank you for you dedication to community service and being part of the Rotary family."
In response, Geoffrey stated how surprised he was and to much amusement informed everyone that perhaps he could retire now. He continued by saying how much he had enjoyed Rotary and also his earlier days in Round Table.
The guest speaker for the evening was Roger Day who provided an excellent talk on the roleplayed by Savernake Forest during the Second World War. With excellent black and white photographs Roger detailed the extensive ammunition dumps in the forest and the positions of the stores, some of which surprisingly held mustard gas. The British army originally controlled this enormous ordnance, which was one of the largest in the UK until it was taken over by the USA military forces. Of great interest was large explosion in 1946 that sadly caused the loss of life and a great deal of property damage. Roger went on to detail where sites could be found within the forest to this very day.


29 October 2017: Father Christmas Booking Site Live
Marlborough Rotary is one again organising the list by Father Christmas during the Christmas Light Switch on ceremony, between 3pm and 8pm on Friday 1 December 2017.
Register to visit Father Christmas from 9am on 1 November via the booking website, which has just gone live at
www.rotarysanta2017.eventbrite.co.uk.
Please visit the site and book for your children/grandchildren/ nephews/nieces or perhaps the next door children. We look forward to seeing you.
Price £5 per child
---
12 October 2017: "This is Rotary" Event
24 guests attended the evening at the Golf Club and were welcomed by Club President Cedric Hollinsworth, who gave an overview of Rotary before going on to outline some of the activities undertaken by Marlborough.
Richard Purdon, the current District Extension Officer and Immediate Past District Governor, then gave an
account of his personal involvement in Rotary, and told guests how Rotary has changed to reflect modern lifestyles, with no rigid attendance rules and flexibility in terms of meeting format and frequency.
Guests took the opportunity to look at displays featuring Youth activities and overseas aid including the full contents of a Water Aid Box.
The evening was rounded off by Paul Cowan, the chairman of the Membership Committee, who talked about individual activities, and urged the guests to consider if they felt able to contribute in some way to the work of Rotary.
---
10 October 2017: Rotary Donates Funds to St Mary's
During a visit to the newly opened St Mary's Primary School in George Lane Rotary President Cedric Hollinsworth presented a cheque for £2000 to Head Teacher Ann Schwodler. The money was a donation towards IT equipment for the school. Ann explained that although funding had been provided for the new school buildings none had been provided to upgrade equipment and much of it is in need of upgrade, especially in IT.
The equipment shown in the photograph is a new Interactive C touch board, which is state of the art teaching technology and which the funding helped to provide.
---
9 October 2017: The Story of Whatleys of Pewsey
Whatley's in Pewsey was the subject of fellow Rotarian Paul Cowan's subject talk at our meeting on Monday. Founded originally in Wootton Rivers and named Whatley and Hosier they moved then moved to Pewsey. The foundry was successful in producing casting and many engineered items so that by 1900, with two furnaces in operation, the Company employed 120 people.

Paul gave a detailed account of the ownership held between the two families. The Hosier side of the business made milking machinery and milking parlour equipment whereas the Whatleys specialised in making water pumps, steam ploughs. In particular, Whatley's produced huge miller wheels for use on the canal at that time which were to be seen for many years until electricity changed the scene completely.
Concluding his account Paul described when the foundry ceased operation and the formation the Pewsey Heritage machinery museum within the old foundry building.
2 October 2017: Young Guests Thank Rotarians for Sponsorship
The club was pleased to welcome two young speakers on Monday evening, Josiah Hamilton and Amy Franczac, both of whom had been sponsored by the Club.
Josiah had attended the Rotary Youth Leadership Awards (RYLA) and he described the benefits he had enjoyed during the week long course, especially how it had had improved his confidence in public speaking. He explained that the week started with the 'iceberg' game designed to enable all the participants to meet and break the ice with each other. He told the audience about the many activities in which he participated, such as the the night walk where, with only map and compass, groups had to navigate through part of the Forest of Dean and of the building of a giraffe from paper mache. In conclusion, Josiah thanked the club for organising his participation in RYLA.
Amy described her recent visit to Romania with Charities Abroad to help the children and babies in the poor conditions of the state children's homes. She had volunteered and was accepted on but needed £1000 to participate so to help her achieve the target the Club had donated £300. Amy described the conditions she found in the homes and how, with other of students working with the charity, she helped re-decorate several rooms. One of her prime objectives was to teach English. which she carried out with the aid of an interpreter. During her second week she participated in a summer camp for the children. A memorable talk which was much appreciated by her captivated audience.


---
25 September 2017: Marlborough Mayor Accepts Honorary Membership
Marlborough Mayor, Mervyn Hall was guest of honour at our meeting on 25 September when he was awarded an Honorary Membership.
In making the award President Cedric Hollinsworth remarked that the Club works very closely with the town council on several important events and the honorary membership was long overdue. Mayor Mervyn Hall responded that he was most pleased to have been asked to become a member, adding that his evening had been most enjoyable and that he intended maintaining close relationships with the Club.
---
28 August 2017: The Sun Brings out the "Booters"
The sun shone on Rotary's August Bank Holiday Boot Sale held at the Rugby Club on Marlborough Common leading to an excellent day for all. About 80 boots and their drivers arrived, the first at the crack of dawn soon to be followed by the first of the avid buyers. As they say "the early buyer catches the bargain".
To give sustenance to the rigours of buying and selling Rotary's stalwarts were working the tea tent producing
copious amounts of teas, coffees and bacon baps,
Rotary organises these events to help raise money for charities that we support and this boot sale was no exception. Thanks to the entry fees, sales of food and beverages plus the "bucket" donations over a £1000 has been added to the charity funds for disbursement to worthy causes. Thank you to all who supported Marlborough and District Rotary Club.
Look out for our next boot sale on May Bank Holiday 2018
---
21 August 2017: Young Clara Zabell Outshines Them All


Monday evening's meeting proved to be a full and interesting time for the (almost) full house of Rotarians. Was it the draw of the District Governor, Alan Hudson that caused the high turn out or the prospect of seeing Alison Zabell and her granddaughter Clara or indeed two old codgers, Jeremy Zabell and Tony Green sharing hands. Or it may have been the presentation of a cheque to Anne Schwodler, head teacher of the new combined St Peters and St Mary's Junior and infant School.
The evening started with Clara Zabell, aged 12, explaining to
the meeting how she and her father had walked 38 miles from their home in Abingdon, along the Ridgeway to their grandparents house in central Marlborough. She had thought about the idea herself and also decided to get the walk sponsored for Cancer Research because her grandfather is having treatment for Prostate Cancer. She explained that with the help of the generosity friends, relations and several Rotarians she had exceeded her target of collecting £750. Clara's talk was an inspiration to everybody and her self assuredness was a delight to see.
President Cedric then presented the cheque for £2000 to Anne Schwodler as a donation towards IT equipment for the new St Mary's Primary school. Anne explained that new IT equipment was much needed, the existing being antiquated and no funding had been provided for its upgrading to suit modern IT technology. Ann also explained that, contrary to general opinion the Marlborough schools are not full of children from wealthy parents that can raise funds at drop of a hat, rather of the 440 pupils 28% attract the pupil premium for children from disadvantaged backgrounds.
In a continuation of the "Zabell show" Jeremy was asked by the President to award the "Rotarian of the Year" award, something Jeremy had initiated 4 years ago. The recipient this year was Tony Green for all his hard work, especially in his role as Speaker finder and elder statesman, in which he has excelled.
Finally it was on to District Governor Alan Hudson who provided an insight into his life and why he joined Rotary and what he got out of being a member. He encouraged all Rotarians to consider that and use their own experiences to sell Rotary to potential new members. He went on to discuss several of the new ways that additional Rotarians might be attracted to the
club as finding new and younger members is the key to its continuing existence. Finally he did a "hard sell" on the benefits of going to the District Conference at Bournemouth in March 2018.
The evening finished with the Vote of Thanks from John Robins and the toast to Rotary from President Cedric.
---
17 August 2017: Rotarians Enjoy Boules, Beer and Pizza
A cool August evening saw Rotarians and their wives at the boules pitches of the Barleycorn Inn at Collingbourne Kingston. In contrast to the evening the competition provided by the pub regulars was hot and the Rotarian A team soon found themselves out gunned in all departments and a whitewash ensued. The B team did better but in the end succumbed to the inevitable. The ladies led by star player Alison Zabell started their match by beating the best of Collingbourne for the first three ends and were starting to look forward to a win - but then the slide started and they finished the same as the men did in their matches - second. Further matches carried on as the glasses got lower, the boules more accurate and the Rotarians efforts becoming less impressive until a halt was called.
Congratulations and commiserations abounded, The Rotarians thanked their hosts for a splendid evening and all repaired to the bar for sustenance, liquid and
otherwise in the form of excellent pizzas and other fine fare.
An excellent evening arranged by our trusty SportsOfficer, Jeremy Zabell, pictured in action, or was he just posing?. Other pictures taken at the event follow, including "Which two are mine", "Our star boules player" and "What's so interesting down there?"
---
12 August 2017: A Royal Lunch at Easton
They say that the sun shines on the righteous and so it was last Saturday when President Cedric Hollingsworth and his wife Hilary hosted a lunch party for Rotarians and in their lovely garden at Easton Royal. And a royal event it was, starting with an extensive range of very tasty hors d'oeuvres being served while the guests enjoyed the generosity of the President's wine cellar. Lunch proceeded with even more food and drink, but fortunately by then we were all sat down to take the increasing weight from our legs caused by devouring a generous cold meat salad, which included this correspondent's all time favourite, pork pie. If this was not enough a superb assortment of desserts followed, all of which were washed down by more of the contents of the wine cellar.
Thank you to Cedric and Hilary for this tremendous event and for being such kind and generous host and hostess.
Perhaps the reader can fit suitable titles to the picture taken during the event: They include. 'The Young and the Wise?" : "Me and my Gal" : "The Eaters"
---
31 July 2017: Bishops, Sex and Lies Attracts Much Interest
For some reason the talk "Bishops, Sex and Money" by Tony Stafford proved quite a draw for the Rotarians, their partners and guests and a full house turned up to listen. Paraphrasing what Eric Morecombe once said "the degree of their interest was not necessarily in that order". President Cedric kept other business to a minimum to enhance the enjoyment of the evening.
A degree of confusion had started the evening when looking at the table plan devised by President Cedric it became evident that either he had got the plan reversed - or we all came in the wrong door. Once sorted and sat down to our dinner, conversation flowed and the odd glass of wine was imbibed.
Tony Stafford, a retired Beefeater from the Tower of London appeared in his full regalia to give his talk, which he entered into with great gusto and proceed to enthral the audience with his tales of many bishops, some sex and lots of money - all without notes.
He assured us the tales were all true and most of them revolved around medieval bishops, long dead and often executed, who behaved in very "non bishop" ways - at least how we perceive bishops should in the modern day. From running houses of ill repute to snaffling the taxes they seemed to have much more exciting time than their modern day counterparts.
We learned that if you were to be executed it was far better to be rich than poor because at least you could pay the executioner to ensure a speedy end. It was better to be rich prisoner so you could pay for your incarceration in the Tower rather than be slung into Newgate prison. Tony brought all those childhood and other sayings to life explaining the origins of "Goosey, Goosey, Gander" (not for a polite website!), "One for the Road" , 'On the Wagon" and many more.
All too soon the time was up and Martin Luxford gave the Vote of Thanks for the very entertaining and informative talk.
---
24 July 2017: Visitor from Australia and Friend Visit Rotary
Last Monday we had a visitor from "Down Under", Rotarian David Anderson from a small town near, or at least near in Australian terms, Melbourne. He brought his pet with him and introduced him/her/it to our President Cedric Hollinsworth and assembled Rotarians. Despite it being a business meeting David decided to stay and his dulcet Aussie twang could be heard above the quiet murmurings of dedicated business, interspersed with the odd burst of laughter as someone cracked a joke.
---
22 July 2017: Rotary Controlled the Puppets Strings in Grand Parade
Ten o'clock on Saturday 8th July was the start of the World of Puppets event being held in Marlborough to celebrate the 70th anniversary of Pelham Puppets. Nine million were made in Marlborough and many people throughout the town were involved in making them. So when this weekend puppet festival was being planned the committee asked Rotary to help with the organisation and, on the day, by marshalling the procession.
A group of Rotary volunteers formed up with the procession at St Peter's church and shepherded them down to the Town Hall and back up the other side of the High Street to Figgins Lane. A 30-piece Phoenix Brass Band led the parade, followed by the Giant Punch and Judy Family (with giant little girl), the Town Crier Mike Tupman and the Mayor, followed by many of the puppeteers and the organisers. Once safely past the large crowds of spectators the procession turned down Figgins Lane and into the Priory Gardens and Rotary's job was done.
It is to be noted in the picture above that Rotary could not compete in sartorial elegance with the other officials. However it was a beautiful day and a successful parade. Many thanks to all the Rotarians who kept it safe
---


17 July 2017: The Story of the "Jaipur Foot" Inspires Rotarians
Rotary learned of the inspirational Jaipur Foot and Limb Project from Swindon Phoenix Rotarian Peter Goldsworthy which provides artificial limbs and other aids and appliances totally free to the recipients. So far since its foundation in 1975 over 1.55 million people have been helped and for details it is best to look at the website twenty thousand people per year. http://jaipurfoot.org
The project has been supported by Rotary since 1984 in the Rotary Jaipur Limb; see the web page http://www.rotaryjaipurlimb.org.uk where it describes the financing of "limb camps" principally in the Indian sub continent and Africa.
To the western world the amazing fact is the simplicity and low cost (£30 per limb) of the construction and fitting of these life changing aids. Originally the legs were made from plastic drain pipe, moulded under heat to shape before fitting to it the uniquely designed plastic/rubber/wooden "foot". Peter Goldsworthy
described how his wife and he had visited the project about 10 years ago and had been inspired to actively support it ever since.
Peter was joined at our meeting by four members from Swindon Phoenix Rotary Club, President Nigel Causton, President Elect Chris Sims and President Nominee Patrick O'Farrell, plus ex-M&DRC member Peter Newson.
---
10 July 2017: Promoting Rotary and Social Media
Jan Long, our district Public Image and Communication Officer visited our meeting to discuss getting the Rotary message out to the general public using social media and other publicity methods.
She talked about the promotional benefits of websites and Facebook (Marlborough Rotary does have a Facebook page with a link from this website) and importantly to keep them up to date with interesting pictures and articles. Additional local advertising through news websites, banners at events, the use of QR codes, short films on advertising screens such as found in doctor's surgeries are all useful. Getting local politicians and MPs to talk at our meetings and offering honorary memberships to prominent people were suggested for profile raising.
Overall a stimulating talk with much interaction from the members present and which left us all feeling that there is more work to do. And below some more pictures of the evening, chatting before dinner, the president with that bear and the wonderful view out of the window (for those not paying attention to our speaker).




---
3 July 2017: President Cedric Takes the Reins for 2017/18
At the 'Handover ' meeting on Monday evening 3rd July President Sally Wolfenden thanked everyone for what she described as an interesting year stating that, 'Although it had been a deep learning curve she had enjoyed an enormous amount of her twelve months in office.' She thanked Edward Ferguson and Don Ross together with their team who had organised social events including the highly successful Burns Night. Handing over the chain of office to incoming President Cedric Hollinsworth she thought that the Club would be in very good hands.
President Cedric thanked Sally for her endeavours and dedication during the past twelve months.
He went on to state that it was not easy to be President of the Club and that Sally had faced a difficult challenge throughout, never missing a meeting and always putting the interests of Rotary at the forefront. He went on to outline his future programme and that one of the priorities would be to increase membership, an immediate challenge. He also planned to involve our wives and partners more in club activities with coffee mornings and similar events which would be led by his wife Hilary. President Cedric also outlined his plan for future business meetings which would entail getting a 'feed back' from the various Chairmen on what has transpired during the evening of that same meeting. Stewart Dailly was duly installed as President Elect.
President Cedric then presented Sergeant at Arms John Robins with a wooden spoon and to much laughter he concluded the evening when he introduced his mentor Charlie, who would be his guide throughout the months ahead. (Spot the President in the attached photo. The clue is the chain of office)
---
26 June 2017: Mentoring for Students Explained
A warm welcome was given to Sheena Awdry who came to talk about a mentoring programme for young people to raise their aspirations and assist with their skills to achieve a future when they leave school. Sheena illustrated with the case of a young student who wished to become a pilot but unfortunately had not paid much attention to the three 'R's' and needed to be steered in an entirely different direction.
Sheena explained that the commitment for a mentor is sixteen hours per academic year. Mentors attend a short course prior to working with students which provides them with guidelines on how to conduct consultations and emphasised the need for confidentiality is observed during these interviews.
Effective mentoring programmes can boost participants' aspirations, confidence, self-belief and motivation. Crucially, mentoring programmes enhance participants 'soft skills'- personality traits, social graces, communication, language, personal habits, friendliness, and optimistic outlook – which are increasingly important for success at school and in the current job market.
The present monitoring programmes are being carried out at St John's Academy in Marlborough and if you are interested in taking part in this programme please contact Sheena Awdry on 07881 551972
---
14 June 2017: Great Time had at Longleat for Kids Out Day
Pupils from Pewsey Vale School and Marlborough St Mary's CEVC Primary School were treated to a fabulous day out at Longleat courtesy of Marlborough and District Rotary Club as part of national Rotary UK Kids Out Day.
On arriving they went round the Safari Park, much to the delight of the youngsters who were able to see a variety of animals including fallow deer with lots of babies, lions, giraffes, tigers, antelopes and cheetahs. First stop in the house and gardens was The Maze, with many completing it so successfully they were sent back to look for those who found it a bit more tricky. With all recovered and accounted for a picnic lunch was enjoyed in a cool shady spot and then they set off for the boat trip to see the sea lions and Gorilla Island.
Everyone had great fun feeding the sea lions and being lucky enough to see a week-old pup. Jungle Kingdom was their next stop, with many feeding nectar to the lorikeets, petting the small animals and challenging themselves to hold a snake. With time swiftly going by they were able to let off some steam in the Adventure Castle, ending with a final treat of ice-creams and drinks before the trip home.
We have received some lovely thank you letters from the students and a lovely thank you card from the St Mary's school children. This year thanks must go to Tracey Harris of Pewsey Vale School and Rotarian Richard Dewey for organising such a great trip.
Nationally Rotarians took over 25,000 disadvantaged students out for the day to theme parks around the UK
---
5 June 2017: Club Assembly Learns of a Reinvigorated 2017/8 Year
Last night was Club Assembly when the plans for 2017/8 were expounded to an attentive audience by President Elect Cedric Hollinsworth and his team. President Sally Wolfenden welcomed District 1100 Assistant Governor Joan Goldsmith who had been invited to listen and comment upon the plans.
Cedric's professional powerpoint presentation gave an indication of the future style of M&DRC with a more businesslike and streamlined approach. The new Council will be pared down from its current size and more decisions will be taken by the whole of the Club, thus improving communications of events and other issues. Cedric emphasised the need for new Rotarians, not only to replace those who had left over the recent years but also to replace those predicted to leave over the next five years, a sad but obvious fact for a club which currently has 50% of its members over 75.
Cedric introduced his senior team and revised committee structure. Firstly, future President Elect
Stewart Dailly, also chair of the newly constituted Membership and General Purposes Committee, followed by Martin Kuxford - chair of the Community and Vocational Committee, Jack Torrens - chair of the International and Disaster Response Committee and Gerry Hooper chair of the Social and Entertainments committee.
They all outlined their proposals and plans for 2017/18, Stewart re-emphasised the issue of needing new members, Gerry the need for fun and good social events including partners and he gave out two dates for diaries. Speaker Secretary, Tony Green, spoke on the
importance of finding good speakers to encourage partners to come to the 5th Monday meetings and to make Rotary meetings interesting for new members.
Joan Goldsmith thanked the presenters and acknowledged the challenges ahead for keeping Rotary relevant and a club people want join. She felt there is great freedom allowed for clubs to try different formats for meetings and membership. She highlighted the necessity of clearly identifying the selling points of Rotary and the need for Rotarians with good people skills to be used to promote these to the public. She introduced the term "elevator talk" as being a useful means of getting a very focused 2 minute talk on "What is Rotary".
The Vote of Thanks was given by Stewart Dailly and the Rotarians went home mulling over what will obviously be a busy year for them.
---
3 June 2017: President Sally's Teaparty
Saturday 3 June dawned fine and promised to continue that way for the Presidents Tea, kindly hosted by Barry and Liz Smith in the lovely garden of their house in All Cannings.
The Rotarians duly arrived at the prescribed time, to be professionally parked by none other than the chairman of the social committee. Folding chairs were unloaded and the ladies summer party frocks smoothed and mens boaters and panamas adjusted to a rakish angle before entering through the garden gate to find the host and President Sally showing us to our tables, all laid beside the croquet "lawn".
Chairs were positioned and talking ensued as the latecomers made their entrances, obviously not reading the invitation wording of "arrive BY 2pm". Tony Green decided that rough croquet was in order and small team commenced hacking their way around the croquet course, learning the "rules" as they went, and making up several more when Tony's back was
turned. Visiting Past President Terry Tovey was just about to win the game when tea was called and croquet mallets were downed. Returning to the tables, thirsty following their exertions and just about to sit down with a welcome cup of tea their ideas were interrupted with call to the sunken garden to hear the "Mother's Jam" singing a cappella for a very pleasant interlude of song.
Then it was return to the tables for afternoon tea with copious amounts of delicious scones, meringues and assorted cake. For those more adventurous and hungry Rotarians who found the source of the cake in the orangry they found a store house with an almost infinite supply, certainly
more than they
could eat that afternoon. President Sally presided with the teapots - a choice of Lady Grey (which confused a very important person) and Assam.
Soon it was time for President Sally to reflect on the achievements of her year, to thank those Rotarians who had encouraged her to join Rotary, the past Presidents who had come before her, the social committee who had helped organise the afternoon and finally Barry and Liz Smith for the use of their home and garden. Then tables were cleared, tables removed and Rotarians departed carrying chairs and soon peace returned to the garden.
---
29 May 2017: Bank Holiday Boot Sale Success
The Rotary Club of Marlborough and District held their traditional May Bank Holiday Car Boot Sale on the grounds of the Rugby Club on Marlborough Common. By 6am the first Rotarians were on site preparing the site and the soon the sellers started to pour in to claim the best pitch and set up their own stalls. Two hours later the site was busy with most of the 65 sellers in place, the keen buyers already making their first purchases and the Rotary ladies selling coffee and bacon baps doing a roaring trade.
The overnight rain had not dampened the grass, nor the spirits and the buyers were shuttling
between their cars and the stalls to make their next purchase before someone else found that bargain. These two happy chaps with their fire engine found their new toy with Dad to push it for them. More teas and coffees were purchased and the sausage baps were so popular that the ladies almost ran out of sausages.
The rain threatened but stayed away until the last booter had departed and Rotary had cleared up, checked the site and were just congratulating themselves on a good morning's work.
Just over £1100 profit was taken by the Rotarians which will be used for donations to charities supported by Rotary. So thank you to all those who attended for helping make the event a success. Rotary's next car boot sale will be on August Bank Holiday Monday, same place, same time. Watch out for details on this website and on our Facebook page .
There were a few items left at the site so if you are the owner please use the "contact us" above. See photos below.


---
25 May 2017: Rotary Supported Bikeathon Comes to Marlborough
Horizon College in Swindon is holding a year of Bikeathon challenges sponsored by Swindon Rotary clubs to raise funds to purchase a new minibus. They need to raise twenty thousand pounds for the bus and have already raised ten thousand pounds. Being able to purchase a new minibus will mean that learners will be able to access both of the college sites, attend work placements, holiday clubs and be able to socialise with their peers.
On Thursday 25th May a team, led by their carers and Swindon Rotarian Cliff Puffett, descended on Marlborough to set up their exercise bike outside the front of Waitrose by kind permission of the management. The intention was for the young people to cycle fifty miles, changing riders every few minutes because it was extremely hot and very tiring, which was easily attained. Thanks to the generosity of the general public the team raised four hundred pounds added to which was one hundred and twenty pounds raised by Marlborough & District Rotary Club. Thanks were also extended to Marlborough Jubilee Centre for providing light refreshments.
The Learning Centre is an exciting and unique provision within the Uplands Educational Trust at the Horizon College. The Learning Centre is a specialist facility for young adults aged 19-25 who have severe or profound multiple learning difficulties and / or complex needs.
---
15 May 2017: President Nominee Stewart Reveals All
Our meeting on 14 May 2017 started with a toast in memory to our late Honorary Member, Trevor Tiplady, whose thanksgiving service had been held earlier in the day at Ramsbury Church. Trevor, a founder member of our club was much loved and respected by all, as was evidenced by the very large congregation who attended the service in his honour.
Our speaker for the evening was our President Nominee Stewart Dailly who was to tell us about his "life in business". This he proceeded to do and it transpired to be a most interesting and varied life. We were taken through his life as a child born in Tootton in the New Forest, his parents having moved out of their home in Southampton because of the bombing, (that gave away Stewart's age!) through to his retirement, at the age of 64, as a director of a successful business he had helped set up 10 years previously.
Stewart told us that in between these two events he had been to Grammar school, attended St Andrews University, achieving not only an honours degree in chemistry but also a pretty good golf handicap. His first job was with Distillers Company analysing whiskey and gin under the watchful eye of Dr Magnus Pyke who was to go on to achieve fame as a "mad scientist" on television. Soon Stewart got itchy feet and he went to work for an American company which specialised in chromatography and he soon became an expert in these instruments representing the company world wide, including a 12 month stint in the USA. Promotion to Export Manager Africa, Middle East, West Asia and the Far East meant a lot more travelling which he enjoyed for many years. But a company "re-organisation" resulted in a job change to an Australian company specialising in consumables for the instrument market and again travel to the Middle East setting up dealer networks. This ended in 1995 and after a few months helping friends on odd jobs he and colleagues started the business he retired from.
Martin Luxford gave the Vote of Thanks and the assembled Rotarians showed their appreciation to Stewart.
---
8 May 2017: Important Personage Chairs Annual General Meeting
Our 2017 AGM was held on Monday evening with the proceedings being orchestrated by Hon Secretary Peter Waine under the watchful eye of President Sally Wolfenden.




The usual business of the Treasurer's Report, presented in person by Martin Couchman, the appointment of auditors Gerry Hooper and Roger Tillbrook proceeded as normal. There were no surprises when the District Representatives were approved as next year's President Cedric Hollinsworth and President Elect Stewart Dailly with the option for them to appoint representatives. Sadly there was no nomination for President Nominee 2017/18 so the post remains vacant until a willing Rotarian can be found to start their three year run through to President. In the meantime, and after some debate, a special resolution was passed to allow Cedric and Stewart to stay in their respective posts for two years rather than the usual one year term.




Finally the pleasant task of voting for an Honorary membership for a long serving ex-Rotarian was completed. The honour for 2017/18 is to be given to Peter Hancock.




The meeting closed with the toast to Rotary.

---

22 April 2017: Rotarians Check the Pulse of Marlborough
Last Saturday, 22 April, we linked with the Stroke Association to hold one of the countrywide sessions of "Know Your Blood Pressure Day" . High blood pressure is one of the factors contributing to heart failure and strokes and this annual event is held to raise awareness of the fact and to measure the blood pressure of those concerned by the possibility.
Organiser in Chief Martin Luxford dispatched teams of Rotarians to either side of the Marlborough High Street with "A Boards" and leaflets to persuade and recruit passers-by as candidates to be sent to the Jubilee centre and the attention of the inside team. There Rotarians, led by President Sally and ably supported and monitored by Dr Pam Tulloch, took their blood pressure, filled out the necessary paperwork for the Stroke Association and advised approximately 60 people of the status of their blood pressure.
The number of people tested were less than in previous years but possibly this was an encouraging sign as many of the people approached in the street retorted that they were either being monitored regularly by their doctors or that they had a monitoring device at home. Like many events of this nature the objective is to make the event itself unnecessary by eliminating the need. Know Your Blood Pressure day is nowhere near this stage but it is moving in the right direction, at least in Marlborough. But no doubt Rotarians will be out touting for business and measuring Marlborough residents and visitors blood pressures in 2018 and several years thereafter.
---
10 April 2017: Rotarians Struggle with Quiz Answers
Quizmasters and Rotarians Don Ross and Peter Lincoln laid on a typically difficult quiz to entertain Rotarians partners and visitors at last Mondays Meeting. Questions ranged from the difficult through the impossible to the sheer guess and none of the teams scored anywhere near the maximum twenty points available.
After the marking session and despite several challenges, none of which were upheld, the winning team led by Peter Waine, at least he claimed to be the leader to the writer, took honours with 12 points which won the the magnificent prize of a miniature bottle of champagne each.
During the evening a presentation by the Upland Educational Trust at Horizons College describing their operation of providing specialist learning for young people with a learning or physical disability. This was followed by the Rotary Clubs of Swindon explaining their aim to raise funds to purchase a minibus to transport the college students.
---
8 April 2017: Spring Fayre raises £2200 for Radiotherapy Appeal
Last Saturday, 8 April, visitors flocked to the Bouverie Hall in Pewsey to attend our Spring Fayre, enabling us to raise more than £2200 for the Great Western Hospital's Radio Therapy Appeal.
Rotarians had laid out the hall the previous evening and arrived at crack of dawn on the Saturday to ensure that everything was ready for the arrival of the 20 stallholders and the 10am opening time. Visitors browsed the wide variety of items on sale including plants, homemade
cakes, handbags, jewellery, silk flowers, socks and candles, before chancing their luck on the tombola and raffle. A cup of tea and cake at the Rotary cafe finished off a very pleasant and hopefully rewarding visit.
The pictures show vistors in the hall, the Rotary cake stall and our President sally Wolfenden and Sue Dailly enjoying a well earned break .
---
3 April 2017: Ronnie Stronge Communicates with Rotary
Whilst playing golf one morning with the seniors group Ronnie Stronge made the mistake of playing with Rotarian Tony Green, our speaker finder. Ronnie was obviously distracted because during the course of a conversation about what he did as a career he found that he had agreed to come along to talk to Rotary.
As we soon learned Ronnie is no stranger to public speaking as he spent much of his career organising conferences and workshops for major companies, encouraging and coaching people to improve their communication skills and to make public presentations. His talk was entitled "Communication" and that is exactly what he did in a most entertaining manner. Ronnie is pictured before the talk with our president Sally Wolfenden
Tony Spranger made the Vote of Thanks before the evening concluded with the Rotary toast.
---
1 April 2017: Rotarians Fool No-one and Collect £1500
Saturday 1 April saw Rotarians and friends collecting for Marie Curie Daffodil Appeal. The day was fine which encouraged the citizens and visitors to come out and browse the shops and also to generously donate over £1500 to the worthy cause. The picture shows Rotarian organiser Rex Sandbach in his collecting attire.
---
20 March 2017: The Story of the SS Great Britain Fascinates Rotarians
A large gathering of Rotarians, partners and wives attended the talk at last Monday's meeting at the Marlborough Golf Club given by Ian Caskie, a Visitor Services Volunteer of the SS Great Britain Trust. Ian gave a most entertaining and informative talk about this famous ship, from her commissioning by the Great Western Steamship Company in the 1840's to her return to Bristol on a pontoon from the Falklands in 1970 through her subsequent refurbishment and her current status as major tourist attraction..
The group learned that the ship was designed by Isambard Kingdom Brunel (IKB) and at its commissioning in 1843 was the biggest and fastest ship afloat. She was the first iron ship, was fitted with a 100hp steam engine, the most powerful at the time and was the first to be driven by a screw propellor. It was astonishing to learn that all this was only 38 years after the battle of Trafalgar and the traditional square rig ships of the line such as HMS Victory, and vast age apart in design and capability.
But she had a chequered history, after only 5 voyages to the United States she ran aground on an Irish beach, where she stayed for almost a year before being refloated. The cost bankrupted her owners and in 1852 she had sailing capacity extended and was converted to an auxiliary steamship carrying gold prospectors to the newly found Australian goldfields. On the demise of the gold rush in 1882 she was converted to coal carrier, had her engines removed and her topsides clad in pine and started carrying coal from Wales to California. In 1886 she was severely damaged in a storm of Cape Horn and returned to the Falklands where she lay, unprepared for many years until 1937 when she was sold for £2000 and scuttled. Her current phase of life started when it was decided to salvage this important ship and return her to Bristol, her home port. The 8000 mile tow took 49 days and she arrived on 19 July 1970.
A fantastic amount of work has been performed by volunteers and skilled workman to restore her to her current pristine state, helped nota little by National Lottery funding.
The Vote of Thanks was made by Rob Mitchenall who congratulated Ian on his stimulating talk, which encouraged Rotarians to make visits to see this famous ship
---
12 March 2017: Isobel Does Us Proud in Young Musician Final
Sunday the 12th of March saw the Instrumental and Vocal District finalists go head to head for the title of Rotary District 1100 Young Musician, in both Instrumentalist and Vocal disciplines, generously hosted at Dean Close School Cheltenham and MC'd by Andrew Turner of Tewkesbury Rotary Club. The standard amongst the four instrumentalists and two vocalists was very high providing an array of classical and modern music.
The Instrumental contestants were
Edwin Ward, on piano, (Sponsored by South Cotswold Rotary), performed Impromptu in E flat, Op2, by Franz Schubert, Mistry by Errol Garner and Liebestraum No 3 by Franz Liszt
Isobel Haynes, on the Cello, (Sponsored by The Rotary Club of Marlborough), performed Andante from Concerto No1 by Julius Klengel and Allegro Appassionato by Camille Saint-Saens.
Kimberley Mok, on piano, (Sponsored by the Rotary clubs of Cheltenham Sunrise, Gloucester, Tewkesbury and North Cotswolds), performed 1st Movement of Sonata in A Minor K310 by Wolfgang Amadeus Mozart and Jardins sous la plume from Estampes by Claude Debussy.
Amelia Gilmartin, on violin,(Sponsored by the Rotary Club of Bristol), performed violin concerto No3 in G major, K216 1st movement and cadenza by Wolfgang Amadeus Mozart and Salut d'Amour, Op.12, by Edward Elgar
The Vocal contestants were
April Perrott, (Sponsored by the Rotary Clubs of Cheltenham Sunrise, Gloucester, Tewkesbury and North Cotswolds), performed Lascia Ch'io Ping by George Frideric Handel, Something Wonderful from The King and I by Oscar Hammerstien and Richard Rogers followed by If My Friends Could See Me Now from Sweet Charity by Cy Coleman and Dorothy Fields.
Caitlin MacClay, (Sponsored by The Rotary Club of Swindon North), performed Sweet Chance, that led my steps abroad by William H Davies and Michael Head. An die Late by Johann Friedrich Rochlitz and Franz Schubert and closing with Second hand white baby grand by Marc Shaiman and Scott Wittmann.
The competition was supported by three exceptional adjudicators, without whom the competition would not have been possible, Julia Morris, Sara Espley and Stephen McDade who together have a very extensive formal musical education, teaching experience and global performance repertoire. After deliberation judge Stephen McDade gave a detailed over-view of the criteria they were looking for other than the actual performance including contact with the audience and musicality.
Sadly there could only be one winner in each category and these were Kimberley Mok on Piano and vocalist April Perrott. Kimberley and April now progress to the Regional Final on 26th of March in Telford and success here could lead to a place in the National Final on Saturday 6th of May at the Royal Welsh College of Music and Drama, Cardiff. We wish them both the best of luck.
---
6 March 2017: Erlestoke Prison Governor Explains Life Behind Bars
On Monday Rotarians, partners and friends listened with much interest to guest speaker Amanda Corrigan, a governor from Erlestoke Prison. She began by describing her earlier career: following graduation from University she joined the police force and then after two years worked for the probation service. Later, in 1998, she joined the prison service working in various prisons, including the notorious Wandsworth.
After gaining qualifications and promotions she moved to Shepton Mallet prison in 2006, prior to taking up her present post. Erlestoke is a Category C prison for adult male sentenced offenders. It is built on the former grounds of Erlestoke Manor House and after several expansions now has capacity of 525, currently reduced to 390 due to damage that occurred in one of the wings last year .
Amanda explained that the prison focus is firmly fixed on reducing reoffending and preventing future victims of crime by preparing offenders for their release through accredited intervention programmes, skill and vocational based training and education in a pro-social environment. At all times the staff endeavour to maintain a safe and secure prison whilst delivering a drug and alcohol free community.
The evening concluded with a question and answer session where she explained that the annual budget was just over £2million or £20,000 per prisoner per year. In response of being asked if she ever felt in danger whilst working on the prison she replied, 'Never, at any time do I ever feel intimidated, or in fear of danger, during my working day. However, working in a prison today is extremely difficult for the staff but it should improve over time.'
---
5 March 2017: District 1100 Young Chef Final Shows off Great Talent
Six very talented young chefs, aged 12 to 17 competed for just two places in the Regional Final on the 18th of March, being hosted at Rugby College, Rugby. CV21 1AR. All were highly skilled, having produced excellent dishes during the previous rounds of the competition, making this District Final a very close-run event. The final was held on 25 February 2017 at The Cotswold School and was lucky to have two experienced chefs, David Kelman and Wayne Sullivan as judges. Eleanor West from Pewsey Vale School and sponsored by our Club was one of these six.
The Young Chef competition aims to encourage young cooking enthusiasts to develop food presentation skills, organisational and planning skills, and to demonstrate their ability to cope in a demanding situation. As in previous years, the standard, both of food preparation and of presentation, has been very high, and this fits with Rotary's aim to give opportunities to young people, and to encourage the pursuit of excellence.