Aerial Artwork - Colin Aldred
Wed 21st March 2018 at 18.30 - 20.00
Our speaker at our meeting at the Michaelson House Hotel
At our meeting on the 21st March 2018, held at the Michaelson House Hotel, we were pleased to have as our speaker Colin Aldred from Aerial Artwork. Colin was accompanied by his friend Peter Needham.
He commenced by showing us a 2.5 minute video he had produced for the Morecambe BID Team. It combined aerial photography with stills and music to create a very atmospheric flattering picture of Morecambe. One of our members facetiously said he did not recognise Morecambe from Colin's video and will have to go back again to do justice to the place.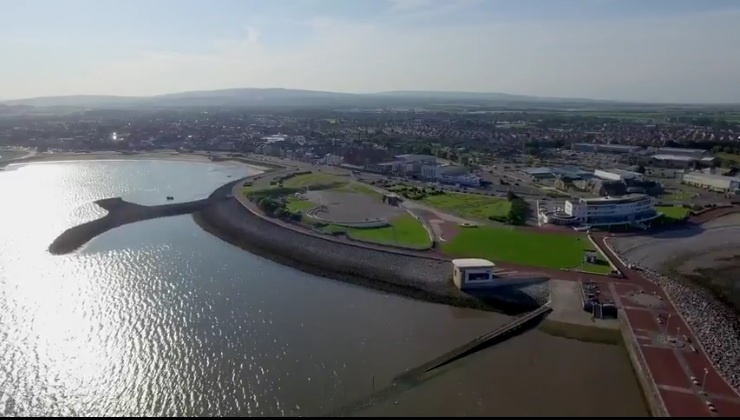 Colin told us that he had a degree in fine Arts from Hull University and had then undergone teacher training at Cardiff. Following a number of teaching positions around the country he eventually came to the Barrow 6th Form college as head of art in 1991 and remained there until taking early retirement in 2015.
He said that he had always been interested in aerial photography and views, he said it stemmed from his college days when he was fascinated by satellite photographs being produced of the earth. Nowadays, with Google Earth anyone can have a similar experience, but back then it was unique and he used the images to influence some of his student art work.
Following retirement, he wondered what he would do with all his new spare time and it was one of those sudden lightbulb moments that he would become an aerial photographer. He recollected that at the 6th Form College he had encouraged the students to take some aerial photographs, but then they had to use a kite and whilst they did get results, with little control over the kite direction, it was not quite what they wanted. But then they had to make do with it !
For his aerial photography he would use a DRONE, but to do it professionally there were a number of hurdles to cross. He needed to get Civil Aviation Authority (CAA) approval. For this he had to attend a three day training course in South Wales and then sit an examination, he got his CAA Approval in February 2015 and is currently on his third approval (renewed every year).
Colin then showed us his first commercial film, he had been on holiday at Ross Bay a seaside farm on the outskirts of Kirkcudbright in Dumfries and Galloway. He had his drone with him and asked permission to fly it and take some aerial footage. They gave him permission and were keen to see the results and were pleased to become his first commercial customer.
He stressed that every film is different, depending upon the requirements of the client and showed us one he had taken at North Walney nature Reserve. He told us that the pilotage software on his drone curtailed him, because of the proximity of Walney Aerodrome, prevented him from flying too close to the boundary where he wanted to film and so he had to figure out some alternative view angles quickly.
He told us that he is a very cautious flyer, checking the environment beforehand, restrictions are in place over flying in proximity to houses (without permission) and there are several restricted areas in the Lakes for example where flying is either strictly controlled or forbidden.
He had with him two drones, his first one which he said cost about £2k and is capable of shooting 4k video with about 12MB of photo storage. The camera is on a gimballed fitting with 3 way stabilisations, i.e no matter what the drone is doing, the camera remains stationary and focussed in the direction you want. It also was capable of 360 degree panning which proved very useful. He can fly it in moderate breezes, but prefers to pick his days, no rain and little or no wind ! The drone has a 20 minute battery life and a return home feature, such that before the battery ran out the drone would return and land at its starting point automatically. He then showed us his latest drone, it has all the features (except for a 360 degree camera operation), but it is smaller and includes collision avoidance software and in common with all technological developments was less than half the price of his first one.
But the drones are nothing without a control panel, this has an ipad attached which relays the view from it to the pilot and includes a bunch of software to make flying and camera operation as simple as possible. They have an effective control range of up to 2 miles, but regulation dictates that they should always been in sight of the pilot.
When the films are brought back to base he has another bunch of software (9 different types) on his home lap top to edit ,splice films, photographs and to set the whole to suitable music clips to complete the film.
Colin concluded by showing some more samples of his work, a story of how water features in production of paper at Cropper's Mill in Kendal. That contrasted with a brassy number publicising a go cart course at Whitehaven and then another beautiful piece of a work in progress on the fringe of the Lake District.
After numerous questions and a quick vote of thanks Colin was able to get away to his next appointment, to watch a long postponed football match at Holker Street.