BARROW BID
Wed 16th May 2018 at 18.30 - 20.00
Attempting to improve Barrow town centre.
Wednesday 16.05.18
Speaker Simon Craig, Manager of Marks and Spencer, spoke about the Barrow Business Improvement District (BID)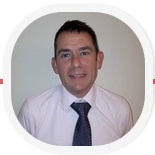 Simon Craig
Simon began by telling us that he is a Barrovian and is the store manager of Marks and Spencer in Dalton Road.
He started as a cleaner and 56 jobs later came back to Barrow as manager because he loved the town.
He doesn't believe Barrow deserves the bad publicity it receives with the public perception that it is run down, dirty etc. Ironically when Barrovians are on holiday and hear bad remarks on their town they defend it rigorously.
Simon said he constantly hears complaints from the public that there aren't enough large shops in the town, but pointed out that there are 55 national retailers here, so what shop is missing, what doesn't the town offer?
When a member remarked Primark, he explained Primark cannot find big enough premises. He asked what other retailers we would like to see, there was no response.
Business Improvement District (BID)
Barrow's BID is now in it's send year and it's funded by businesses with a rateable value of more than £4,000. They pay a levy of 1.5%; as an example Debenhams pays £4,500 p.a. 462 businesseses pay the levy which brings in £865,000.
How do we spend the money to benefit the town? We foster the 4B's; Brighter, Busier, Better and Boasting. Please go to BID's website for more details. Simon said that Rotary and other charities could use the website to advertise their events, and any business can advertise free on the website to promote their business.
BID held a Classic Car show last year with Dalton Rd full of people admiring the cars. Feedback was very positive and the event will be held again this year,
Car parking signage is now better and should bring people in and make access better. There are better directions down Abbey Rd, as this is the best way into town. To help M&S has created free parking after 3pm.
There will be a soccer event to compliment the World Cup and the Tour of Britain will also start in the town and is expected to bring in lots of visitors. The event will be televised live and start at Roosecote Power Station with helicopter coverage of the event.
The intention is to try and bring one big event to town next year, and currently a Soap Box Challenge, which would take place on Dalton Rd, is being considered. It is hoped that schools will get involved, together with sponsorship by business. The event would be similar to the Red Bull Soap Box race and would need sponsors from big business as the event is likely to cost £80,000 to stage.
Ulverston, Kendal and Morecombe seem to steal the limelight with their events and BID is trying to raise the profile of Barrow and make people proud of the town and proud to live here. Simon said we need to get the pride back into the town.
Unfortunately the Council don't have the resources to clean all areas of the town, and people just don't seem to care where they drop litter as if they have no pride. We need to try and instil this pride and change attitudes, to get away from the "what's in it for me". People need to see the bigger picture.
Simon then took questions from the members before Jeff Dandy thanked Simon for his enthusiastic talk.