End Polio Now (World's Greatest Meal Event)
Tue 31st October 2017 at 13.00 -
Guest Speaker Paul Hickson will speak about his and his wife's experience
working with the End Polio Now team immunising the population in India.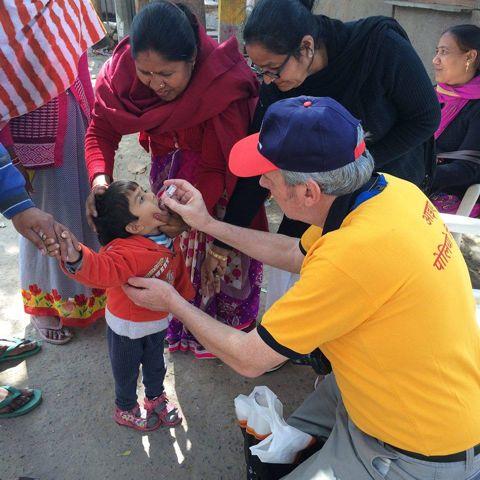 This is a fundraising lunch in aid of the
End Polio Now campaign.
This lunch is open to Partners and Guests.
Cost: £16 per head
Most people have heard of polio but few know that the disease still affects children around the world. Every donation helps us to provide the much-needed operational support, medical personnel, laboratory equipment and educational materials for health workers and parents needed in the fight against polio. Here are some facts and figures:
Since 1988, we've seen a worldwide reduction in polio cases
of 99.9%. Last year we only saw Spolio cases in three countries.
Since 2013, the Gates Foundation has added £2 to every £1
Rotary commits to polio eradication.
In addition to the funding, more than one million Rotary members have given their time to end polio and every year hundreds of Rotary members have worked side-by-side with health workers to immunise more than 2.5 billion children in 122 countries.
Your help today will move us closer to
eradicating polio once and for all.
Thank you.