Swimarathon 2018
Swimarathon Saturday 24th February 2018 at Elgin and Lossiemouth Swimming Pools
39 swimmers (24 adults and 15 school students) had a great time swimming laps in Elgin and Lossiemouth pools on Saturday 24th February, between them they swam 1189 lengths of Elgin pool and 900 lengths of Lossiemouth pool, 52.23 Km in total.
Special mentions must be made of Elgin Rotarian Michelle Anderson who swam over a mile for the Elgin Rotary team in Elgin and the same in the Lossiemouth pool for the Royal bank of Scotland team; our youngest swimmer 5 year old Abigail Grant who swam 20 lengths in Lossiemouth Pool and to11 year old James McRitchie who swam 84 of the Smith Drivers team total of 276 lengths.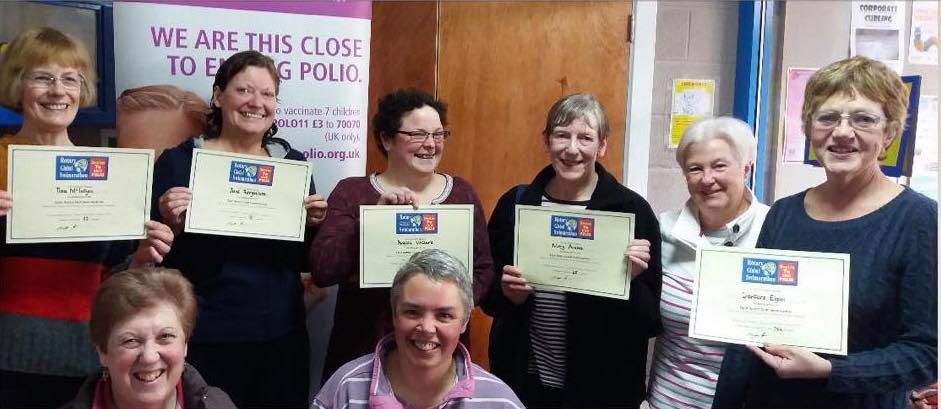 Amongst the teams taking part were 2 teams of 11 swimmers from Cantare Community Choir who raised a fantastic £2000, also 2 teams from Elgin Youth Café.
This year we have raised over £6,000 and all proceeds go to Rotary Foundation, funding projects such as End Polio Now.
Elgin Rotarian and Swimarathon organiser Ian Brodie congratulated and offered a very sincere thank you to all the swimmers for their magnificent effort.
The aim!
To raise sufficient funds to end polio across the world by 2018. For every £1 raised by Rotary across the world the Bill and Melinda Gates Foundation gives £5. You can make a difference.