Rotary GBI Conference
Fri 6th April 2018 at 09.00 - Sun 8th April 2018 - 16.00
At Torquay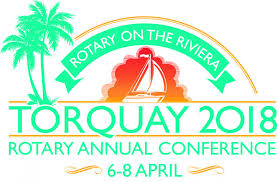 2018 Conference
Join Rotary on the Riviera!
Preparations are already under way for the 93rd Rotary in Great Britain & Ireland annual Conference 2018 in the seaside resort of Torquay, the English Riviera! The Conference will take place on Friday 6th April – Sunday 8th April 2018.
It was the Victorians that coined the term English Riviera, by now well established as a fashionable holiday destination, and it was 1924 that Rotary last held its conference in Torquay and we are excited to be back!
Torquay is full of surprises with its magnificent horseshoe-shaped bay, iconic palm trees, pretty marina, sweeping sandy beach and its fascinating Agatha Christie connections.
Our conference venue this year is the Riviera Conference Centre, located in the heart of the community and with an inspirational setting by the sea. They have delivered an award winning track record of events and are committed to providing a first class conference for Rotary.