Santa's Fun Run
Sun 2nd December 2018 at 09.30 - 11.30
Our annual fund-raising event. This year's target £50,000.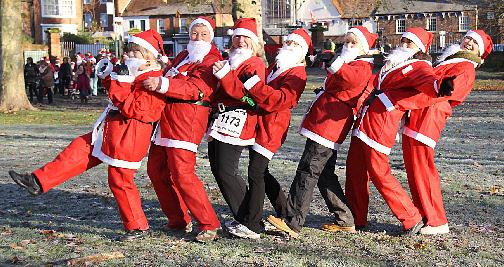 This event has always been generously supported by many Rotary Clubs in neighouring Districts and it helps promote Rotary widely in the area. It is also an excellent day of fun and fellowship for all the volunteer helpers.
Last year we had 2,500 Santas running, and the event generated in the region of £40,000 for a wide variety of charities.
This year we are increasing the entry to 2,750 Santas and are concentrating on making the event more community based. We have improved the start procedure and it is certainly a very dramatic sight as so many Santas run up Marlow High Street. There will be more for the families and supporters of runners to do and watch such as food outlets and a street theatre in the High Street.
We are also aiming for all runners to raise far more money by means of individual sponsorship. Hence our target for the day is A MASSIVE £50,000!!!