Ulverston Inshore Rescue
Wed 10th July 2019 at 18.30 - 20.30
Peter Wojcik enlightened us about this local group.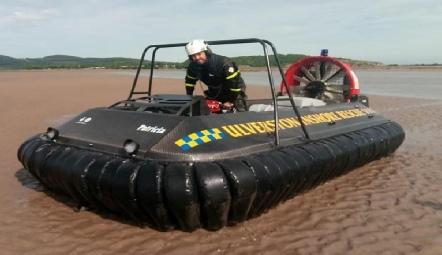 Paul Wojcik, Sub-Officer at Ulverston Inshore Rescue came to talk to us on Wednesday 10th July and to demonstrate some of the equipment they use.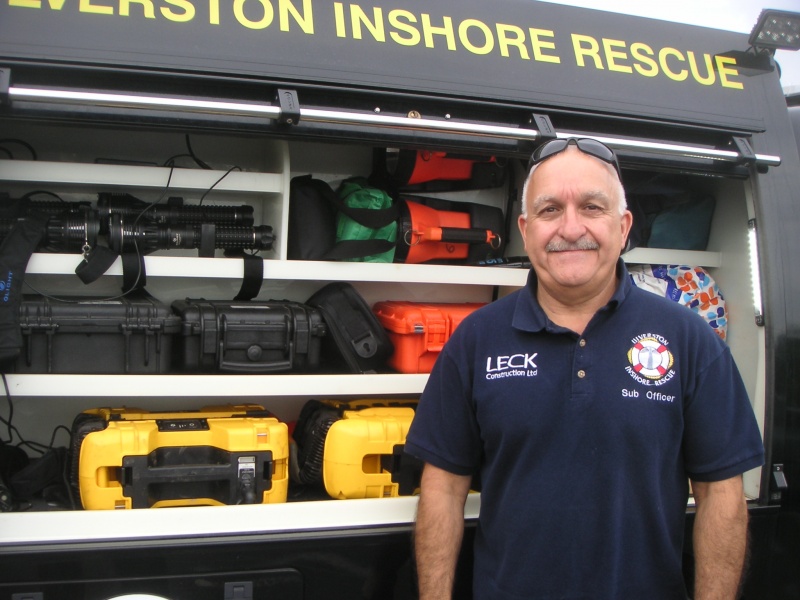 Paul Wojcik with their Rescue Vehicle
We recently welcomed Paul, who told us that the organisation was born out of tragedy in 2002, after a father and son were lost on the sands of Morecambe Bay, trapped and drowned by a swiftly advancing tide. Two people from Ulverston, Stan Lewis and Jim Prosser, resolved to raise a rescue team to avoid such a tragedy in the future and Ulverston Inshore Rescue Team was born. Five of their current complement of fourteen were also in the original group.
Glaxo generously gave the group a site for their base in South Ulverston andthe company have been ardent supporters ever since. Jim Prosser's wife Pat has single-handedly raised the money which has been required to equip the team. When they purchased their hovercraft, it cost them £59,000. They named it Patricia in thanks to Pat who had raised the funds for it from the Lottery and the Sir John Fisher Foundation.
The highlight of the evening was a demo of the dry suits the team use at sea, Frank Randall was cajoled into trying it on, after almost getting stuck in the "neck tube" he did get the suit on, but taking it off was something else. Ron Duxbury made a short video of Frank extricating himself from the suit, I think it will be one of our most popular Facebook postings.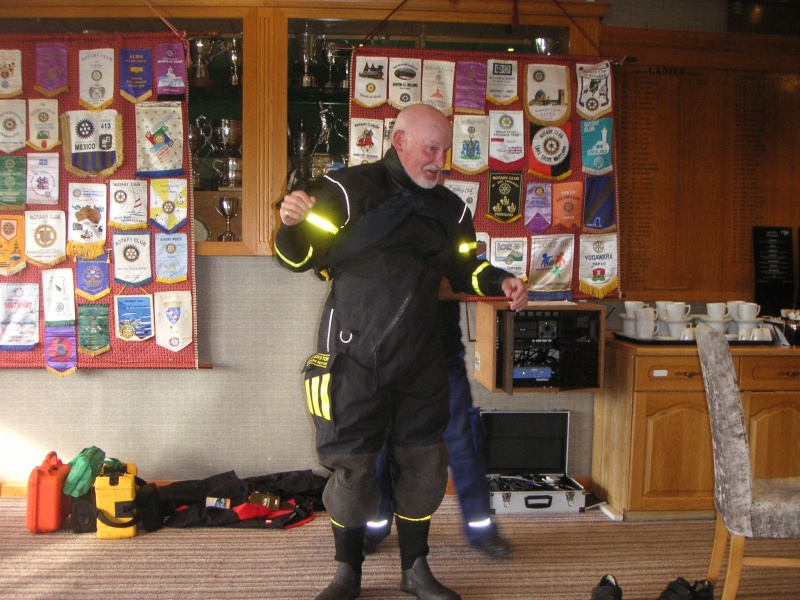 Frank in the Dry Suit
Paul told us of some of the incidents they had attended as a team and related one which turned out to be quite funny. They had had two calls at Christmas, one being a report of a balloon and basket landing in the sands near Chapel Island. They despatched the hovercraft and discovered it was a blown-up spiderman suit. The next call was of a microlight landing - that turned out to be a leg off the same spiderman suit!
Their team have to undertake lots of training which can be costly and time consuming. To improve the situation, Paul was trained as an Instructor and can now cascade train all of their team in most things apart from the Swift Water Rescue gear. The team has to undertake regular training and updates with other emergency services.
All of the team are on 24/7 call but can absent themselves from the rota using a phone app. When they receive a call for assistance, all of the team are paged on their mobile phones except for those who have taken themselves off the rota.
After a number of questions, Geoff James gave a vote of thanks. President Brian presented Paul with a cheque for £250 towards the team's running costs.