Barrow Street Angels
Wed 21st August 2019 at 18.30 - 20.30
Rev. Sophie Carnaby and Tim Jeffries explain about this valuable service for Barrow town centre.
At the Furness Rotary meeting on Wednesday 21st August at Barrow Golf Club, President Brian Boyd introduced our guest speaker, the Rev Sophie Carnaby and Tim Jefferies from the Barrow Street Angels.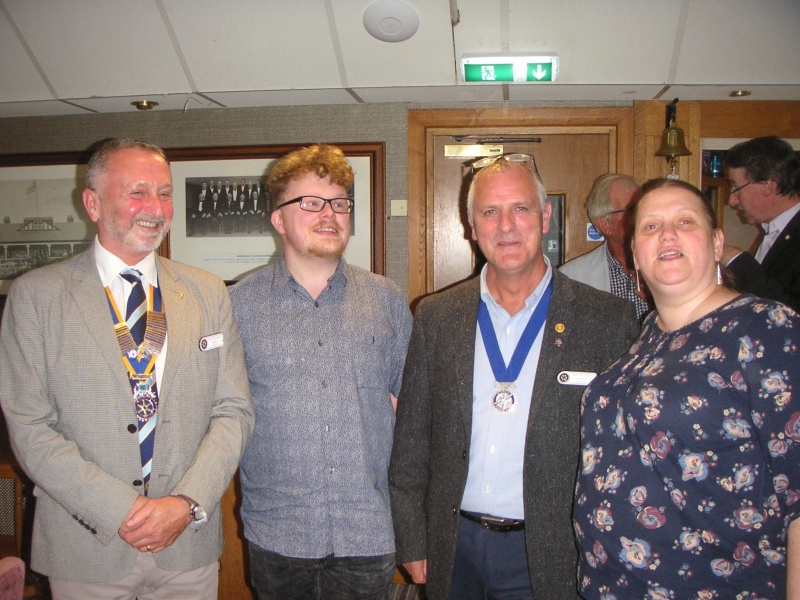 Sophie told us that the Street Angels have been operating for almost 2 years and developed from a conversation she had had with our local police; she is chaplain to the police and fire brigade!
During the conversation she had suggested that there may be room for a helping organisation during the early hours of the morning when the local night clubs are closing their doors and some very drunk people are taking to the streets. She said they literally bit her hand off and have been enthusiastic supporters of them from day (should be night) one.
Their group of 6 volunteers meet up in the reception area of the Furness Railway pub at about 11:45 pm, don their high viz clothing – funded by Barrow BID and sally forth about 12:15 pm until round about 3:30 am. Their purpose is to reduce the pressure on both the NHS and the Police and give sometimes helpless drunk people some support.
Each of them carry a knapsack with flip flops, bottles of water, torches, first aid equipment and their secret weapon lollipops! Sophies estimated that they hand out between 30 and 50 pairs of flipflops on a Saturday night, the ladies who begin their evening dressed to the nines and in high heels often can be seen at the end of the evening hobbling around in bare feet carrying their high heeled shoes. The flip flops save their feet and in the event that they have already injured themselves they also have the sticking plasters ready.
Many just need a helping hand a bit of guidance to the nearest taxi a friendly word of encouragement even help to contact friends or relatives. Occasionally they will find trouble brewing and someone spoiling for a fight, then the secret weapon comes in, Sophie said they (lollipops) are superb at defusing a situation.
During their stint patrolling the area they also check the numerous back streets and dark alleyways, one time they found a young girl, all alone unconscious in a back street, so vulnerable and in the dark. They quickly got help to her and home safely. Some have got parted from their friends, some have been abandoned by their "friends" all intoxicated. The indulge in pre-loading, drink a vast quantity of cheap booze at home before going out! Lots of them are drunk when they go out and are able to stay until the early hours. Sophie told us that the drinking hours do need revising, none of the club owners like them, their clients are drinking less of their expensive club drinks (after pre-loading) – still they have to keep premises open and staffed, the bar, security and entertainment, all costly items and a falling income stream! And at the weekend the place (Cavendish Street, Dalton Road, Dalkeith Street) are full of people who drink too much and then get stupid. The girls try to match the boys drinking with some dire consequences.
Then the Street Angles come to help, they act s a buffer between the client (drunk) and the ambulance service, stretched at the best of times that can do without ferrying to A&E someone who complained of burping for two hours, he was told he should not drink so fast and get on his way!
What of the future, Sophie said they badly needed a night base, a safe area where someone could sober up, in two years they have not been able to locate suitable premises but will keep searching and fund raising for it. They also want to site a de-fibrillator in Cavendish Street, they have the equipment and now just need a suitable wall to mount it on. After several questions, Martin McLeavy proposed a Vote of Thanks to Sophie and Tim.