Future events in Rotary District 1260
completed events

Mon 18/03/2019 -
23rd.Annual Jaipur Limb Charity Dinner
Newport Pagnell - 23rd. Annual Jaipur Limb Charity Dinner at the THE DOME/ JAIPUR RESTAURANT Central Milton Keynes Tickets £28 per person Inc. glass of wine on arrival.
more

Thu 21/03/2019 -
TECHNOLOGY TOURNAMENT
Rickmansworth - Contact the Rickmansworth or Watford Rotary Clubs. The competition comprises schools from both areas and we run the competition jointly. Rickmansworth contact - Brian on 01923 773092

Sat 23/03/2019 -
Concert in aid of Rotary at the Elgiva Theatre, Chesham
Chesham -
more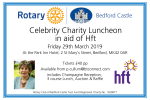 Fri 29/03/2019 -
Celebrity Luncheon with Valerie Singleton
Bedford Castle - Celebrity Charity Luncheon in aid of Hft – Friday 29th March 2019 At the Park Inn Hotel, 2 St Mary's Street, Bedford, MK42 0AR Guest Speaker - Valerie Singleton OBE
more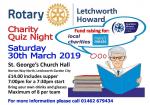 Sat 30/03/2019 -
Letchworth Howard Quiz Night
Letchworth Howard - Grand Quiz Night. Saturday March 30, 2019. St George's Church Hall, Norton Way North, Letchworth Garden City, SG6 1DA. 7.00 for 7.30. Fund-raising for Garden House Hospice Care and Mary's Meals. Supper included. Tickets £14.00.
Wed 03/04/2019 -
District Admin & Service Projects Team Meeting
Tilsworth Golf Centre, Dunstable Rd, Leighton Buzzard LU7 9PU
Sat 06/04/2019 -
Charity Film Night
Amersham - .
more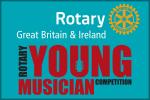 Sun 07/04/2019 -
Young Musician - Regional Final
St Faith's School Trumpington Road Cambridge CB2 8AG Organising District 1080

Tue 09/04/2019 -
53rd Charter Celebration Lunch
Biggleswade - Celebrate with Biggleswade
more

Thu 11/04/2019 -
District Executive
Tilsworth Golf Centre, Dunstable Rd, Leighton Buzzard LU7 9PU

Sat 27/04/2019 -
District Assembly
Venue:- TBC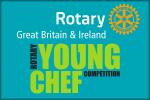 Sat 27/04/2019 -
Young Chef - RIBI Final
Leeds City College, Leeds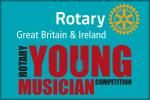 Sat 04/05/2019 -
Young Musician - RIBI Final
Details TBC

Wed 08/05/2019 -
District Council
Tilsworth Golf Centre, Dunstable Rd, Leighton Buzzard LU7 9PU

Fri 10/05/2019 -
RIBI Showcase
Nottingham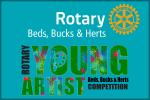 Fri 31/05/2019 -
Young Artist
Club entries to District Organiser

Sat 01/06/2019 -
RI Convention
Hamburg - Capture the Moment

Sat 08/06/2019 -
Ware Dragon Boat Race
Hertford Shires - Come along and have a fun day out with your friends or colleagues and enjoy the friendly rivalry of competing with other like minded teams. Sacred Heart School in Ware (postcode SG12 9HY) and the adjoining stretch of river
more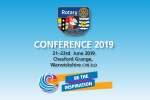 Fri 21/06/2019 -
District Conference
Chesford Grange Warwickshire CV8 2LD

Wed 26/06/2019 -
District Admin & Service Projects Team Dinner
Tilsworth Golf Centre, Dunstable Rd, Leighton Buzzard LU7 9PU

Wed 26/06/2019 -
District Executive Dinner
Tilsworth Golf Centre, Dunstable Rd, Leighton Buzzard LU7 9PU
Fri 28/06/2019 -
Tenth Anniversay Celebration Dinner
Wendover & District - Join us to celebrate the 10th anniversary of Wendover and District Rotary receiving its Charter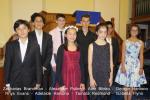 Sat 06/07/2019 -
RICKMANSWORTH YOUNG MUSICIAN OF THE YEAR
Rickmansworth - Final - Baptist Church There is a separate website called Rickmansworth Young Musician of the Year
Thu 19/09/2019 -
Extra Mile Flanders Challenge
Milton Keynes Grand Union - A charity cycle challenge for teams of four to cycle 500 miles in three days. The route visits France, Belgium, Germany & Luxembourg