Are you up for the Challenge?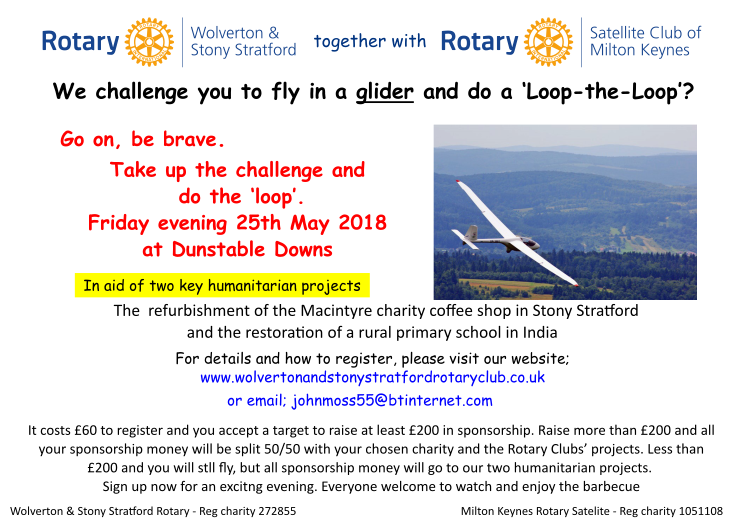 Do the Loop-the-Loop Glider Challenge
I can claim to have done this and I can tell you it is one of the most exciting things I have ever done. Being in the air in a glider is exciting enough but when the pilot takes the glider through a 360° degree loop, the adrenaline really flows. It's amazing to see the earth disappear beneath the glider and see it reappear above your head.
You must be under 16 stone weight and no taller than 6ft 2ins. Under 18 year olds must have parental consent and if you are over 70 years, we strongly recommend that you get an OK from your GP to do this.
There is a registration fee of £60. This must not be sponsor money and must come from your own resources. You will be invited to become a temporary member of the Gliding Club for insurance reasons. There is no cost to this.
The date to fly is the evening of Friday the 25th May 2018.
Nearer the day I will send the joining instructions. If we can't fly due to bad weather you will be notified by telephone as soon as possible. The event will then be rearranged.
By signing up to take part you undertake to try to raise at least £200 sponsorship. If you manage this your sponsorship money will be split 50% to a charity of your choice and 50% to one of our two Rotary Club projects* Less than the target £200 and all sponsorship will go to the Rotary projects. If you can't manage £200 you will still get to fly.

* The refurbishment of the Macintyre charity coffee shop in Stony Stratford and the restoration of a rural primary school in India
After landing you can enjoy a burger from the barbecue with your family and friends who have supported you. The gliding club bar will be open for a celebratory drink.
Go on, be brave. Take up the challenge and register now.
for a registration form email:
johnmoss55@btinternet.com