John McGill and Val Robinson from Dalton, are joining 90 Rotary volunteers who are flying out to India to immunise millions of vulnerable children.
Local Barrow volunteers in polio mercy dash to India
Over 170 million children, aged up to five years old, will be given the life-saving polio vaccination on one day, 28th January, thanks to Rotary's End Polio Now campaign. John McGill and Val Robinson from Dalton, are joining 90 Rotary volunteers from across Great Britain and Ireland who are flying out to India to join local Rotary members and health agencies to immunise millions of tiny vulnerable children in the hardest hit areas.
John and Val, members of the Rotary Club of Furness Peninsula, will be working alongside local volunteers in Delhi, Kolkata, Bhiwadi, Amritsar and surrounding high-risk villages, reaching and protecting millions of children. This includes house-to-house visits for impoverished families who cannot travel to the vaccination booths.
They say the extra help makes a huge difference to protecting India from this crippling and, at times, fatal disease: "Rotarians and other volunteers go out twice a year to help Rotary clubs in the area reach as many children as possible. There are other regular vaccination events but these larger National Immunisation Days (NID) draw huge numbers of children and families. Visiting Rotarians have a curiosity value which attracts children in the slums and remote villages who do not meet many British people.
"India is polio free but this does not mean our job is over. We want to keep India's children safe from polio. Rotary will keep immunising every child to spare them from a life of disabilities and pain." John and Val who have not made the trip before said: "Although hugely rewarding, this will not be an easy trip. We will see startling sights of poverty, people literally in gutters trying to make a living and people who have been crippled by polio and can barely crawl let alone walk. The knowledge that we are helping others to have a better life, through End Polio Now and other active Rotary projects, keeps everyone motivated. We see with our own eyes just how important it is to keep on immunising these children and bring back the message that this is a vital job."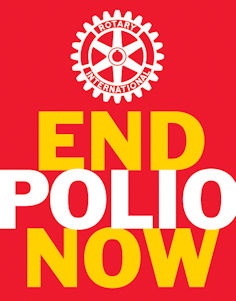 The immunisation drive is part of Rotary's End Polio Now campaign. Thanks to Rotary's efforts, the number of endemic countries has dropped from 125 to three: Afghanistan, Nigeria and Pakistan. India has been declared polio free but there is always the threat of re-infection from migrant workers and people seeking refuge from war-torn countries who may be carrying the virus and it is critical to maintain ongoing high levels of vaccination take up.
Everyone can help save lives. You can join your local Rotary club or donate to End Polio Now. To donate to End Polio Now or to join Rotary International in Great Britain and Ireland, visit rotarygbi.org.
BACK TO HOME PAGE