Local clubs' future events
Abingdon - Wed, Oct 5th 2022 at 10:30 am - 12:30 pm "The Challenor Cup" Golf Day
The Annual Golf Day, this year at North Oxford Golf Club. Who will take home the trophy this year?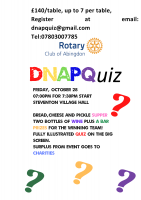 Abingdon - Fri, Oct 28th 2022 at 7:00 pm - 10:00 pm DNAPQuiz
Welcome to the 2022 DNAPQuiz. It's an evening not to be missed! Doors open at 7pm for 7.30pm start. What is included? Supper is included and much more: two bottles of wine per table. There is also a bar available.
Abingdon - Sun, Dec 4th 2022 at 10:00 am - 12:00 pm Rotary Jingle Bell Jog
An annual fun run, in Santa costumes we provide, to raise funds for Rotary. This year the surplus will pay for medical aid for Ukraine, through the Rotary International Fellowship of Healthcare Professionals.
Come and join us on the Jingle Bell Jog!