Welcome to the Rotary Club of Oxford Isis
Featured pages:

Thu 11th February District Governor Fred King welcomes Oxford Academy Interact President Lugain AltohamyRead more
President Alicia Goodey welcomes you to the web-site of the
Rotary Club of Oxford Isis
On this site you can find details of future meetings and events. If you are interested in joining Rotary and engaging in the rewarding and worthwhile projects we undertake each year, please contact our secretary and arrange to come along to one of our meetings. You will receive a very warm welcome; as experienced by Cliff our newest member. As this Rotary year wends its way towards a close we remember that Rotary is about Service above self and as we look forward to next year that means "making a difference"; the slogan for Roatary year 2017-18
Preparation for our car show in August this year (2017) at Court Place Farm is well underway. We are looking to build on the success of last year where we raised over five thousand pounds for our supported charities notably SeeSaw. An enormous thank you to all who supported this annual event; it was in most pundits' opinions the best yet. So do please come along this year we promise you will not be disapointed. Featured below are some of the winners in our 'best at show competition'... I am indebted to David Holmes once again for his excellent photographs. If you missed the show in 2016 but would like to mark the date for 2017; it is August 13th.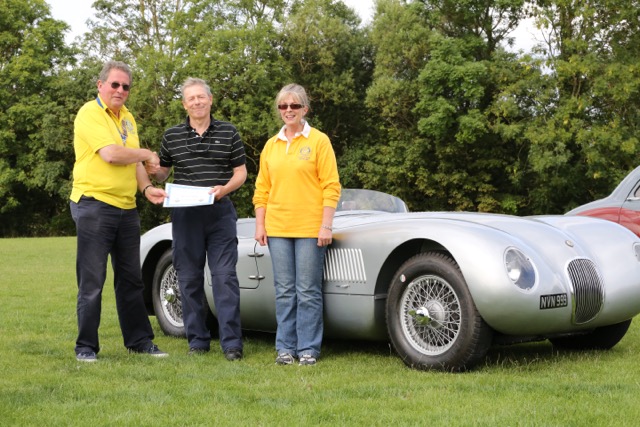 The two Rotarians in the yellow Ts are Peter our past President and Alicia our current President and car show supremo.For more pictures of the show and latest news for 2017 please visit http://www.cowleyclassiccarshow.org.uk or just click the link button above. One picture to whet your appetite:
President's Pick - Jaguar C type

.=ss
Meeting Details
Interested in joining Rotary
In the next 30 days...

As we have a 5th Thursday it is a ideal opportunity for our incoming President to say a few words to members and guests about the coming year.

Dinner followed by an address by our new District Governor on the new Rotary year and particularly how we shall be making a difference!
Meeting Information...
We meet on Thursdays at 1900 for 1930 (We meet fortnightly on 2nd and 4th Thursdays each month. On 5th Thursday's we arrange special guest evenings, so please check before setting out. Many thanks.) Please refer to the relevant meeting and/or contact our Secretary for further details by e-mail dhollyhocks@btinternet.com. We meet at The Oxford Golf Club, Hill Top Road, Oxford OX4 1PF tel: 01865 242158