Future meetings and events around the district
Stirling - Sat 21st March 2020 at 14.00 - 16.00 Area 7 Primary School Quiz Final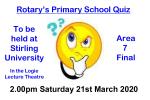 Area 7 Primary School Quiz Final
Blairgowrie - Sun 19th April 2020 at 09.00 - 19.00 Drive it Day 2020
Another spectacular drive around Tayside. This year the charities supported are Alzheimer's Scotland and Bowel Cancer, as well as the club's own Charity fund.
Stirling - Mon 1st June 2020 at 08.30 - Mon 7th September 2020 - 08.30 Rotary Harry Rankin Fishing Competition

Lake on Menteith Monday 1st June & Monday 7th September
Blairgowrie - Fri 5th June 2020 at 09.00 - 16.00 Golf Day 2020
The club will be hosting its annual charity fund raising golf day on Friday 5th June 2020 at Blairgowrie Golf Club.
Teams are welcome to enter for a great day's golf, warm welcome and Rotary's renowned fellowship.