Future meetings and events around the district
Burford and Kingham - Sat 14th April 2018 at 09.00 - 16.00 Know Your Blood Pressure Day

The Club will be holding a blood pressure testing day on Burford High Street. Qualified nurses will be there to check your blood pressure. High blood pressure is a hidden condition which, if untreated, can lead to medical problems. Click here for more:
Burford and Kingham - Sun 13th May 2018 at 09.00 - 16.00 Bluebell Charity Walk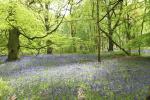 Our annual sponsored walk through the beautiful Wychwood forest - taking in the sea of Bluebells.