Future meetings and events around the district
Chipping Norton - Fri 16th March 2018 at 19.00 - 22.30 Charity Race Night
A different type of race night. Wooden horses are moved by rolling string on to pieces of dowel over a 10m race track. Buy a horse, be a jockey or just be a betting racegoer!
Banbury Cherwell - Sun 8th July 2018 at 07.00 - Thank You to the 700 riders who took part in the 2017 Broughton Castle Sportive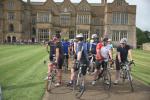 The 2018 Sportive on Sunday 8th July starts and ends in the picturesque grounds of Broughton Castle. All routes take riders through the stunning Cotswolds..