Future meetings and events around the district
Skipton - Sun 3rd December 2017 at 10.00 - 16.00 Skipton Christmas Markets 3rd & 10th December
An eclectic collection of foodie, Christmas & fund raising stalls on the High Street. Plenty other attractions too. Concludes with Carol Concert in the Parish Church. Make use of our Car Park facility.
Skipton - Sun 20th May 2018 at 09.00 - 16.00 Dragon Boat Racing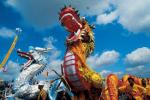 Dragon Boat racing at Coniston Lake, near Skipton Sunday 20th May 2018. Minimum size for a team is 6 paddlers & one drummer but can be up to 10 paddlers plus drummer. If you have more then you can rotate them. Download entry details below.