Local clubs' future events
Cheltenham North - Thu 1st July 2021 - Thu 30th June 2022 - 23.00 Rotary Celebrates 100 Year's of Rotary in Cheltenham during 2021/2022
The four Rotary Clubs of Cheltenham are celebrating 100 year's of Rotary in Cheltenham during the Rotary year 1/7/2021 to 30/6/2022.
See "Details" for information on the proposed events.
Cheltenham North - Sat 3rd July 2021 at 12.00 - Sun 4th July 2021 - 18.00 Beer and Cricket Fest 2021.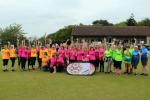 The proposed date for 2021 is the 3/4th July and will be confirmed at a later date.
Cheltenham North - Tue 14th December 2021 at 19.30 - 22.00 Cheltenham North Annual Carol Concert 2021
The Annual Carol Concert organised by Cheltenham North Rotary Club is now scheduled for 14th December 2021.
More details to follow nearer to the date
Cheltenham North - Sun 10th April 2022 at 01.00 - 23.00 Cheltenham North 50th Anniversary
In 2022 Cheltenham North Celebrates 50 year's as a Rotary Club.
Details will be provided at a later date of the Celebration Events.