Future meetings and events around the district
Cheltenham North - Sat 4th April 2020 at 12.00 - 19.00 Cheltenham Wine Festival

The next Cheltenham Wine Festival will be held on Saturday 4th April 2020 at the Pittville Pump Rooms.
Tickets are now on sale @ £25 pp.To purchase Tickets see Link to Festival Website in "Details"
Cheltenham North - Sat 20th June 2020 at 12.00 - Sun 21st June 2020 - 18.00 Beer and Cricket Fest.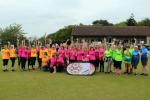 The Rotary Beer and Cricket Fest is planned to take place over the weekend of the 20th/21st June 2020.
This date will be confirmed later and there will also be a link for the purchase of tickets.
See "Details" for more information.