Future meetings and events around the district
Guernesiais - Fri 28th February 2020 at 08.00 - 17.00 Purple Pinkie Day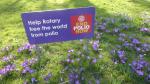 All over the world people are holding bake sales and fund raisers to raise money to help eradicate polio
Guernesiais - Sat 21st March 2020 at 19.00 - 23.00 Fund Raising Race Night

Every year we have terrific fun racing 'horses' at the GYC and this year promises to be a corker with a Caribbean flavour!
Guernsey - Sat 6th June 2020 at 04.30 - Saffery Rotary Round Island Walk 2020
The only round the island walk.
Guernesiais - Wed 10th June 2020 at 10.00 - 16.00 Kids Day Out in Herm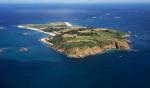 A countrywide initiative for Rotary Clubs to provide a fun day out for children. Rotary Guernsesiais annually takes a group of children from Les Rondins school to Herm for the day.