Local clubs' future events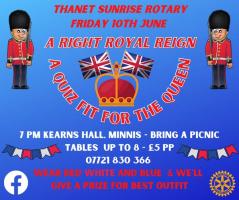 Isle of Thanet Sunrise - Fri, Jun 10th 2022 at 7:00 pm - 10:30 pm Rotary Club of the Isle of Thanet Sunrise Quiz Night
Another quiz night from the club raising money for local charities.
Chestfield - Sat, Aug 13th 2022 at 10:00 am - Sun, Aug 14th 2022 - 5:00 pm Whitstable Harbour Day - 13th & 14th August 2022
Return of this popular Whitstable Event giving local organisations a chance to showcase their activities to a wide audience.
Chestfield - Sat, Aug 20th 2022 at 7:00 pm - 10:00 pm Charity Race Night - 20th August 2022
Come along to a great Race Night where you can play the Tote and help raise funds for a great local Charity
Chestfield - Fri, Sep 9th 2022 at 10:30 am - 9:30 pm Charity Golf Day - Friday 9th September 2022
The return of our very popular Charity Golf Day
Chestfield - Sat, Nov 12th 2022 at 7:30 pm - 10:30 pm Autumn Quiz Night - 12th November 2022
Our every popular Autumn Quiz returns following the great success of our Spring Quiz, book early to avoid disappointment.