Who are Rotarians and what do they do?
CLICK HERE TO VIEW OUR VIDEO PRESENTATION: ROTARY CLUB video
We are men and women of all ages, sharing their time, energy and skills to help charities and good causes in the communities in which they live. Our club enjoys excellent fellowship, participates in a wide variety of fund-raising projects, supports civic and community events, and holds many interesting and fun social activities.
We normally meet on Tuesday evenings at 6:00pm
at The Bell Inn, St Nicholas-at-Wade
The mobile chemotherapy unit, called "Caron" in memory of Caron Keating has been completely refurbished at considerable expense and will be providing vital cancer care to people who cannot easily get to hospitals in East Kent.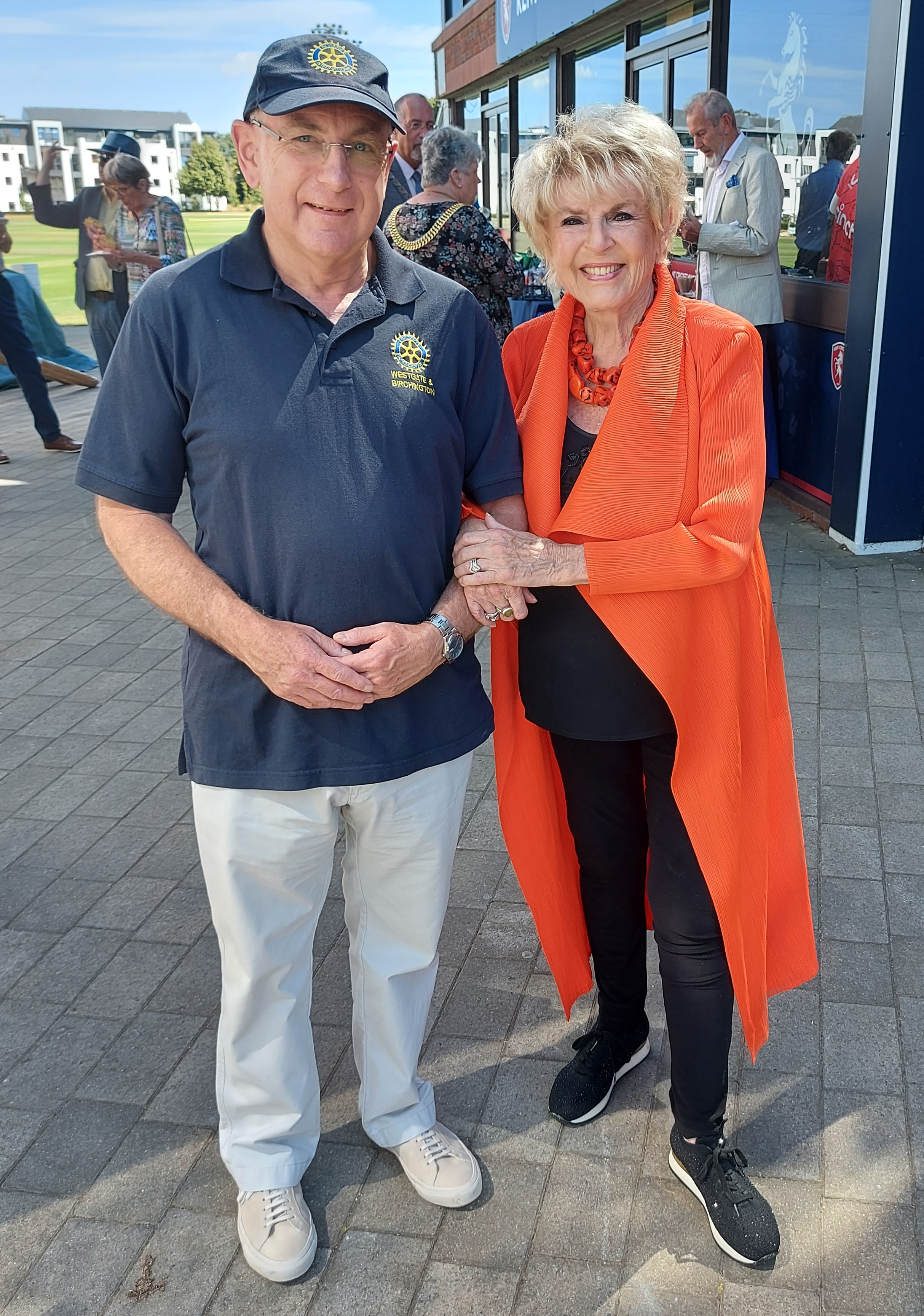 The newly refurbished vehicle was launched by Gloria Hunniford at the County Cricket Ground in Canterbury in front of a large audience of Rotarians, cancer care workers, local dignitaries and organisers from "Hope For Tomorrow". Gloria explained how she supported the charity in memory of her daughter and thanked all the generous people and groups who make it possible for "Hope For Tomorrow" to continue with their wonderful work.
The Rotary Club would like to thank the generosity of the people of Westgate & Birchington who supported our Christmas Collections, sponsored walk and race night.
MAJOR DONATION TO THE VIKING DAY UNIT
The Rotary Club of Westgate & Birchington is strongly committed to community service and fund-raising for local causes and even though Covid lockdowns have curtailed our activities we have still managed to raise a substantial amount of money. Santa and his sleigh managed to tour the streets of Westgate and Birchington each Christmas and the door-to-door collections were very successful. The Rotary President and his wife completed an 88 mile sponsored walk and, together with our sister club, the Inner Wheel, organised a hugely successful Race Night.
Recently, we were delighted to welcome the Nurse Manager of the Viking Chemotherapy Day Unit at QEQM, Carrie Merry and her Deputy, Joanna Watunga to a Rotary meeting and, after Carrie had explained to members and guests the range of treatments her department administers, Rotary President Chris Hedges was delighted to present a cheque for £2500. Carrie has quite a long wish-list of items which will enhance the experience of her patients and we look forward to hearing what has been purchased.
Our Rotary Club has a long association with the Viking Day Unit since it moved into its purpose-built unit in 2007 and much of the initial funding for the new facility came from Rotary's 70's Extravaganza held in Quex Park in 2008 (the poster for this event is still on display in the waiting room, remembering performances by Suzi Quatro, T Rex and the Glitter Band all hosted by Dermot O'Leary and Kaddy Lee-Preston)
We are delighted to be able to continue to support their outstanding work.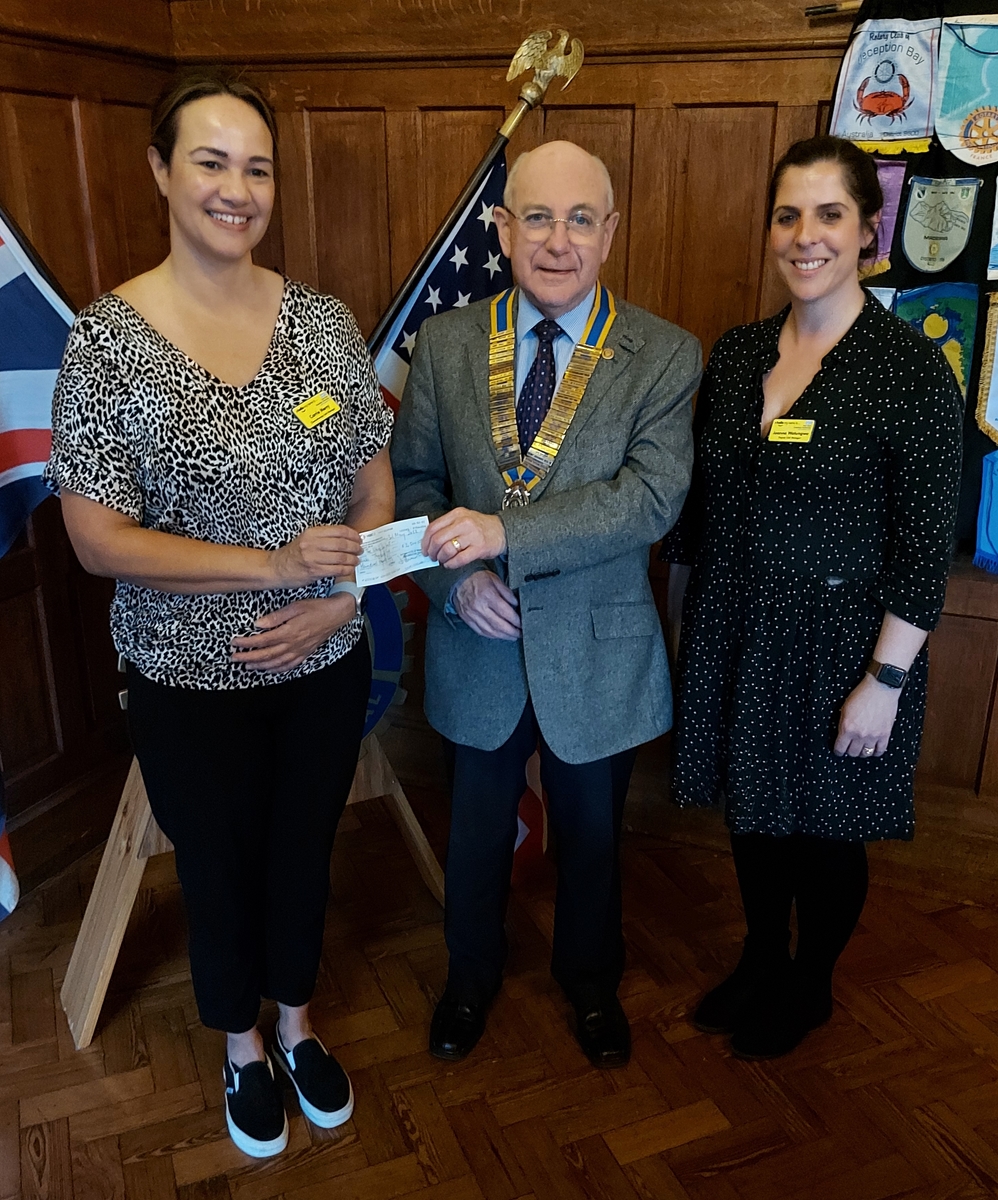 PROBABLY OUR YOUNGEST EVER SPEAKER!
Members and guests were delighted to hear 10 year old James Howard give a talk about the 1st Garlinge Cubs, his role as "Sixer" and his challenge to enable him to get his Silver Award. With the guidance of his Mum and Grandad, James baked over 100 cakes and biscuits which were brought to the Rotary Meeting in boxes of six and members and guests gave him donations in return for the delicious comestibles. All the funds raised will be given to the Demelza Children's Hospices and, at the last count, James had amassed over £200 and the cash is still flowing in.
President Chris thanked James for bringing greetings from his Cub Pack and for sharing his challenge with the Rotary Club and presented James with a Club Banner as a memento of his visit.
ROTARY & INNER WHEEL RACE NIGHT
Westgate Community Centre was packed with punters who enjoyed an exciting programme of eight "horse races" as the wooden hobby horses, ably assisted by Rory and Emilia, raced up the track. Everyone enjoyed a delicious, and hot, dinner of fish and chips or chicken and chips supplied by "The Fish Inn" Westgate.
The intention was to raise as much money as possible for Rotary and Inner Wheel charities and it looks like we raised the best part of £1000 which will form part of our donation to the Viking Day Unit at QEQM hospital and to the charity Hope For Tomorrow.
Huge thanks to Hazel and Kath for a tremendous effort beforehand preparing the event and enormous thanks to all the businesses and individuals who sponsored races and horses.