Future meetings and events around the district
Ashtead - Sat 9th June 2018 at 11.00 - 17.00 Ashtead Rotary Village Day 2018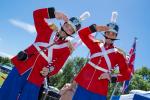 The highlight of Ashtead's summer calendar, with over 8,000 visitors annually. Come and join in the fun with activities for the whole family!
Leatherhead - Fri 24th August 2018 at 12.00 - 20.00 27th Annual Charity Golf Day

27th ANNUAL CHARITY GOLF DAY in aid of Prostate Cancer UK
Friday 24th August 2018 - 12.00 noon onwards Effingham Golf Club.