Future meetings and events around the district
Dorking - Sat 17th March 2018 at 19.15 - 22.00 St Patrick's Night Celebration Supper

St Patrick's Night celebration supper with Entertainment.
In aid of PSDS, a charity supporting parents with children who have Downs Syndrome.
Ashtead - Sat 9th June 2018 at 11.00 - 17.00 Ashtead Rotary Village Day 2018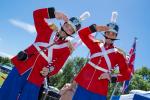 The highlight of Ashtead's summer calendar, with over 8,000 visitors annually. Come and join in the fun with activities for the whole family!