Future district events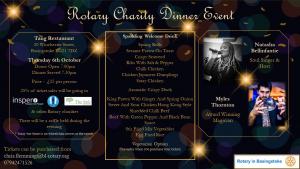 Thu, Oct 6th 2022 at 7:00 pm - 11:59 pm Basingstoke Loddon Charity Dinner
Basingstoke Loddon Rotary invite you to join them for a rather special Charity Dinner on Thursday 6th October from 7.00 p.m.
Sat, Oct 8th 2022 at 9:00 am - Sat, Nov 5th 2022 - 5:00 pm DISTRICT 1110 CONFERENCE 2022
Come and join D.G. Bill Casey for this year's District Conference in either Bournemouth on 8th October or Southampton on 5th November (see details below). Under the theme "IMAGINE ROTARY" it really will offer something for everybody.