A timeline of our 100 year history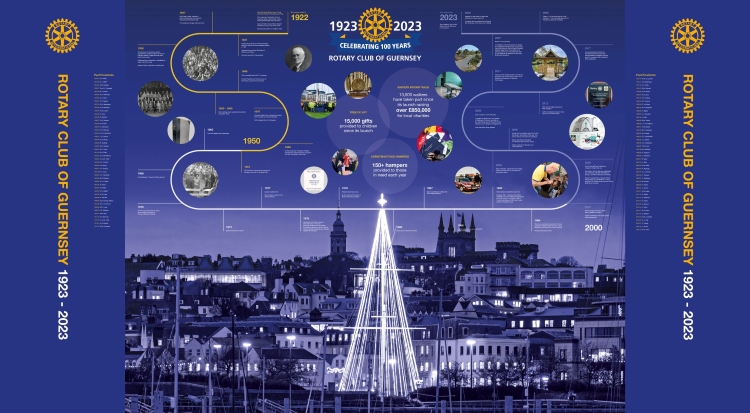 Please click HERE to view the detail.
The Rotary Club of Guernsey has reached the centenary anniversary of its first ever meeting held on 30th October 1922. During the last 100 years we have reached so many milestones in our journey as we supported our community. This timeline exhibition highlights many of the goals and achievements that represent the "Service above Self" that has been offered by our members over the century.
Welcome to the Rotary Club of Guernsey
It is said that every minute of every day Rotary will touch the lives of millions somewhere in the world. By combining their skills and resources, members of Rotary are able to make a real contribution to the lives of others.
In Guernsey alone, our club raises tens of thousands of pounds for community projects and local charities. Members also volunteer their time supervising and running community projects and events, such as the Saffery Rotary Walk, Christmas hampers for the needy and the Tree of Joy, providing Christmas presents for children who might not otherwise receive a gift at Christmas. Several projects are aimed at promoting the achievements of young people, such as the Young Chef competition and the Rotary Young Leaders Award (RYLA).
The Rotary Club of Guernsey is very much about fun & fellowship with both male and female members covering a wide range of professions. The various projects and annual events provide service to the local community, internationally and wider support to Rotary International initiatives world wide, such as the eradication of polio.
We are a successful growing Club and in the last year we have had 4 new members join us and there are now 74 active members.
We meet for lunch every Wednesday and have speakers at every other meeting except for our monthly business and club service meeting. This is a great opportunity to catch up with friends, visitors and guests who are always made most welcome by the membership. The lunches are well attended, the view from the hotel is to die for and the atmosphere and conversation really make this a weekly event to look forward too.
Both guests and visiting Rotarians are very welcome and we would encourage you to come along and meet with our club. For further information relating to lunch start times etc. please see 'Where and when'.
Further information on the club can be found on the website, but if you wish to contact the club click on "Contact" and someone will get back to you as soon as they can.
A short video about Rotary can be found below.
Donations
If you would like to support the work of Rotary by making a donation please click on the Giving.gg logo below.
(If your donation relates to our Ukraine Appeal please quote 'Ukraine Appeal' when making the donation.)
General Information
The Rotary Club of Guernsey was founded on the 3rd March 1923 and is within District 1110 which covers Hampshire, East Dorset, South Wiltshire, the Isle of Wight and the beautiful Channel Islands.
Honorary Members of the Rotary Club of Guernsey
His Excellency the Lieutenant Governor, Lieutenant General Richard Cripwell CB, CBE

The Bailiff of Guernsey, Richard McMahon
Sir de Vic Carey
Sir Geoffrey Rowland
Paul Mees
Mike Torode
Privacy Policy
You can find details of our Privacy Policy HERE.