Completed meetings and events 2021-2022
Wed 15th December 2021 - Brigg Rotary Delivers
Bringing festive cheer to those in need at Christmas with over 100 hampers delivered. Thanks to Robert Horner, Bozena Allen and our delivery drivers but especially to the Vale Academy students for their very efficient packing and dressing of the boxes.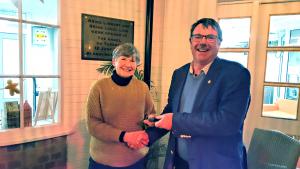 Thu 2nd December 2021 - Paul Harris Award for Janice
Treasurer and Secretary and everything in between, Janice, was awarded a 2nd Paul Harris Award by PP John Wood for her tireless work in keeping the club together during the past two years of the COVID-19 outbreak.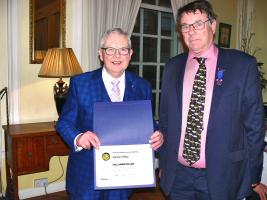 Sun 28th November 2021 - Paul Harris Fellowship goes to Michael Silley
Michael Silley receives a PHF from Past President, John Wood.
Michael is a tireless worker for Brigg, he has contributed to most projects over the years and John credited him with holding the club together during the COVID outbreak. Many congratulations.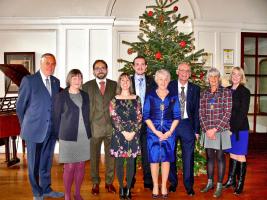 Sun 28th November 2021 51st Charter 2021
We were delighted to be able to celebrate our 51st birthday with a wonderful meal at Hemswell Cliff and entertained 70 guests. The speaker, Sonia Allen, recalled how her life had been changed by being chosen to go on a 'Group Study Exchange' to Mexico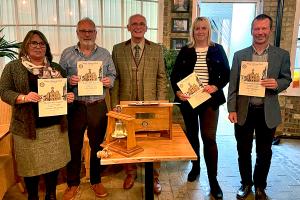 Thu 28th October 2021 Welcome to New Members
We are delighted to welcome new members, Julie Taylor, Clive Thompson and Eric and Suzanne Whitworth (transfers from Hornsea Rotary Club)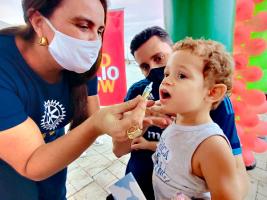 Sat 23rd October 2021 - Sun 24th October 2021 World Polio Day 2021
Now it's time to intensify our fight to make polio the second human disease ever to be eradicated. Last year, the WHO's African region was certified free of wild poliovirus, showing that eradication is possible even in very difficult countries and times
read more...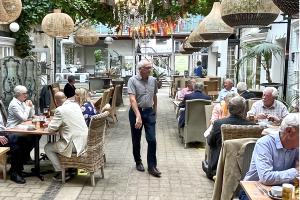 Thu 5th August 2021 Rotary Meetings Return Post COVID-19
Rotary has not been together since March 2020 so it was a very welcome Rotary meeting at La Finca restaurant and courtyard in The Angel, Brigg.
The Rotary club of Brigg first met in this building in 1968 and it was great to be back.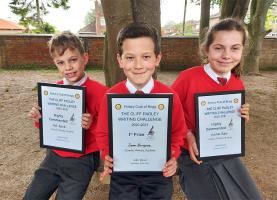 Wed 4th August 2021 - Cliff Padley Memorial Literacy Awards 2020
Primary School Literacy Competition awards delayed from 2020 because of COVID-19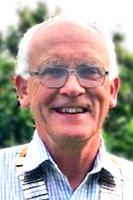 Thu 8th July 2021 President David Hinxman installed by Zoom
President David was delighted to welcome Bozena Allen as President elect 22/23 and Vice President Paul McCormick 23/24 onto his team.
Pictured are President David, President elect Bozena and Vice President Paul.
read more...
calendar
district events
local events