Completed meetings and events 2015-2016
Thu 30th June 2016 Club Handover Dinner - with Guests
As Rotary year 15/16 draws to a close President Peter will pass on the chains of office to incoming President Alicia for Rotary year 16/17
Thu 9th June 2016 Club Assembly
The Club and incoming leadership team present their ideas and aspirations for the upcoming New Rotary Year...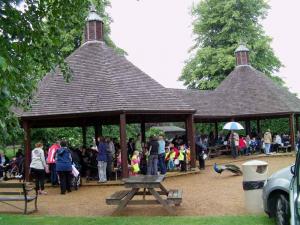 Wed 8th June 2016 Kids Out - Day
Our opportunity to give help to those children, carers and teachers for whom life and school are a daily challenge.
Thu 26th May 2016 President's Evening with Ben Foster [ Royal Marines] Guests welcome
Ben Foster is President Peter's son-in-law and will share with us some of his experiences in The Royal Marines... come along and be inspired
Thu 12th May 2016 Club Meeting: International Evening... VSO with Allan Rickmann
Our International Chairman Bob Fitchett will introduce Allan Rickmann to share his experiences of Voluntary Service Overseas (VSO)
Sat 7th May 2016 District Assembly
A coming together of club teams for the fast approaching Rotary year end and changeover. A must attend for new presidents, secretaries and treasurers.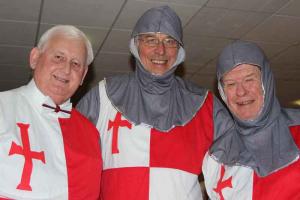 Thu 28th April 2016 St. George's Day Dinner with Guests
The club will gather suitably regaled to celebrate England's patron saint's day.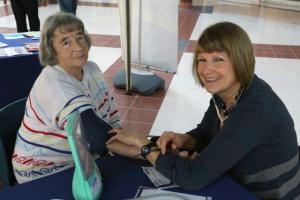 Sat 23rd April 2016 Stroke Awareness Day
The Club along with a qualified medical team will engage the public in our annual stroke awareness day, blood pressures will be taken and leaflets distributed.
Thu 14th April 2016 Club AGM: Election of New Committee Chairmen
The club AGM sets out the programme for the coming year and confirms those willing to stand as Committee Chairmen and help Alicia in the coming Rotary year...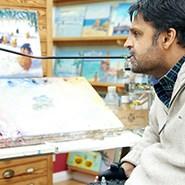 Thu 31st March 2016 Club Meeting: (5th Thursday) with Guests: Mouth & Foot Artists
A speaker evening with Keith Jansz from the Mouth and Foot painting Association, please see http://www.mfpa.uk Keith is a
read more...
Thu 31st March 2016 District Council Meeting
District Council meets at Henley on Thames
Thu 24th March 2016 Club Fellowship Evening: Maunday Thursday
An evening dinner followed by fellowship
Sat 12th March 2016 District Conference - Windsor
Spend the day or week-end at Windsor for an action packed District event with Rotary members from around the District
Thu 10th March 2016 Club Business Meeting
Our 3rd formal evening of the Rotary Year discussing club matters...
Thu 3rd March 2016 Council Meeting
Our Club Council meets tonight at The Fishes North Hinksey
Sun 28th February 2016 Paul Harris Lunch
Organised by Oxford Spires Rotary Club
Thu 25th February 2016 Christ Church Dinner
Club college dinner with The Very Revd. Martyn Percy, Dean of Christ Church speaking
Thu 11th February 2016 Club Meeting: and evening with C & V
Ron Mobbs and team will propose a theme for the evening nearer the time...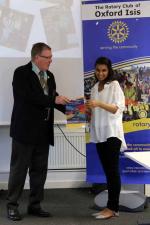 Thu 11th February 2016 Oxford Academy Interact Club launch
Oxford Isis helps The Oxford Academy launch its Interact Club
read more...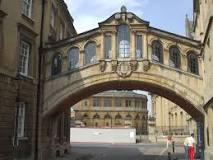 Thu 28th January 2016 Club Meeting: a talk on Architect Thomas Jackson by William Whyte
Jackson has a lasting legacy in Oxford having designed both the Examination Schools on The High and Hertford College's link bridge know as the "Bridge of Sighs"
read more...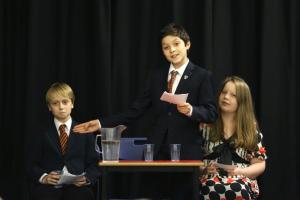 Thu 21st January 2016 Intermediate Youth Speaks
Pupils from local schools debate the meaning of life and other salient topics
read more...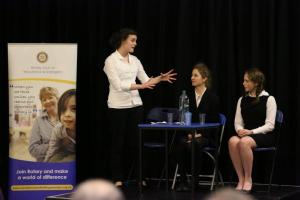 Thu 21st January 2016 Senior Youth Speaks
Senior schools present reasoned and learned argument on a topic of their choice to be judged 'best in class'...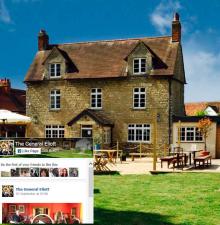 Sat 2nd January 2016 Club New Year Walk - South Hinksey
Just the ticket to walk off those Christmas extravagances and for those who need a re-fuelling stop; a rather pleasant pub-lunch! The South Hinksey watering hole locally known as the General Eliott
Thu 30th July 2015 Club Meeting with guests
The Motor Works: Robert Harris will expound his wisdom on the famous works by the Eastern By-Pass.
calendar
district events
local events