Completed meetings and events 2020-2021
Thu 22nd October 2020 - Sun 25th October 2020 World Polio Day

President Elizabeth Wortman visited Fulwell Community Library to present crocus bulbs to Richard Beck, which are to be planted in the Memorial Garden adjacent to the library.
Tue 20th October 2020 Speaker PDG Ron Duxbury. Host John Lipscombe
Ron joined us to talk on "Is It Live, Ron?" He gave us a brief summary of his life as a presenter for BBC in Cumbria, including some well known 'bloopers'
Wed 14th October 2020 - Mon 30th November 2020 Christmas Cards for Sale

Although we are unable to visit clubs, we still have Christmas Cards for sale via this website. Pictures of the cards are attached here.
read more...
Tue 13th October 2020 Membership Committee meeting
The sub-committee had another informative meeting regarding our proposals to increase membership.
Tue 6th October 2020 Council Meeting
We met to take stock of possible plans for the future.
Tue 29th September 2020 Speaker Tony Edwards. Host John Lipscombe
Tony is talking about the 'Rise and Fall of Broadcast'
Tue 22nd September 2020 No Meeting
Tue 15th September 2020 Speaker John Hutchinson.
Tue 8th September 2020 No Club Meeting, but Membership Committee meets.
Tue 1st September 2020 Speaker Tony Edwards. Host Brian Franklin
Tony Edwards was unable to connect with us on Zoom, but has agreed to come back to speak on 29th September.
Tue 25th August 2020 Council meeting
Council members met to talk about the future, although in present circumstances it is difficult to see how we can take part in our usual money-raising activities, especially collections in stores and Santa on his sleigh.
Tue 18th August 2020 Speaker Peter Tracey. Host Gordon Coxon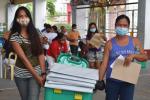 Peter joined us on Zoom to update us on Shelter Box,which we support each year. He gave a very interesting slide show presentation which was enjoyed by those present. More details below.
read more...
Tue 4th August 2020 Speaker Lynne Symonds on Wulugu Project

We were pleased to welcome Lynne back on Zoom to up date us on the project. As a small charity they are finding it hard to raise funds, but things continue to progress, as mentioned below.
read more...
Tue 28th July 2020 Council Meeting
Council members met on Zoom and discussed plans for the club in the immediate future.
read more...
Tue 21st July 2020 President Elizabeth celebrates

Great news! We induct a new member - Graham Wharton.
read more...
Tue 21st July 2020 Speaker DG Barbara Broadbelt. Host Tony Wortman.

Barbara visited to tell us about her hopes for what will be a challenging year, but one to which she will no doubt rise.
read more...
Tue 14th July 2020 No Meeting
Tue 7th July 2020 Zoom Meeting. Club Assembly
2019/2020 President John's Review of the Year
Handover to President Elizabeth for 2020/2021 Rotary Year
Committees present their proposals for next Rotary year.
future
calendar
district events
local events