Completed meetings and events 2021-2022
Tue 21st June 2022 Speaker Gill Griffith Host Ian Davies
Gill is coming to update us on the Grifaid charity that supplies water filters.
Tue 14th June 2022 Speaker Host Pat Emmerson
Tue 7th June 2022 Business/Council Meeting
Members discuss future plans
Tue 31st May 2022 Speaker Tony Wortman. Host Elizabeth Wortman
Tony is going to tell us about his time working for Marks & Spencer
Tue 24th May 2022 Speaker Rotarian Rev'd Malcolm Jones Host Tony Wortman
Malcolm returned after several years, to update us on the charity that he formed to help children around Bethlehem who are suffering from poverty or other illnesses.
read more...
Tue 17th May 2022 Speaker John Wilson Host John Hutchinson
New member John gave us a talk about his former job, working for a drug company.
Tue 10th May 2022 Annual General Meeting
Members will present their reports on activities during the year.
Council members and other officials will be appointed for the year.
Tue 3rd May 2022 Business/Council Meeting
Members will discuss future plans and produce reports for the Annual General Meeting the following week.
Tue 26th April 2022 Fellowship Meeting
The speaker was unable to attend because of illness, so we enjoyed a Fellowship Meeting
Tue 19th April 2022 Speaker Derek Potter Host John Shield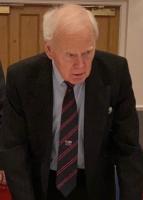 Tue 12th April 2022 Introduction of New Member
We were pleased to welcome Geoffrey Woods as a new member of the club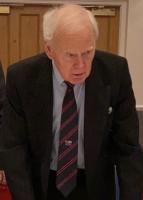 Tue 12th April 2022 Speaker George Lomas Host John Hutchinson
George introduced the topic of National Government finances and produced a lively debate.
Wed 6th April 2022 Business Meeting
Members discuss future plans.
Tue 29th March 2022 Speaker Host John Lipscombe
John provided us with a quiz with a difference
Tue 22nd March 2022 Speaker John Hutchinson Host George Lomas
Tue 15th March 2022 Speaker Joanne Coulson. Host Pat Emmerson
Speaker on the work of the Council for Voluntary Services
Tue 8th March 2022 Speaker Ian Davies Host John Shield
Ian gave us his My Job talk which covered a very active childhood and career changes.
Tue 1st March 2022 Business/Council Meeting
Members discussed future plans for the club activities.
Tue 22nd February 2022 Speaker Allan Bailey. Host Peter Calvert.
Allan showed us another of his video presentations, this time on the tramways in Sunderland and the surrounding area..
Tue 15th February 2022 Speaker Carol Shield Host Gordon Coxon
Carol told us about the history of the Barnes Institute building and her colleague Angela gave us a talk on what she is doing there to help children with disabilities, mainly by using animals, of which she has a very varied selection.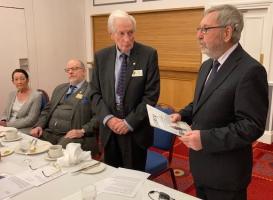 Tue 8th February 2022 Induction of new member
The President was pleased to welcome back into the club, former member John Wilson.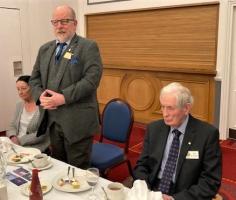 Tue 8th February 2022 Speaker DGE Steve Rose. Host Tony Wortman
The District Governor Elect visited and gave us a flavour of his message and hopes for his Rotary Year in office.
Tue 1st February 2022 Business/Council Meeting
We discussed plans for our future programme.
Tue 25th January 2022 Speaker Tony Wortman Host Elizabeth Wortman.
Tony brought a video about the Holocaust.
Tue 18th January 2022 Speaker Peter Snowdon Host John Shield
Peter Snowdon talked about his career and about education in Sunderland.
Tue 11th January 2022 Speaker George Lomas Host John Hutchinson
George summarised the situation with the UK borrowing following the pandemic and was concerned for future generations who may have to deal with the indebtedness.
Tue 4th January 2022 Club Business Meeting
Our monthly business meeting when plans were made for future activities.
Tue 28th December 2021 NO MEETING
Tue 21st December 2021 Speaker Rev'd Tim May Host Keith Higgin
Rev'd Tim May gave us an appropriate and interesting Christmas Message, which was much appreciated.
Thu 16th December 2021 - Sat 18th December 2021 Morrison's Collections
The store kindly agreed that we could have a collection again, with the proceeds to go to a variety of charities. We collected over 3 days and the public were very generous in their donations.
Tue 14th December 2021 Speaker Host John Lipscombe
We will be having a fellowship meeting.
Fri 10th December 2021 Rotary Carol Service at Whitburn Parish Church
This year it was Seaburn Rotary's turn to arrange this pre-Christmas service for members, partners and friends in our area. It was attended by representatives of 5 clubs, with different members reading lessons.
read more...
Tue 7th December 2021 Special General Meeting
To receive the Annual Accounts and elect officers for the following Rotary year.
read more...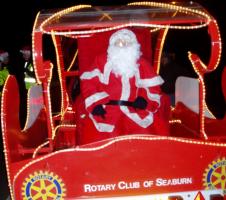 Sun 5th December 2021 Santa Sleigh Visits
Santa was seen! He went round the streets of Seaburn and Fulwell again this year. Full details below.
read more...
Tue 30th November 2021 Speaker Host John Hutchinson
John gave us a talk on climate change and opened up a discussion on the subject.
Tue 23rd November 2021 Speaker Host Pat Emmerson
Pat provided us with a very interesting quiz, won by the A Team.
Tue 16th November 2021 Speaker Gordon Coxon Host Allan Bailey
Gordon gave a very interesting talk on 'His Sporting Life'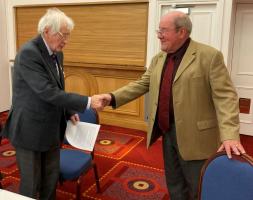 Tue 9th November 2021 Speaker Rev'd Eric Stephenson. Host Peter Calvert
Retired priest Eric gave us a very amusing talk on his varied life as a teacher and parish priest.
Before Eric's address, we had been pleased to induct a new member, who is also a former Head Teacher and retired priest, Rev'd Ian Davies.
Tue 2nd November 2021 Business Meeting on Zoom
Members discussed future plans.
Tue 26th October 2021 Speaker Allan Bailey
Allan will provide one of his presentations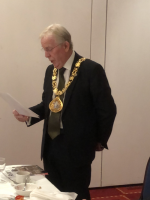 Tue 19th October 2021 Speaker Mayor Councillor Harry Trueman. Host Elizabeth Wortman
His Worship the Mayor Councillor Harry Trueman visited with the Mayoress to give a brief talk and exchange information about End Polio Now in advance of World Polio Day on Sunday 24th October.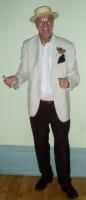 Tue 12th October 2021 Speaker Michael Gough Host Tony Wortman
Michael and Linda visited us again and showed us some of his short presentations, which were interesting, as ever.
Tue 5th October 2021 Business/Council Meeting on Zoom
Members met to discuss future plans, particularly relating to Christmas activities.
Tue 28th September 2021 Fellowship Meeting
In the absence of a speaker we had a general discussion.
Tue 21st September 2021 Speaker John Shield Host Keith Higgin
Our newest member John gave a very interesting 'My Job' talk covering the first part of his life and career in farming, which he clearly thoroughly enjoyed.
Tue 14th September 2021 Host George Lomas
George gave us the benefit of one of his quizzes, which he thought was easy - he new the answers - but members did not agree.
Tue 7th September 2021 Business/Council Meeting on Zoom
Future plans were discussed and developed.
Tue 31st August 2021 Speaker John Lipscombe.
John gave us the benefit of a sporting quiz.
Tue 24th August 2021 Speaker John Hutchinson. Host George Lomas
Our member John had been researching UFO sightings and had become less sceptical about the possibility of them existing, as he explained in his talk.
Tue 17th August 2021 Fellowship Meeting
For our first face to face meeting for many months, we decided on a Fellowship Meeting to chat amongst ourselves. It was good to have a meal and socialize again.
Tue 10th August 2021 - Wed 11th August 2021 Speaker Ciara Barrett-Smith. Host Brian Franklin
After a tricky signing in arrangement on Zoom, Ciara gave us a very detailed and interesting talk on the work of Wearside Women in Need. A few paid workers and many volunteers give tremendous support to families in a variety of ways.
Tue 3rd August 2021 Business Meeting
A Council Meeting of the whole membership was arranged at which future business was discussed and planned. It was agreed that future such meetings will be on first Tuesday commencing at 10.30 am on Zoom.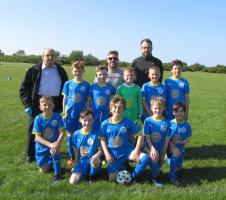 Mon 2nd August 2021 - Mon 30th August 2021 Northern Albion Junior Football Team
Seaburn Rotary sponsored the team's shirts with the Rotary motif on the front.
read more...
Tue 27th July 2021 Speaker Allan Bailey
Allan gave us one of his presentations.
Tue 20th July 2021 Speaker Sophie Bull. Host Gordon Coxon
Sophie visited on Zoom to tell us about the charity Mary's Meals.
Tue 13th July 2021 Speaker Sarah Gouldie. Host Peter Calvert
Sarah joined us on Zoom to tell us about the work of Macmillan Cancer Support.
Tue 6th July 2021 Club Assembly
Committee chairs presented their proposals for club activities to the members.
calendar
district events
local events