Completed meetings and events 2023-2024
Tue 5th December 2023 Special General Meeting
Tue 28th November 2023 Speaker Gordon Bacon. Host John McLoughlin
Speaker to be advised
Tue 21st November 2023 Speaker Host John Shield
Fri 17th November 2023 Memory Cafe at Whitburn Community Library
We are pleased to announce the opening of this Memory Cafe for those living with dementia and their carers/family. Varied activities will be offered and the Cafe will be open on third Friday of each month from 2.00 pm to 4.00 pm.
Fri 17th November 2023 - Sat 18th November 2023 Collection at Clays Garden Centre
We have been allowed to collect again this year, over the weekend, for which we are most grateful
Tue 14th November 2023 Speaker DGE Joy Palmer-Cooper Host Tony Wortman
Joy gave us an interesting and most helpful talk on gaining corporate members, which our membership committee will certainly follow up.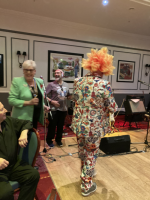 Fri 10th November 2023 A Swinging 60's Evening
An Evening of great music by CATS NIGHT OUT and virtuoso guitarist John Wilkinson. £15.00 including supper. Prizes for best 60's outfit.
Terrific night, enjoyed by all. We raised over £600.00 for our Benevolent Fund.
Tue 7th November 2023 Business Meeting
We had a full business meeting to finalise details of Christmas collections and Santa Sleigh routes.
Tue 31st October 2023 Fellowship Meeting
We had a discussion on up-coming events.
Tue 24th October 2023 NO MEETING TODAY
We are having our Coffee Morning for World Polio Day at the Grand Hotel from 10.30 am. so have cancelled our usual lunchtime meeting.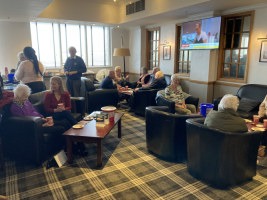 Tue 24th October 2023 World Polio Day Coffee Morning
The Grand Hotel let us host this charity coffee morning in the restaurant. Rotarians, friends and guests attended. A raffle was held during the morning. The sum of £175.00 was raised, plus a donation of £75.00 from Sunderland Rotary.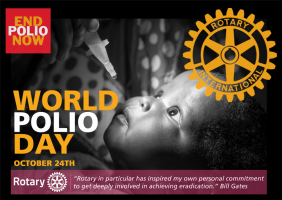 Tue 24th October 2023 Coffee Morning for End Polio Now
Drop into the Grand Hotel, Seaburn to enjoy a coffee, scone or cake and make a donation to this charity on World Polio Day. All Welcome!!!
Tue 17th October 2023 Speaker Michael Gough Host John Hutchinson
Michael is returning to give us another of his interesting presentations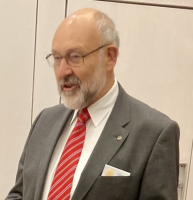 Tue 10th October 2023 Speaker Phil Herdson Host John Shield
Phil gave us a fascinating talk on his interest in railways, which developed from an early age following his father's interest.
Tue 3rd October 2023 Business/Council Meeting
Members discussed and planned future events, including an End Polio Now function and the 60's Evening.
Christmas collections were also discussed.
Tue 26th September 2023 Speaker Chichi Host Pat Emmerson
Chichi has finished her degree course and came to tell us about the work her group 'Wellconnect Community' is doing with immigrants in the community
Tue 19th September 2023 Fellowship Meeting
In the absence of a speaker, members enjoyed fellowship along with some finalising of future plans
Tue 12th September 2023 Business Meeting
Members discussed future events.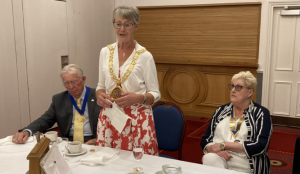 Tue 5th September 2023 Speaker Her Worship the Mayor Councillor Dorothy Trueman
The Mayor was accompanied by her husband and Consort Councillor Harry Trueman, who had been Mayor previously. We were told about her particular charities - 'Special Lionesses' and 'Hug in a Bag' as well as all the visits they had made so far.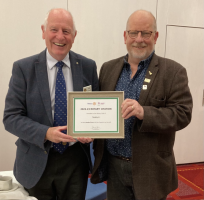 Tue 29th August 2023 Speaker D G Steve Rose Host John Lipscombe
D G Steve visited to present us with our Presidential Citation for having completed the necessary objectives as evidenced on Rotary Club Central.
He also talked about D G objectives for the current year.
Tue 22nd August 2023 Speaker Tony Edwards. Tony Wortman
Rotarian Tony Edwards from Durham returned to give us another of his talks.
Tue 15th August 2023 Speaker John Shield
John had another quiz for us, but of a different type.
Tue 8th August 2023 Speaker John McLoughlin
John gave us the benefit of a quiz he had devised and presented the winner Phil Herdson with a prize.
Tue 1st August 2023 Business/Council Meeting
Members discussed future plans
Tue 25th July 2023 Speaker Tony Edwards Host John Lipscombe
Durham Rotarian Tony, well known to us, spoke about the various jobs he had had during his working life, including amusing incidents that had occurred in many of them.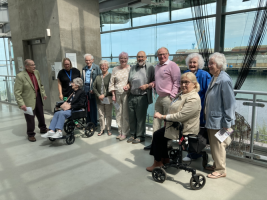 Thu 20th July 2023 Visit to National; Glass Centre
A group of Rotarians, wives and friends visited the Glass Centre, having a talk about the history before seeing a demonstration of the making of a beautiful, coloured bowl. A most enjoyable afternoon.
Tue 18th July 2023 Speaker Harvey Gordon from Box Project Host John Hutchinson
Harvey's talk was about 'volunteering' and we heard about various charitable work with which he had assisted. Of particular mention was the Box Project, which we support, where he has been involved for many years, initially as a young member.
Tue 11th July 2023 Speaker Liz Herdson. Host Phil Herdson
Phil's wife visited and gave us a most interesting talk on her work as a librarian in a variety of settings, a career which she had clearly enjoyed.
Tue 4th July 2023 Club Assembly
Committee chairmen presented proposals for activities during the year.
Our new Assistant Governor Stephen Slade was with us and was pleased with the variety of projects proposed.
calendar
district events
local events