Completed meetings and events 2016-2017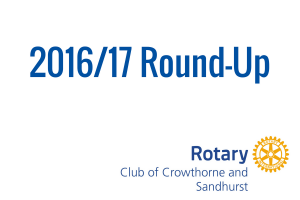 Tue 6th June 2017 2016/17 review
Reports from our 16/17 AGM highlighted the vibrancy of the Rotary Club of Crowthorne and Sandhurst and successes achieved over the past 12 months.
read more...
Tue 16th May 2017 Dinner with speaker, Hugo Winkler of Ascot Rotary
Tue 2nd May 2017 Dinner with speaker, Bruce Irvine of Easthampstead Rotary
Tue 18th April 2017 Dinner / President's Update and speaker to be announced
Tue 4th April 2017 Social - Skittles @ Frog and Wicket
Details to be confirmed by Richard
Tue 21st March 2017 - Tue 21st February 2017 Dinner with speaker, Jennifer Hope
This evening's presentation by Jennifer Hope is about the Pinewood Football Club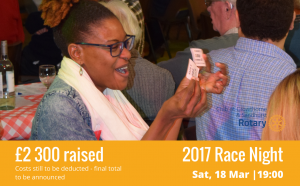 Sat 18th March 2017 2017 Charity Race Night - £2 038.29 raised
Money was lost and won by punters, but when it came to fun we were all winners, as will be the charities who will benefit from the generosity of everyone who attended the event.
Tue 7th March 2017 Business Meeting
Members meet to discuss Club business
Tue 21st February 2017 Dinner with speaker, Ruth Andoh -Baxter, Make a Wish UK
This evening's presentation will be an emotional one as we hear about how the Make a Wish Foundation arranges experiences, described as "wishes", for children with life-threatening medical conditions
Tue 7th February 2017 Dinner with speaker, Cllr Mrs Gwynneth Hewetson, Mayor of Wokingham Town Council
Dinner with speaker
Tue 17th January 2017 Dinner followed by President's update and speaker, Ken Perrett
Ken Perrett will be speaking about 'Experiences on the West Bank'. Greeter is: Leigh Welham
Tue 3rd January 2017 Dinner with speaker, Dave Donaldson
Rotarian Dave Donaldson will be telling us about his Bike Ride across Tanzania to raise funds for The Heart Foundation. Greeter is Enid Halliwell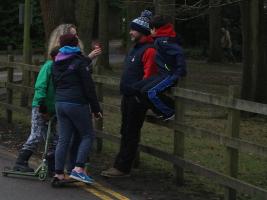 Sun 1st January 2017 2017 New Year's Day Walk - £1 834.03 raised
A walk through the grounds of Wellington College includes a children's Safari Trail. Funds raised will go to Rotary charities.
read more...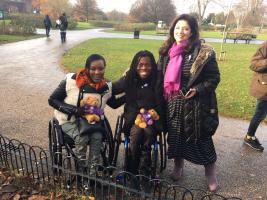 Sat 10th December 2016 Purple4Polio in Regent's Park
Rotary clubs across the country have been helping to rid the world of polio but supporting the Purple4Polio initiative.
read more...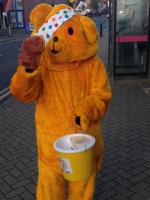 Fri 18th November 2016 2016 Pudsey Collection - £1246,80 raised
Thanks to the generosity of the residents of Crowthorne, we raised £1246,80 for the Pudsey Children in Need Collection
read more...
Tue 4th October 2016 Dinner with speaker, John Barnes, chairman, COATS
First we'll hear from John Barnes, chairman, COATS, which is our President's chosen charity this year. There will then be a follow up on a Council Meeting from the previous week.
Tue 2nd August 2016 BBQ - Social Evening
BBQ - Social Evening @ Edna's home
Tue 19th July 2016 Meeting details to be confirmed
Meeting with Speaker
calendar
local events