Completed meetings and events 2021-2022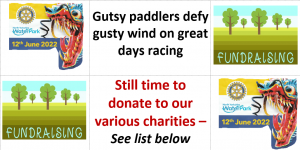 Sun 12th June 2022 - Wed 6th July 2022 Dragon Boats Donations to charities ends soon
Great Dragon day 12 June. Full scoreboard follows and list of charities & teams. Please select your charity to donate to.
read more...
Wed 4th May 2022 Annual General Meeting at Ganton Golf Club
Reception: Anne Marie/Richard G Grace/Host: David Mitchell VoT: John B
Wed 23rd March 2022 Closer Communities in Scarborough with Karen Porter
An update on our Community.
Reception: Jim/John W Grace/Host: Natalie
Wed 16th March 2022 Operations Team Meeting at The Downe Arms
To complete the activities programme to the end of May and consider June.
Wed 1st September 2021 The Victorious Medical centre - inspiring talk by Valerie Humphries about how a young man was helped to become a Doctor and establish a community medical centre in Uganda
Story of persistence and success!. Val was a first time participant at Community Fair
Reception. Grace & host & Thanks/media report all TBC
Mon 23rd August 2021 Membership & Communications Committee
Zoom meeting Items for planning and to take to Council (?)
Wed 4th August 2021 Treasure Hunt
Grace & Host: C Case
Reception: D Francis/J Knight
VoT and media report: A Green
calendar
local events