Featured pages
WELCOME!. Meetings will continue on alternate Wednesday evenings on Zoom see menu top left. Orange 'button' menu on right scrolls through this page.
---
About us
View a past issue of our Club members Magazine > click Here. Peek at a quick electronic digest Cavalcade Compact to see the latest version of our public version.
RECENT HAPPENINGS see below. FUTURE MEETINGS > CLICK HERE

Zoom meeting 7th May 2020
Scarborough Rotary Cavaliers and
Scarborough Rotary, Perth, Western Australia

Covid - 19
The combined Zoom meeting between our own Scarborough Rotary Club and the Scarborough Cavaliers Rotary Club from North Yorkshire in UK. as reported by their President Jim.
President Jim opened the meeting and welcomed all the Cavaliers gave special thanks to Dave Taylor from our Club and Geoff Mountfield from the Cavaliers for their organization and planning of tonight's meeting. At one stage there were 52 participants connected to the meeting.
President Jim welcomed Cavaliers President Tony Graham and the 17 members from the Cavaliers, as well as our own members and guests. Our President Jim Joseph's guests included PP Paul Levi now living in Israel, past RYE Student Damian Scherrer Zooming in from Switzerland, Rosco McGlashan who is challenging for the World Land Speed Record with his jet powered vehicle "Aussie In-Vader", PP Des Cousins, President Brian Butterworth from the Mindarie Club, PP Jan Trenordan from Wyallkatchem, past member RCS Jim Brown, PDG Patricia Canning and Jeromy Jones from WA Police Quarantine and Isolation Team.
In the absence of PDG Fred Marsh, Pres Jim then gave a brief overview of the 20 year history between our two clubs. Commencing in 1998, the friendship has culminated in a total of 3 visits by our Club to the UK, and 2 visits by Scarborough Cavaliers to Perth. A perpetual shield, named the 'Percival Shield', in honour of RCS PP George Percival, was made of WAjarrah and embedded with a silver coin from our Perth Mint, as well as a black pearl from the Yorkshire in the UK. That shield was proudly shown during the meeting by Chris Case of the Cavaliers.
A program had been drawn up by both Dave Taylor from our Club and Geoff Mountfield from the Scarborough Cavaliers, whereby members from both Clubs would talk about how the Coronavirus had impacted on each country and location ... current situation re number of cases, deaths, regulations relating to Covid-19 such as social distancing, food shortages, shortage of PPE, stay at home rules etc.
Geoff Mountford, Richard Creasy and Dr Venks from the Cavaliers spoke about the vast numbers of cases reported, 1,069 in North Yorkshire alone with 649 deaths; the 60 Pounds fines issued to those who break the quarantine requirements; and the proposal to test 100,000 per day being. Plenty of masks and scrubs are available.
Mike McAuliffe gave details of our situation in Australia, and in WA specifically. He mentioned that we had 551 confirmed cases in WA, 11 active, 6 hospitalized. He also gave the population number in Perth and the whole of Australia for comparison for the UK visitors, and talked about our State and District Borders being closed for the foreseeable future.
Guy Lehmann, Andrew Fisher and Geoff Ivar gave details of how the virus had affected their businesses and their own clients. Gordon Hudson gave an overview of how the virus had affected our signature (wheelchair) project WFK.
Guest Police Officer Jeromy Jones spoke about the virus from a policing point of view - we would be fined $1000 if we did not obey quarantine requirements of isolation when arriving in WA. Members of his Police Quarantine and Isolation Team are required to ensure everyone follows strict isolation orders and that if anyone tested positive they could select where to spend the 14 days of isolation.
PP Paul Levi gave an interesting talk about what is happening in his country Israel, and Damian Scherrer gave an overview of the situation in Switzerland.
Rosco McGlashan talked about his jet car 'Aussie Invader', and his quest to become the first man to achieve 1000mph and to break the World Land Speed Record which, coincidentally, is held by an Englishman! His talk raised many questions from the Cavaliers.
Cavaliers members responded with their own experiences, and many questions flowed between members of both Clubs.
The interaction between the members of both Clubs was very enjoyable.
It was a wonderful meeting between two sister Clubs, where the friendship has developed over many years and many visits between us. President Jim thanked all of the Cavaliers and our many guests and closed the meeting at8.30pm.
Scribes J Joseph and J Kopsen
Our thanks to Scarborough Rotary, Perth, WA. for their time and cooparation in organising this wonderful experience between our two clubs and our own
Geoff Mountfield for making it happen
A discussion on the future of Scarborough Town Centre by Richard Grunwell

Richard outlined the work of The Town Centre Executive working to plan our longer term town environment- and to engage the people of Scarborough in their planning. (There is parallel activity by The Town Deal engaged in a bid for £25m for the Scarborough Urban Area).
The work of the Executive is to support the longer term strategic objectives to build the success of Scarborough Town Centre as a vibrant, mixed use centre for all stakeholders, investors and the community aiming to:-
· Be the best performing coastal town centre in England by 2025 and the primary economic hub for retail, leisure, learning and living within the Yorkshire coast area.
· Increase residential living within our town centre by 25% by 2025
· Work together with public and private property owners and agencies to ensure the built environment and infrastructure exceeds the expectations of our customers and community by 2025.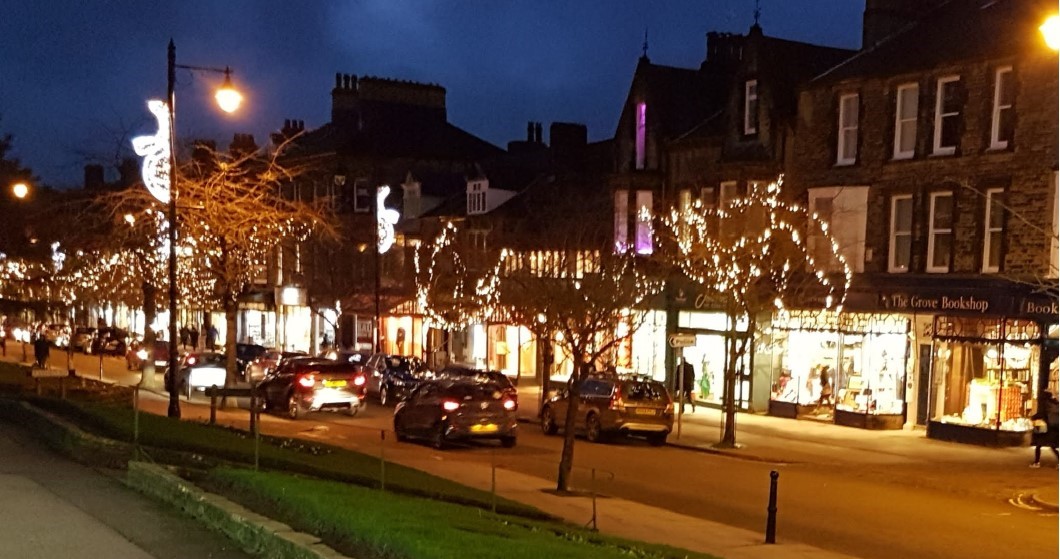 The activity is based around seven key themes:
1: Making the town a mixed use environment
2: Creating an inviting public realm we can be proud of
3: Developing a university town
4: Night time economy
5: Introduce SMART town centre infrastructure
6: Build our identity, image and brand
7: Establish a collaborative and supportive town centre community
We are told that Scarborough is one of the most visited places in the Country but there is little evidence to support that being to the Town Centre. A lot of people prefer to shop in York and some in Malton, Whitby, Hemsley, Northallerton , Hull & Beverley. Many comment that the town centre is scruffy; some lament the passing of good specialist shops; and the cost of short term parking.

Examples of transformations to aspire to might include The Grove, Ilkley one of the most attractive shopping street in Yorkshire and from many years ago and more to the scale of Scarborough the transformation which was Magdelen Street, Norwich.

The Executive Team are keen to hear the views of the public – various specifics/ideas have come to light and may stimulate you to come up with more suggestions, comments or ideas ALL are WELCOME:-
· 20 Charity Shops in our Town Centre may be too many?
· Re-develop the Argos block on Newborough into a town square and as well create student accommodation for Coventry University and the Hull/York Medical School
· A multiplex cinema in the Town Centre
· Roof over Huntriss Row (reminiscent of the arcades in Leeds)
· Explore ways of connecting The Railway Station and the SJT with the rest of the Town.
· Develop the (shopping) attractions of Victoria Road and Dean Road.
· Reposition the Museum & Art Gallery into the Town Centre - or maybe develop a museum of the seaside, or attract a national museum/art gallery (e.g. The Tate in St Ives)
Richard Grunwell
SEND FEEDBACK and IDEAS TO :- regeneration@scarborough.gov.uk
CAMRA beer festival
March 5,6, and 7 2020
The event which took place in the Ocean Room of the Spa Complex saw more than 1,500 people attend.
Peter Howgate, a member of the Rotary Club of Scarborough Cavaliers, said: "Our grand tombola has become an established feature of the festival and we are really grateful to the 20 local businesses that donated prizes.We had over 200 prizes which ranged from gifts of food, toiletries, tokens, as well as bottles of wines and spirits."
The Cavaliers tombola raised £1000 for nominated local charities
Stewart Campbell of CAMRA said: "The Rotary Club Cavaliers are always welcome with their tombola in aid of local causes and complements our support for the Yorkshire Air Ambulance and Prostate Cancer relief.
26 Feb 2020
Michael Greene,
Chief Executive, Scarborough Borough Council
Michael Greene was given a warm welcomed by the Cavaliers, his enlightened presentation was both factual and entertaining as he went on to explain his vision for the future of Scarborough both as a place to live and as a holiday destination. He also gave a brief illustration of his career thus far.
Aug 2019 – Present9 months
Scarborough, North Yorkshire, United Kingdom
Assistant Director Neighbourhood and Customer Services
Redcar & Cleveland Borough Council
Mar 2015 – Aug 20194 years 6 months
Redcar, Redcar and Cleveland, United Kingdom
Chief Officer in the Growth, Enterprise and Environment Directorate responsible for a diverse range of departments, a large and varied workforce and extensive capital and revenue budge
Head of Service
Oct 2011 – Mar 20153 years 6 months
West Yorkshire
Head of Service in Kirklees Council which is a large metropolitan authority with a population of over 430,000 people. Responsible for leading a large portfolio of services with a diverse senior management team and a large and varied workforce.
Various roles and projects
Jun 2008 – Oct 20113 years 5 months
National Management Trainee (NGDP)
Improvement and Developement Agency
Aug 2007 – Jun 200811 months
Political Adviser
Sep 2005 – Aug 20072 years
Policy support, speech writing, media management strategy development.
Michael was thanked for his time and his presentation.
***** ***** ***** ***** *****
Rotary in a nutshell - the "in the lift" description & FAQ's
The Rotary network extends all over the world with headquarters in Chicago. In the UK all clubs are under the umbrella of Rotary in Great Britain and Ireland (RIBI), and are grouped into geographical districts. Rotary Club of Scarborough Cavaliers is within district 1040 covering Yorkshire, Humberside and North Lincolnshire and having over 100 clubs and 3,000 members.
A shared mantra is the aim of "Service above Self". In practice this means individual clubs working to contribute to their local community often supporting local causes financially or 'in kind' with practical help, for example, acting as a trustee.
Influence can be spread farther afield by working in co-operation with othe clubs in the same geographical district and indeed on an international scale by contributing towards worldwide projects (led by Rotary Foundation) - perhaps the most well known of these is the campaign to eradicate polio. Rotary have been a leader of this aim for many years.
Our major fund raising (and fun) events are Community Fair, Dragon Boat races and (recently) tombola/games at the CAMRA Real Ale Festival. Other events (focussing on youth and in liaison with other local Clubs) include Youth Speaks, Technology tournament and Young Chef. Every August we orgaise Commu nity Fair - taking over the pedestrian precinct in Scarborough son tha local charities can showcase their work - and often raise some money as well.
---
Our club meets weekly at the Downe Arms in an informal and welcoming atmosphere with good fun, fellowship and food
---
Please follow our twitterings: (wip!)
Please look at our Facebook page and click the "LIKE" link below:-
TO UPLOAD a PDF INTRODUCTION TO OUR CLUB, click below:
Introduction: Scarborough Cavaliers - What do they do?
Frequently asked questions about Rotary - (accurate for this club but may not apply to other nearby clubs)
| | |
| --- | --- |
| Are there induction 'rituals'? | Never have been never will be. A new member is formally introduced to the Club and says a few words if they wish. All new members are just asked to give a short talk about their work &/or hobby interests, at an agreed date. |
| Can ladies join? | Very welcome indeed at our Club, although there are still more men than ladies. |
| Do I have to pay to be member? | Yes. There is an annual subscription plus an optional donation to the Rotary Foundation (funding larger international projects). Plus we need to pay the Downe Arms for feeding us !! |
| Do you need to come every week? | No. Come when you can and contribute when you come. |
| How do I find out more? | Contact the Secretary, or another member and come along to a couple of meetings as a visitor; then give us the nod if you want to find out more. |
| How many members are there? | 39 |
| What is the dress code? | 'Smart casual' - interpreted by menfolk as jacket but not necessarily tie. |
| When do you meet? | Weekly on a Wednesday |
| Where is it? | Usually - Downe Arms, A170 @ Wykeham. |
Happening soon...
Meetings and events happening soon
Sunday 31st May
Fund raising for material for LOCAL Scrubs makers for NHS until the end of May
---
We have raised over £300 so far - PLEASE HELP US REACH £500 in May. Money will go to Scarborough makers to buy materials suitable to make scrubs (gowns) which will be donated to Scarborough Hospital, other local NHS teams, GP's and carers who need them.
details
Wednesday 3rd June 19.30
​Phil Godfrey highlights of his round Britain trip
---
Round Britain trip in aid of APS Support UK. (Zoom)
details
Wednesday 17th June 19.00
Ms Sam Taylor - talk on the Westway Food Bank
---
Topical and informative talk - Zoom
details
---
---
---
Rotary News
Be part of a global network of volunteers, trying to make the world a better place. Please also see the 'links & news' page for information from the local district and live feeds from Rotary International and Rotary International in GB&I.
Flexibility creating new opportunities for new members
---
RotaKids supporting their local community
---
---
Meetings & Venue
Where and when:
We meet on Wednesdays at 1900 for 1930
(
Visitors are welcome; please contact John Dudley on 01723 366 375 if you'd like to attend - or to come and speak to us.
)
The Downe Arms Country Inn,
Main Road,
Wykeham,
Scarborough
YO13 9QB
01723 862471