We discovered that it is a women only organisation that focuses on making a difference in women's lives in a myriad of ways through out the world .
The organisation is represented with a platform at the United Nations. The areas and topics they cover are vast and include :
And the list goes on and on and for this reason Angela kindly agreed to return tell us more.
Photo taken by Roger 5 years ago during an open day to celebrate 100 years of coach building.
I don't think I was alone among the visitors in thinking that Plaxton used to be a Coach builder who went bust in 2001, were reactivated by Alexander Dennis some years later, and had then returned to some form of coach building since then…. Certainly, did not realise that Plaxton is the largest builder of double decker buses in the WORLD, and currently have about 20%of the bus and coach market in the UK. They have survived the challenges of BREXIT and Covid, and have a flourishing business, employing about 750 people at their Eastfield site.
We were hosted by site director Nigel Pickering, and production manager Chris Haldenby, who oversees the construction of the E400 coach line.
Nigel ran through the company's history, which started as a Bar Street joinery business in 1917, expanded into bodywork and coaches in 1930, was acquired by Falkirk-based Alexander Dennis in 2007, before becoming part of Canadian NFI group in 2019.
Plaxton offer a totally bespoke service for their buses and coaches, which gives them a real point of difference compared to their competitors: it also gives them a huge challenge with very complex logistics and supply arrangements, and a mind blowing production planning process.
As Chris explained, all vehicles go through a 12-stage production process to get to the paint shop, and a 6 stage postproduction process for finishing and checking. All components are outsourced, delivered "Just in Time" with Plaxton focussing on assembly. Depending upon complexity, production of each bus or coach will take between 1000and 2500-man hours, the latter for more complex personalised coaches couch as the Panorama.
We were given a guided tour around the 4 production lines, 2 of which were devoted to building 198 double decker buses for the Berlin Transport Authority. Really fascinating to see the bus developing at each stage of production, which is producing 5 finished buses per week, which are driven off to Berlin on completion. Not a robot in sight, all work done by Scarborough hands. The last Berlin bus will roll off the production line in March 2023, and production planning and scheduling has already been completed for the vehicles that will be built after that.
Plaxton are also assembling Electric and hybrid vehicles as well as diesel, and Nigel and Chris confirmed that the speed of development of technology in the sector sets a real challenge to the production teams to keep up with advancements. The company has been adventurous and enterprising in developing a skilled and productive workforce, with a single rate of pay for all grades and categories of production staff, a well supported engineering apprentice programme, and a standard working week of 4 x nine and a quarter hour days. Union relationships are constructive and productive, with a "one team mentality" according to Nigel.
We had a great eye-opening tour, an excellent buffet lunch, and a free Plaxton mug!
It is most reassuring to know that Plaxton is a highly skilled and professional business, with distinguished market-leading products, and a strong order book. We are fortunate to have them in Scarborough, and they should make more noise about their successes.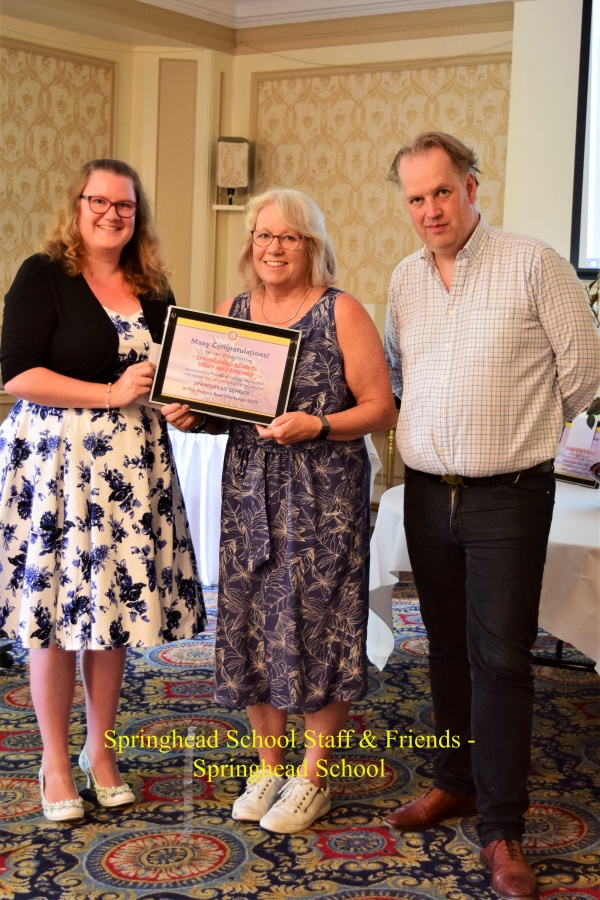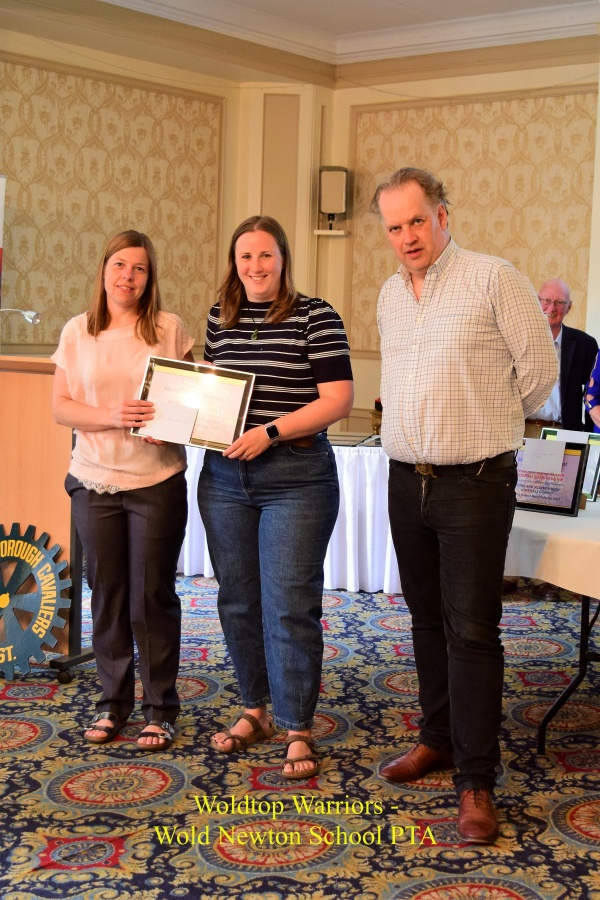 CU Scarborough
(Coventry University)
The club had a presentation from Eamon Byrne at its meeting at the Downe Arms on Wednesday, July 6. Eamon, who is part of the Talent Team at the University and responsible for business development, gave an informative talk about the university's plans for the town.
Coventry University arrived in Scarborough 7-years ago at a purpose-built campus on the former Weaponess coach park, sitting alongside the Scarborough UTC and new sports village.
Eamon described it as a modern university offering courses to suit the needs of their learners. They currently have around 800 students but are looking to double that number over the next couple of years. The university is keen to be part of the community and created much needed higher education provision for the Yorkshire Coast.
Eamon's role is business engagement to help the university fill the skills gaps. Currently the courses on offer are geared towards the NHS, Anglo American, GCHQ and Acting, in conjunction with the Stephen Joseph Theatre. Going forward the university plans to focus on three key areas :-
1. Health with a Health conference planned for October 19-21;
2. Cyber with a HTQ event scheduled for August 18-20; and
3. Sport having held a Community Sports Day at the Legends match on July 2.
The Government has earmarked £320m for sport in schools and they hope to secure funding from this pot of money to develop their sports strategy.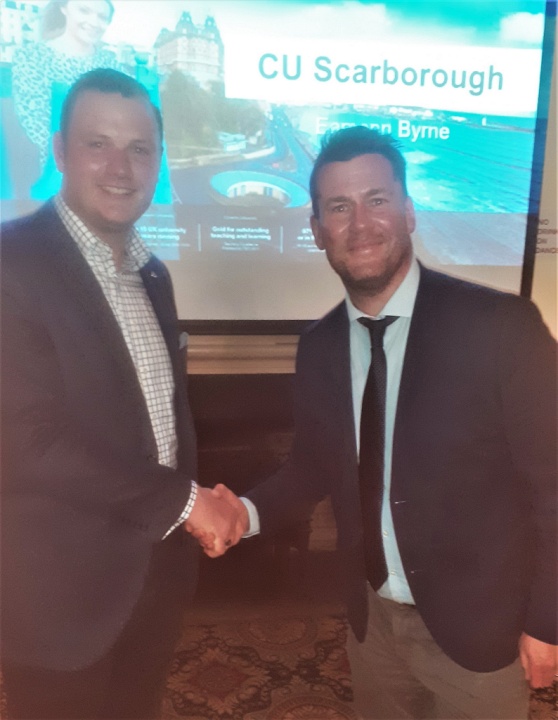 President, George Roberts pictured with our speaker Eamon Byrne
In the future, they hope to widen the catchment area to the North and North East of England and are looking to change the name to the University of Scarborough. Their proposals include more international students; student accommodation; devolution; a care zone and more post-graduate and research work. Also they are considering offering hospitality courses as tourism is an important part of the Yorkshire Coast economy.
The Talent Team is responsible for student and graduate talent, central support as well as business engagement. Eamon also has to try to educate local businesses to understand how they can make more use out of the CU students eg internships and sandwich placements.
CU Scarborough sees its function as keeping talent in the area, together with providing solutions for local businesses. They have Business Advisory Panels to look at skills gaps too.
Eamon finished off his presentation with a Q&A and offered the club the opportunity to visit the campus to see the facility at first hand.
Mike Wilkinson
+++++++++++++++++++++++++++++++++++++++++++++++++++++++++++++++++++++++++++++++++++
This week's talk to the club on June 15 was by a well-known Scarborough fisherman, who penned the fifth in a five-part book series about his life at sea in March 2021.
Fred Normandale
, who fished out of Scarborough for many years, began writing books 20 years ago.
From growing up in the Old Town to becoming a deckhand, skipper and ultimately owner.
The latest, and last, book in the series of five, Low Water, charts his time in the 2000's spent volunteering on tall ships all over the world, as well as vessel losses and near misses he experienced in his career.
He travelled the world volunteering on the STS Lord Nelson, a tall ship owned by sailing charity the Jubilee Sailing Trust (JST), which was specially designed and fitted to allow people with disabilities to sail alongside able-bodied people.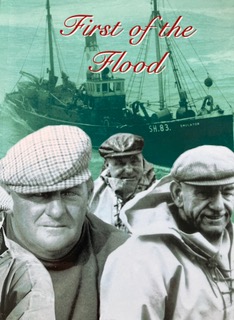 The 55m tall ship with 30m mast launched in 1986 and, along with JST's other ship Tenacious, has sailed all over the world with Fred aboard on over 90 trips.
The last time Fred addressed the club reading extracts from his books was in March 2017.
He initially wrote First of the Flood in 2002 a book dedicated to the fishing community of the "Bottom End" in Scarborough, in the days of his youth.
To the larger than life, wonderful characters and the unique way of life that has gone forever.
Fred's talks are always entertaining with humour but you realise the hard and dangerous life at sea was, especially when he was a young man.
Mike Wilkinson
Rotary Cavaliers
Mike Wilkinson receives The Paul Harris Fellow Award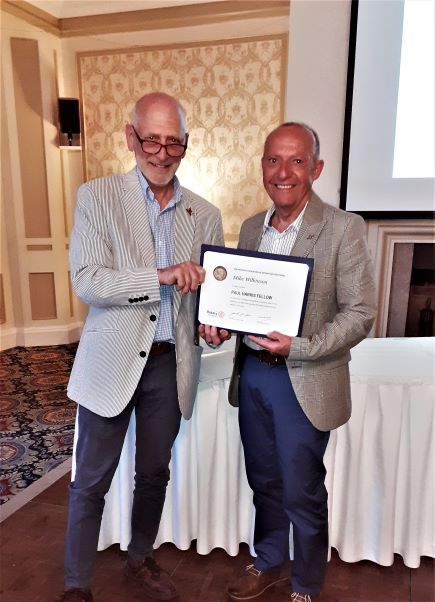 President Richard Creasy presenting Mike Wilkinson 'The Paul Harris Fellow'award.
Mike Wilkinson joined the Rotary Club of Scarborough Cavaliers in 2001, whilst working at the Borough Council as Head of Marketing & Development within the Leisure Services Department. He became President of the club in 2014/15 and currently chairs the Membership & Communications group. Mike is seen here receiving the Rotary Foundation of Rotary International Paul Harris Fellow from club President Richard Creasey at the Downe Arms Country Inn, where the club meets on a Wednesday evening. The fellowship is given to Rotarians in appreciation of tangible and significant assistance given for the furtherance of better understanding and friendly relations among peoples of the world.


Report on the meeting held at the Downe Arms on 25 May.
Alan Instone, a local retired engineer, presented a fascinating account headed the 'The world's first Computer', which turned out to be have been found by Greek sponge divers in a wreck off the island of Antikythera in 1900.
The wreck yielded numerous statues, coins, and other artefacts dating back to the fourth century BC, as well as the severely corroded remains of a device which many regard as the world's oldest known analogue computer - the 'Antikythera Mechanism'.
The development of an X ray device which could 'see' the make-up of the Mechanism in very fine detail enabled lots of information to be identified, and this enabled modern day copies to be constructed. The data found was astonishing, with details about the movement of the planets, dates for the Olympic Games, the number of days in a year and so on.
Lots of details are on line: type 'Antikythera wreck' in Google, (Wikipedia for example is very good), and there is lots of further info and photos.
The really amazing thing about all this is the precision of the mechanism. It is difficult to believe that this device is a one off, with no simpler devices leading up to it, but as of now, this is the only example of the genius of these pre Christian Greek scientists.
JCC
---

Paul Harris Fellow Award


The Cavaliers President, Richard Creasy is seen here at a recent meeting presenting
The Paul Harris Fellow award to Jim Martin for his work and dedication to local charities and as a Borough Councilor for Scarborough. This is a prestigious award and only given for exceptional service by Rotary members.


Tour of the resort's Waste Water Treatment Works
On Wednesday, April 13 a group of 15 members and partners had a fascinating tour of the Scarborough Waste Water Treatment Works, which was built in 2002 at a cost of £30 millions to improve the bathing waters in the resort.
The group were met by Yorkshire Water's Senior Education Adviser, Adele Pryce and the site operations team to brief the group on Yorkshire Waters work, Incredibly the site is operated by a single person and as to be expected is highly mechanised.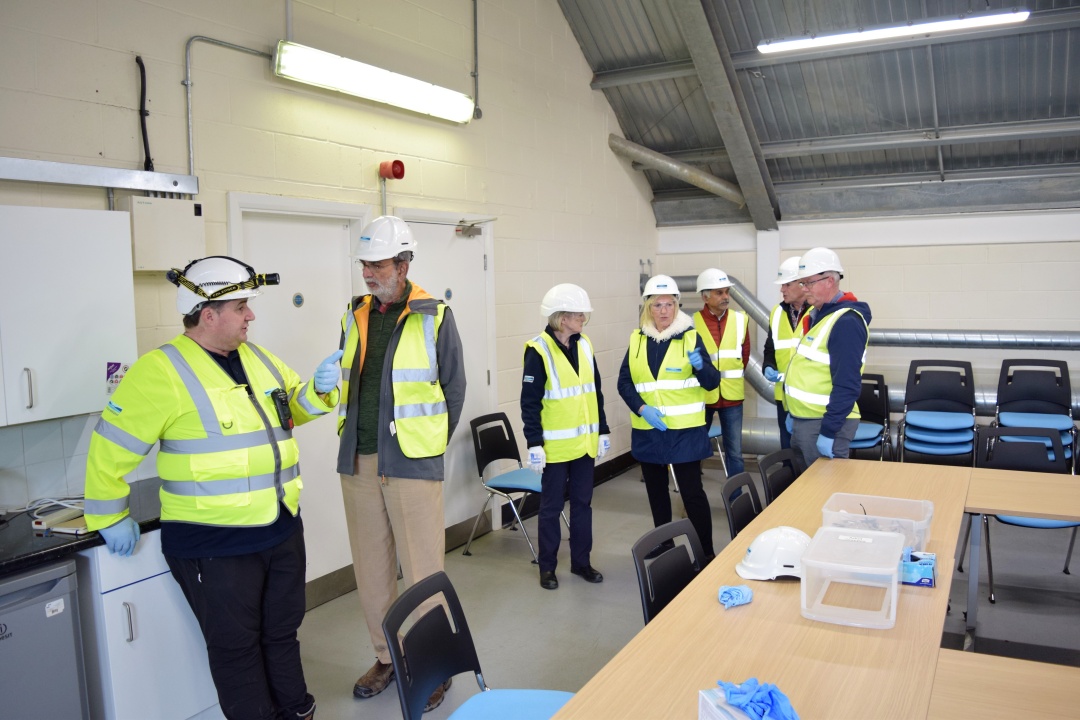 There is a network of around 20,000 miles of underground pipes collecting waste water from Yorkshire homes. The dirty water poured or flushed down drains is made clean in over 600 waste water treatment works in the Yorkshire region, including the Scarborough site at Burniston.
Suitably dressed we split into two groups led by the site's operations staff to view the process at first hand. The Scarborough WWTW deals with waste water from the Scarborough area, which is pumped up to the site from Scalby Mills.
This sewage contains both solids and liquids and the solids need removing and the liquid needs cleaning. The first process is screening, where solids such as wood, rags and paper are removed, it then flows into large tanks where most of the remaining solids settle to the bottom and what is left is called sewage "sludge".
Sludge is disposed of off-site in ways that do not harm the environment and can even be heated to high temperatures to release methane, with the gas collected to produce electricity.
A more common use is to mix the thickened sludge with green waste that can be sprayed onto fields by a tanker to fertilise the soil. It's a good source of nitrogen and phosphorus which plants need to help them grow.
The secondary treatment process sees the "goodie" micro-organisms feed on the 'baddie" compounds in the water. Then the liquid sewage is mixed with micro-organisms in a tank, in a soup like mixture. Oxygen is fed into the tank; so that the "goodie" micro-organisms can breathe.
Then this the sewage flows into large tanks to allow the solids to settle. The final treatment sees the sewage zapped with ultra-violet light to make sure that any remaining "baddies" are killed before pumping the clean water out into the North Sea.
After an hour-long tour the group departed to the Hayburn Wyke Inn for a well earned meal.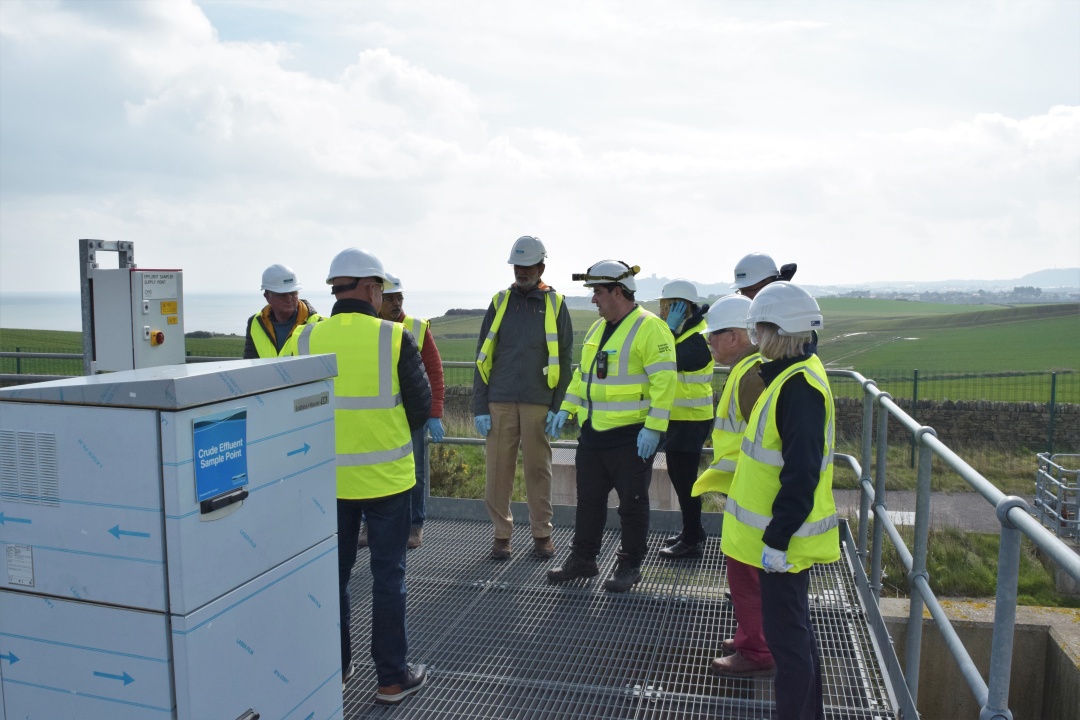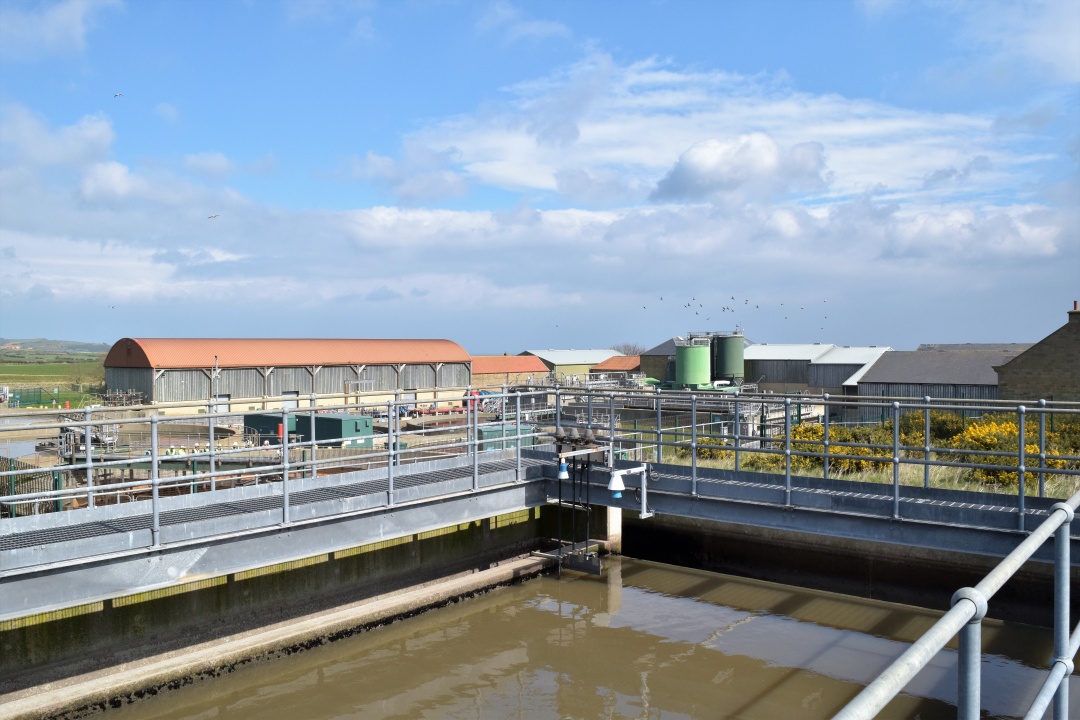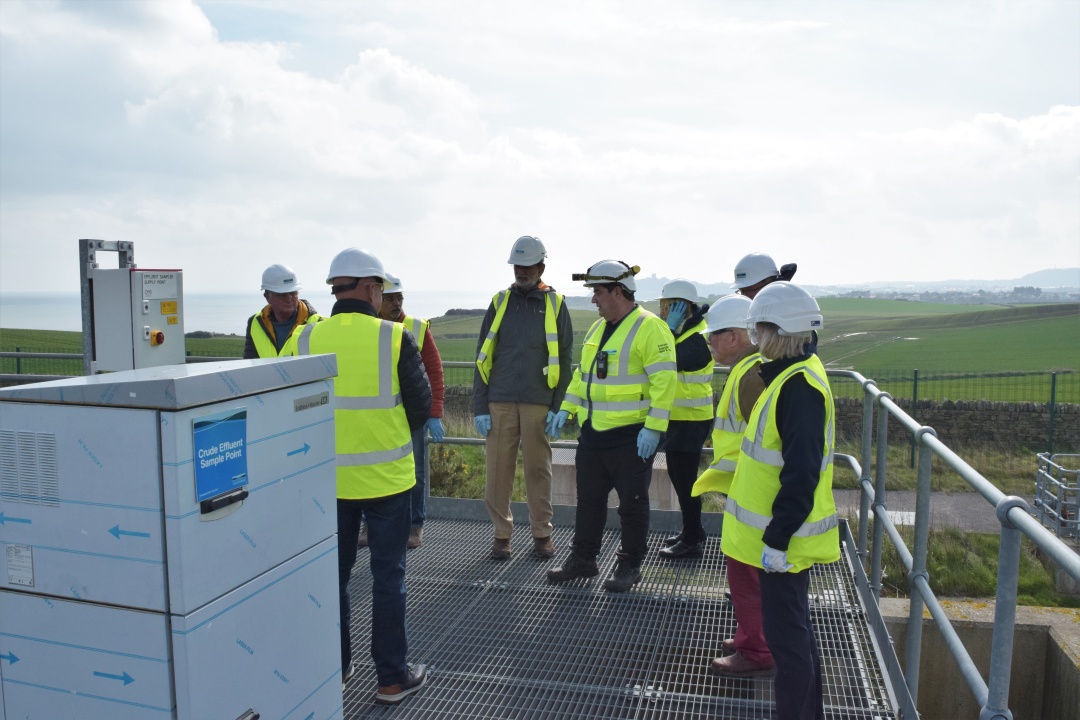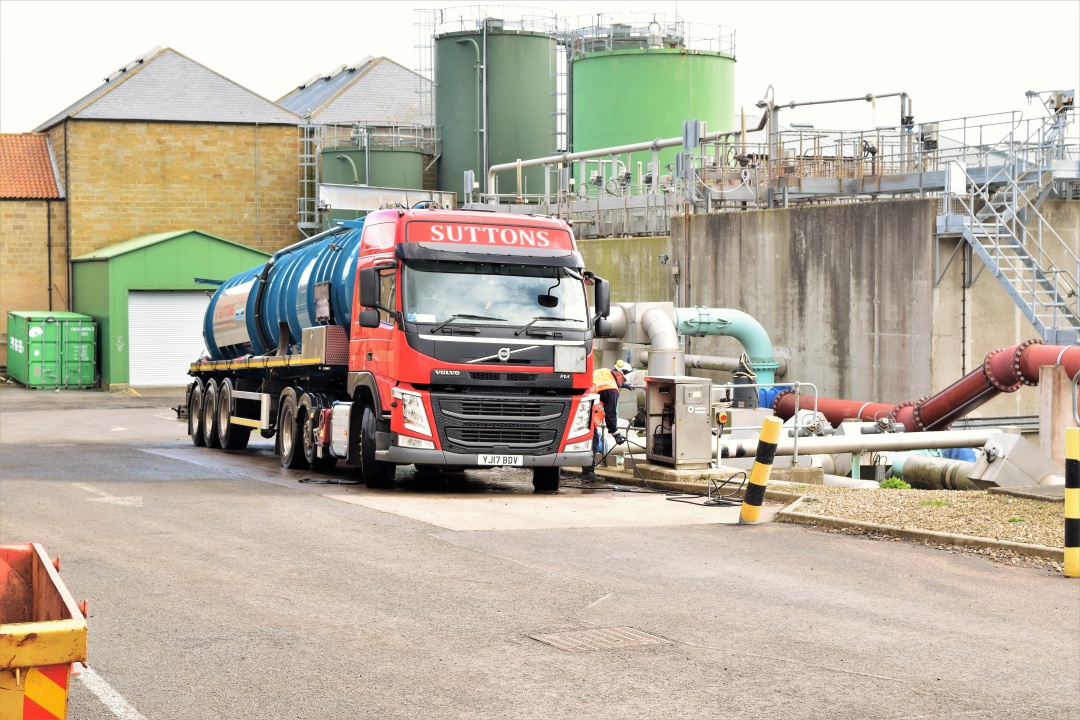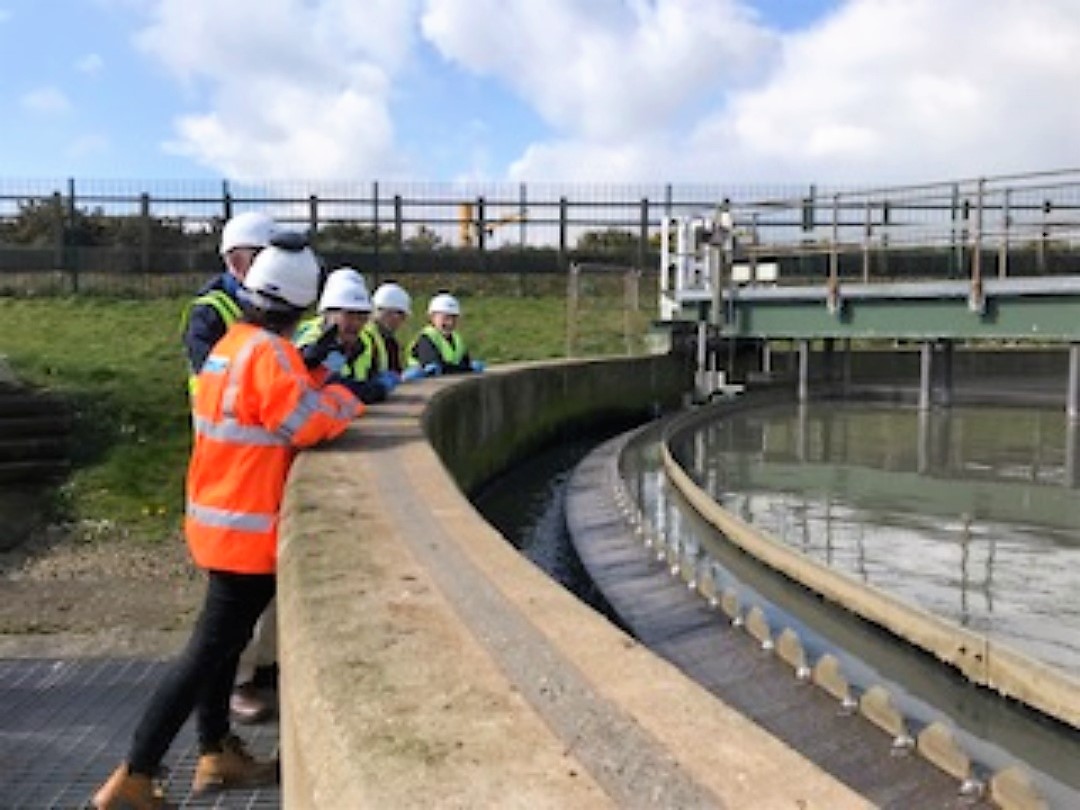 April 6 2022
Sally Brown receives her Honorary Membership of the Scarborough Cavaliers Rotary Club from
Richard Creasy President (Right) and John Dudley Secretary.
Her certificate reads:-
"Certificate of Honorary Membership awarded to Sally Brown in thanks and recognition of her energy, enthusiasm and achievements as the first Lady President of the Cavaliers. Also, for her tireless work in leading the vaccination programme in Scarborough throughout the pandemic. Signed Richard Creasy president. 16 March 2022."
Wednesday April 6 Downe Arms Wykeham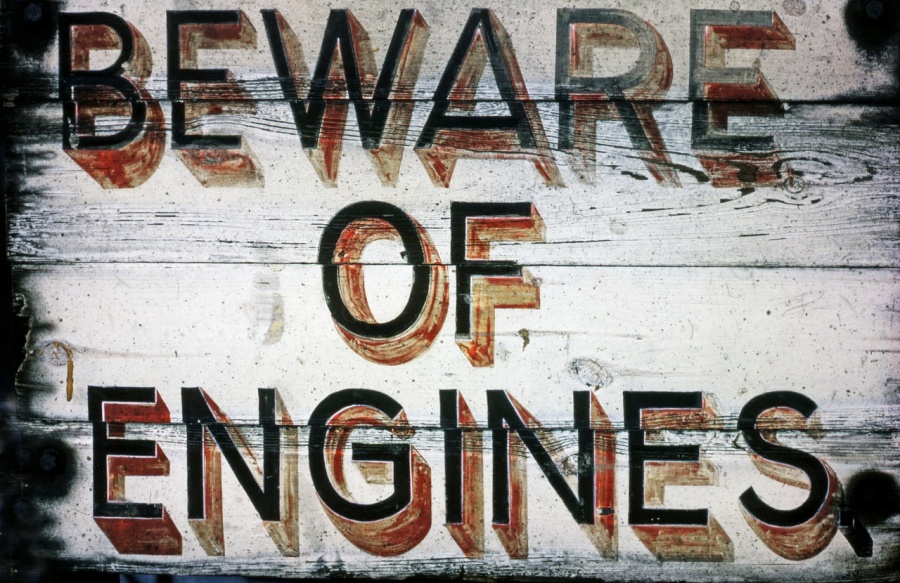 Beware of Engines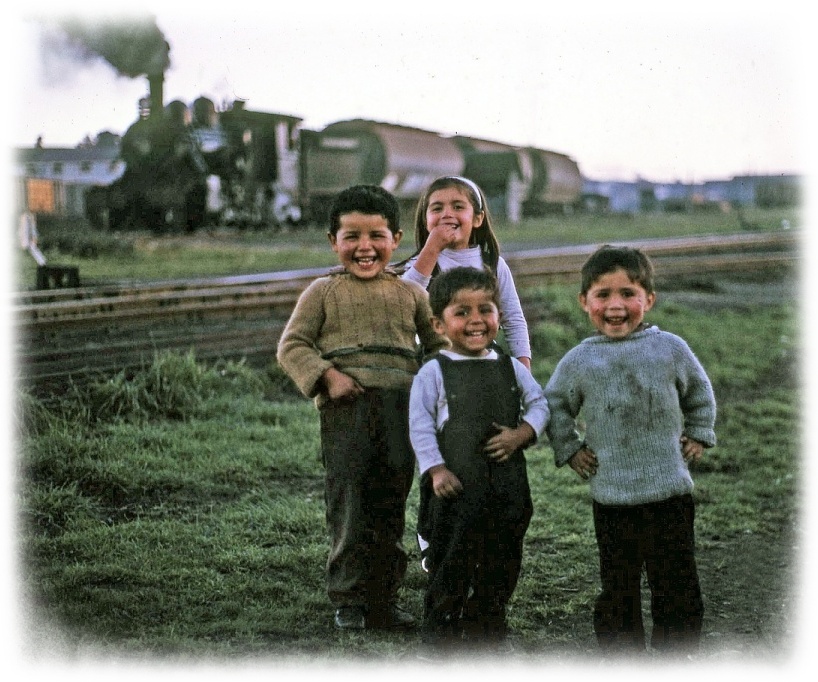 John Hunt (Snainton) at a recent club night, shared his experiences of travels and exploits to faraway places from Bolivia to China.
John, a qualified steam engine driver volunteer loves nothing more than riding on the footplate of engines hauling passengers on the Pickering to Whitby line every fortnight.
His travels were illustrated with excellent photographs which told the story of his adventures, people he had met and numerous steam engines. He had a very laid-back way of telling these stories both amusing and informative.
Attached are a few of his photo collection taken whilst on his journey in 1974 to Bolivia and Chile until his latest trip 2020/21 Damascus, Northern China and Java.
1. Curious children by the railway in Temuco, Chile 1974.
2. Freeze frame, after a fresh deep snowfall in the Jingpeng Pass, China a line built in 1994.
3. Simultaneous departures from the Hedjaz railway station, Damascus.
4. Syrian family happy to have their picture taken, Damascus.
5. The nice people you meet, an armed goat herd, Jingpeng Pass.
6. A wood burning steam loco, street running in Madiun, Jarva. 2021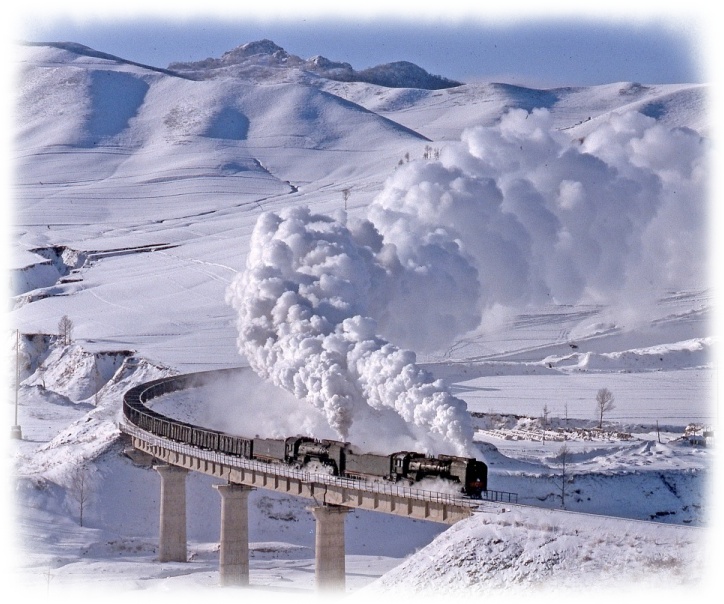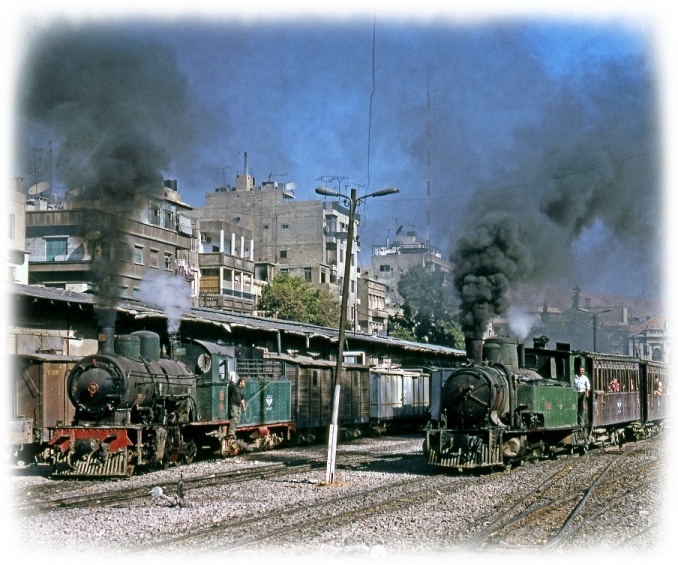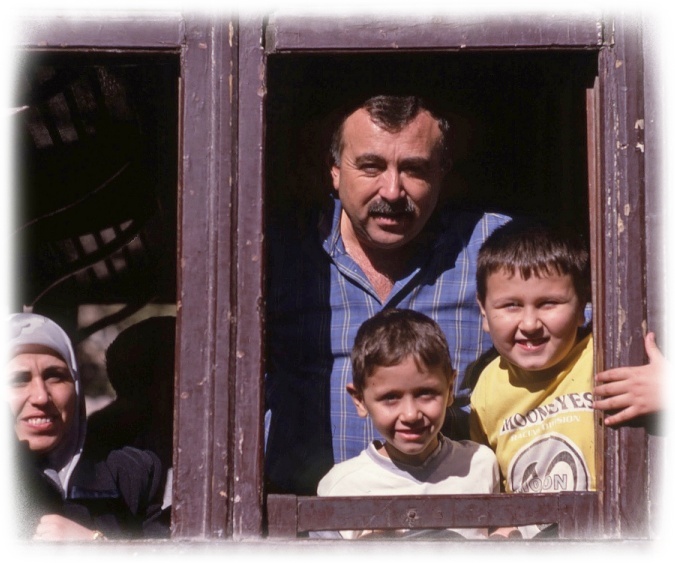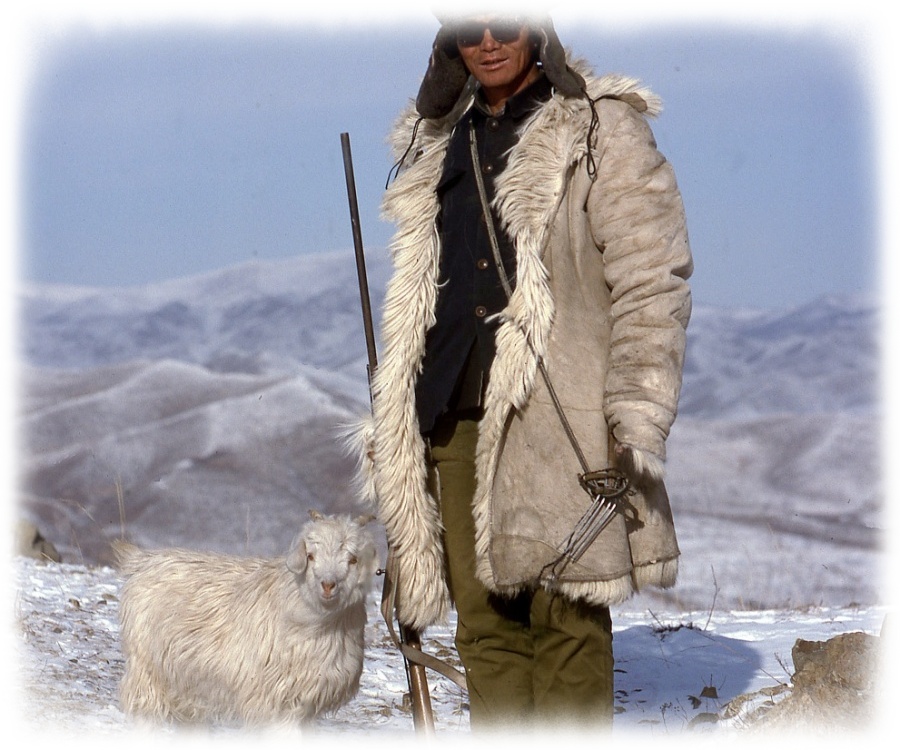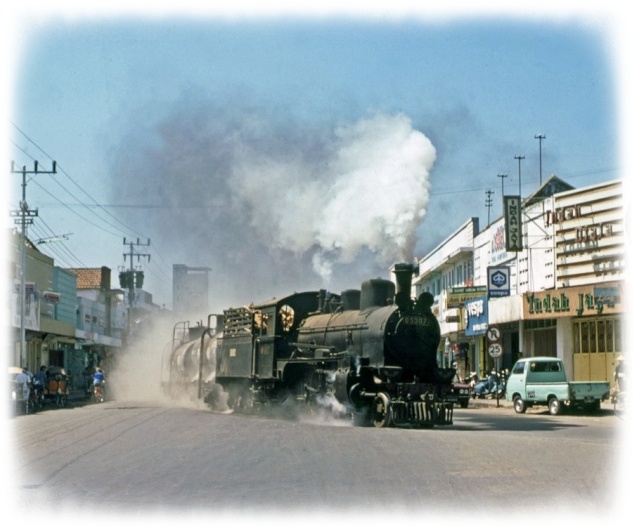 Dementia Forward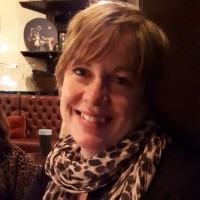 2nd March 2022
The club welcomed, Debbie daughter of club member, Richard Grunwell,
Debbie is the Community Liaison Lead for Dementia Forward
Dementia Forward is the leading dementia charity for North Yorkshire, providing support, advice and information to anybody affected by dementia across the County, and have developed a comprehensive range of services; all with people living with dementia at their heart.
The main basis of the organisation is the base of local aspects throughout the county playing a vital role that wasn't there prior to the forming of the charity 10 years ago.
Supporting over 4500 within the county often through the Dementia Hubs supporting people by providing activities. The charity has access to a helpline, specialists nurses and advisors, singing groups and wellbeing cafes.
In addition providing training and education for various organisations is also a main point of the charities work.
Debbie leads the Community team, which includes community engagement, training, fundraising and, of course, volunteering.
Volunteers are the lifeblood of Dementia Forward. They bring with them skills, experience, passion and commitment and enable us to carry on providing our vital services to people across the county. If you are interested in getting involved in volunteering, whether you have lots of time to give, or just a little, get in touch for a chat as we are always delighted to hear from anyone who wants to make a difference in any way they can. Volunteering is a great way to share the skills you already have but is also a good way to develop new skills and do something that is completely different. From singing to fundraising, baking to gardening, we would relish your support. Thank you. Call 01765 601224 or visit our website for more information and our application form.
Report by George Roberts
The Downe Arms Wykeham on Wednesday 16 February 2022/
Talk by Heather King,
"A progress Report on the Anglo American Woodsmith Mine Project"
Past President John Wilson Introduced Heather to the meeting, Heatheris the Liaison Officer for Anglo American, she began by telling us that Anglo American took over the project from Sirius Minerals in March 2021 who, unfortunately, could note raise the large second tranche of their required finance.
Anglo American is a London based Company, it trades world-wide, with the majority of their operations in the southern hemisphere. The Woodsmith Mine Project is their only project in the UK. The project involves constructing a mine in the North Yorkshire Moors National Park at Dove's Nest Farm Sneaton near Whitby on the B1416. The mine is connected to a shipping facility at Redcar by a 32Km long, 6M Diameter tunnel. The facility at Redcar will convert the excavated polyhalite into a high quality agricultural fertilizer for export world-wide.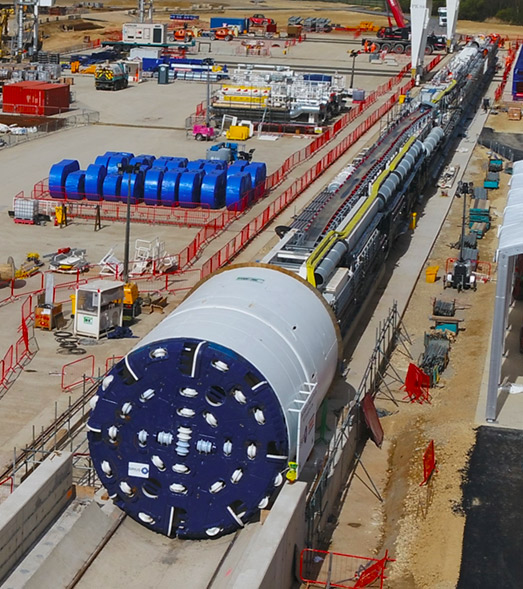 "The transport tunnel boring machine"
Anglo American invested nearly £390m in the project last year, with excavation of the mineral transport tunnel from Teesside passing the 18 km at the end of last year, well beyond the intermediate access shaft site at Lockwood Beck. The shaft at Lockwood Beck is a permanent access shaft. The transport tunnel will have a system of conveyor belts, plus sufficient space for specially designed vehicles to drive up and down the tunnel for maintenance purposes and general access, as well as in an emergency. Access to the transport tunnel will be provided at Redcar, Lockwood Beck and a third access to be constructed at Egton.
The Lockwood Beck shaft is complete, having reached its target depth of 383 m, and shaft lining is currently under way. The site preparations are complete at Egton and the shaft is due to start shortly. At the Woodsmith Mine head itself, the services shaft is complete, this shaft is a large diameter shaft which will take a large amount of infrastructure, which would have had to have been constructed on the surface. From the service shaft two further access shafts have to be bored right down to the working depth, approximately 1500 M. One shaft is for access for personnel and equipment, this shaft has been drilling for a few weeks now. The second shaft will be for the extraction of the polyhalite, and it has just started.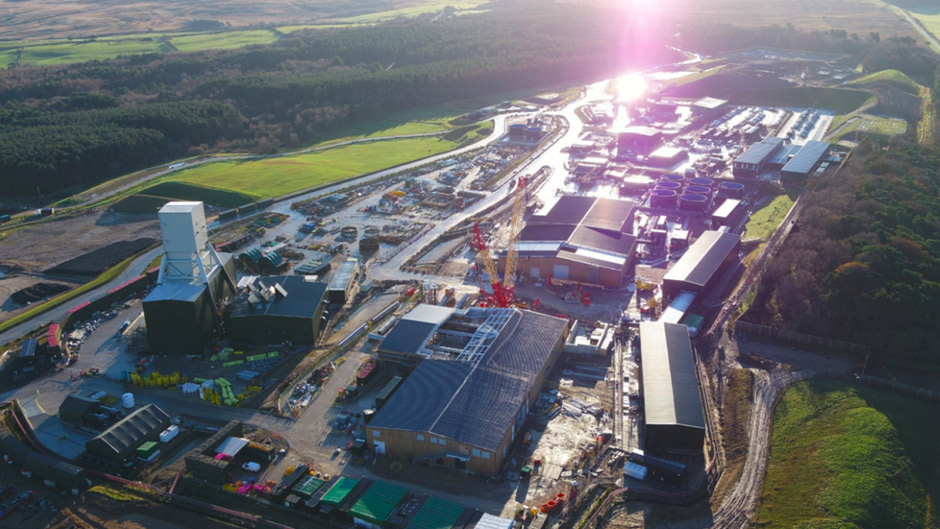 "a view of the worksite at Woodsmith Mine"
Once all the construction work is complete, extensive earthworks and tree planting will be undertaken, plus the construction of some single story administration buildings and some accommodation buildings in a wooded area near the site access.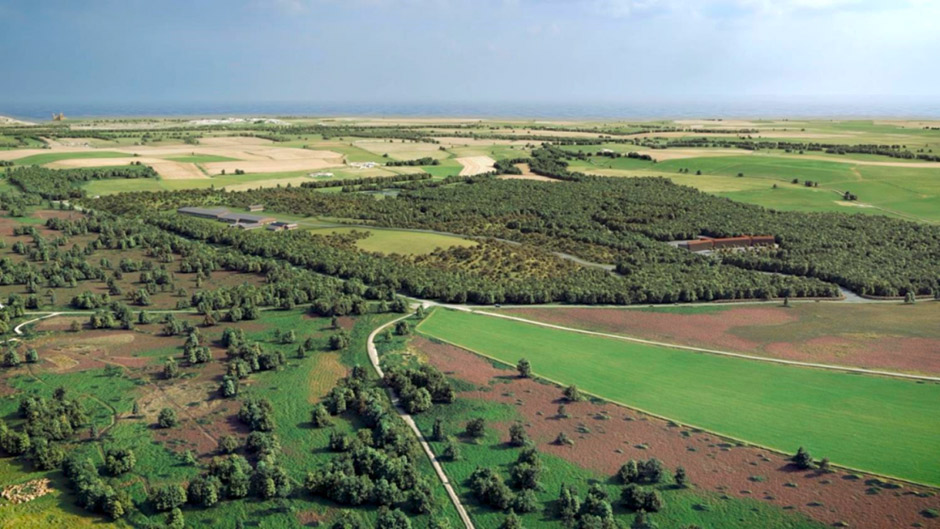 "a view of Woodsmith Mine when operational"
In a recent statement by Mr. Cutifani, CEO of Anglo American, he said that they expect to spend £440M on the Woodsmith Project in 2022, he went onto say that, "this is a very long-life asset and a product for which we see increasing market interest as the commercial trials demonstrate its crop yield and numerous environmental qualities, so we are going to take the necessary time to get every aspect of the design right to match our long term vision and value aspirations." So, with a project expecting to be producing polyhalite for around 100 years. This project is going to be an enormous asset to the local economy.
Anglo American is also spending considerable money in the local community, directly and via the Sirius Minerals Foundation which was incorporated when the project started. £1,4M has already been spent on 232 projects. Anglo American propose to increase the expenditure to £5.0M pa for projects within the local community, such as apprentice schemes for local youngsters and assistance for local schools and other projects.
===================================================================================
Pauline Armstrong's life and times (Rotary Member)
It was a pleasure to learn of the interests and contributions of one of our newer and highly valued lady members during the club meeting of 2nd February 2022 at the Downe Arms.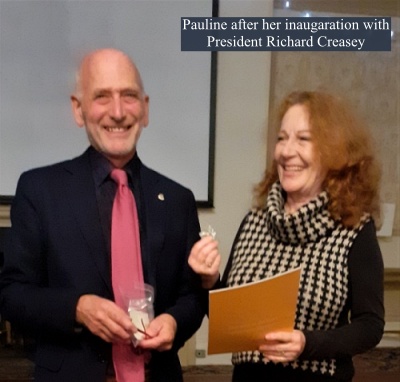 With an enthusiasm for life that began for her when still attending school in the "Swinging Sixties" of West End London, where she was aware of the England football team winning the World Cup, which aided her entrepreneurial skills in making a pile of money selling ice cream!
Moving on to more professional pursuits she found office work boring, so progressed to mental health nursing and providing care in the community. While finding mental health services poorly resourced, she did see the benefit of ECT therapy for some patients.
An additional interest in life is the collecting of Antiques and her younger daughter's education rather than beginning in a Nursery was to learn numeracy and monetary training by helping Mum to cash-up and pay it into the bank.
Continuing in the care sector she purchased a 29 bedded home in Whitby where circumstances on one occasion caused her to have to assist a very novice undertaker in dealing with a recently deceased client.
Pauline is a qualified Counsellor and took another step in life dealing with client's personality disorders including the imprisoned. Experience of the therapeutic hospital in York was appreciated by her and added to her skills.
Pauline is also studying clinical hypnotherapy and aspires to be a ballerina and make a hole in one during her golfing leisure.
Jim Martin
---
Carers plus Yorkshire - support for unpaid carers, and a lot more..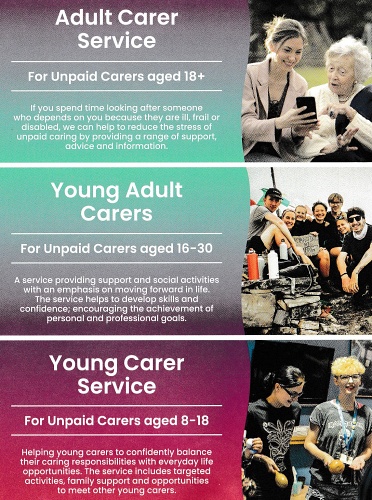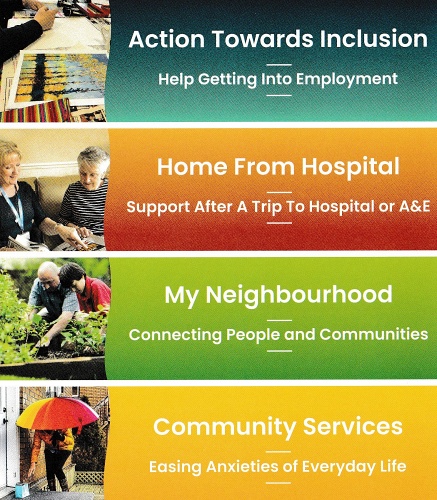 Last Wednesday (17 Nov.21) we were very pleased to welcome CEO Elizabeth McPherson and Business Development manager Clair Robinson of Carers Plus Yorkshire to bring us up to date with the activities of their wide-ranging support service business.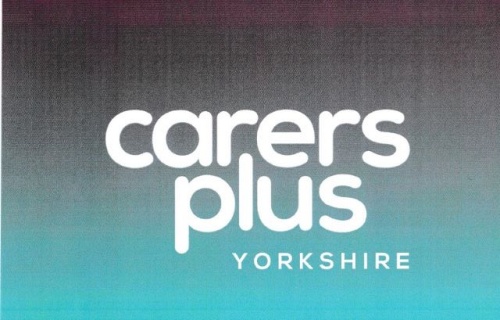 We received a very lively and informative presentation and heard that the recent merger with a similar Hambleton and Richmond carers support activity meant that the Snainton based business now provides services over half of North Yorkshire.
Their core activity, providing a wide range of services to support unpaid carers from the age of 8 to 80, is delivered by their core team of 37 specialised employees, supported by over 60 volunteers. Of particular focus is their support of young carers from the ages of 8 to 18, who are often struggling with balancing care of a family member with schooling and life in general. At present Carers Plus is providing support to 81 such young carers.
Whilst a registered charity, Carers Plus has to be very business-like to succeed, with their funding resulting from hard fought tenders involved in bidding for contracts.
In addition to their core services, the business has also diversified into related support activities:
*Helping people plan for employment:
*Easing patients return to home after hospitalisation
*Helping lonely people connect with others in their neighbourhood
*Being generally involved in a range of community services- shopping trips for example.
It's evident that Carers Plus Yorkshire had a clear focus on the growing needs of its wide range of clients, and Cavaliers were pleased to know more of their activities and will explore ways we might be involved further.
A final bonus from Elizabeth's and Claire's visit was their confirmation that they will sponsor a boat and provide a team in Dragon Boats 22-excellent news!
Contact: Claire @CarersPlus.net 01723 850155
Jonathan Knight
---
27 October 2021
Federation of Small Businesses
Richard Askew
Gave us a great insight into the work of the Federation of Small Businesses both locally and nationally – some key points highlighted below:-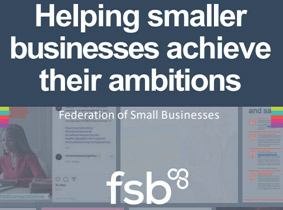 Who we are
o The voice of the small business community, since 1974 ∙
o The UK's largest business group with c160,000 members – all individual small business owners (under 250 staff)/self-employed ∙
o A not-for-profit, grassroots and non-party political organisation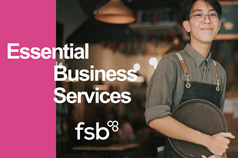 How we operate
We represent small businesses in every sector of the economy and every corner of the country
We operate at UK, Nation & Regional level with 33 FSB Local Areas. Members can get involved at every level
Our voice is respected and influential in Westminster &Whitehall, Holyrood, Cardiff Bay, Stormont, across local government and – increasingly – internationally
What we provide
Helping smaller businesses achieve their ambitions ∙


---------------------------------------------------------------------------------------------------------------------------------------------------
Scarborough Mates
In partnership with 'Men in Sheds organisation'

Presentation by Iain Hale and Sue Petit.
6th October 2021
Iain Hale founded this group in 2018, when he realised that men upon reaching retirement, needed to talk to each other, socially and have a purpose.
'Men in sheds' began in Australia before hitting our shores a few years later. A visit to the York club in 2018 gave Iain the impetus to form a club in Scarborough. It was to become his goal and the first task was to find suitable premises. After a few dead ends he was made aware of an empty building on the old Londesborough station site, the ticket office!
Following all the lengthy legalities the building was taken over by Scarborough Mates. With a grant from Scarborough Borough Council plus money raised by club members, work started on refurbishing the building which included a new kitchen, wheelchair access, toilet facilities, some basic repairs and decorating. It was finally opened earlier this year.
A donation of a milling machine and lathe have increased the scope of the workshop which also boasts woodworking tools, metal work apparatus, art and craft facilities, model railways and model making. A ceramics studio is planned for the future.
The charity aims to alleviate loneliness particularly following the pandemic. The main thing Iain stressed was creating a friendly atmosphere for people to have a chat over a cup of tea, discuss any worries they may have and to form new friendships.
The charity has close links with many other charitable organisations in Scarborough.
Unit 8, Londesborough Business Park, 66 Londesborough Road, Scarborough. YO12 5AF
Scarboroughmates@gmail.com Mobile tel. 07473155713
Our thanks to Iain and Sue for a very interesting talk.
Report by Roger
_________________________________________________
The Blueprint for Scarborough Town's future
29 September 2021


Richard Grunwell, club member and Chair of the Town Centre Team along, with former club member Janet Deacon making a welcome return as the Borough Council's Culture & Tourism Officer, made a very detailed and exciting presentation of the vision for the future of Scarborough town, based on the Scarborough Blueprint - A vision of ambition & investment for 'Our Town by the sea'.
Richard explained that the Council prepares the plans and makes the decisions. The Town Centre Team are individuals invited for their experience, expertise, and interest to suggest actions and ideas, to consult and discuss, to focus minds, to encourage and support and to give confidence to our Officers who have reacted brilliantly and positively.
The Blueprint is manifest in a detailed but broad plan, specific actions planned include, improving the town by additional "greening" along with development around the railway station to provide a better welcome for arriving visitors supported by an integrated transport system. The "evening economy" is to be improved to bring people to the town centre by developing a cultural strategy with improved entertainments, alongside providing residential accommodation above shops and to encourage professional people to move to the area.
The Blueprint envisages four areas designated for improvement with a Town Centre Charter to deal with anti-social behaviour, empty shops and detritus caused by the gull population amongst many other actions.
The four areas of focus are Town Centre, Coast & Parkland, North Bay and South Scarborough embracing twenty-five projects with a timescale extending to 2035. The individual projects are itemised on the attached web address.
CLICK: Scarborough Blueprint 2021 to download in full a pdf of the plans. https://www.scarborough.gov.uk/sites/scarborough.gov.uk/files/Scarborough-Blueprint-2021-Web.pdf
We thank Richard and Janet for their time and for sharing with us these future plans.
---------------------------------------------------------------------------------------------------------------------------------------------------
SASH - Safe and Sound Homes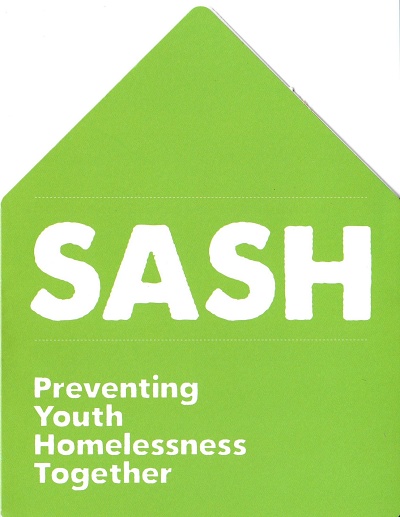 A presentation by Anne Unsworth and Aimee Harding to the Rotary Club of Scarborough Cavaliers on Wednesday September 22nd 2021.
SASH is an organisation based in York and working in North and East Yorkshire including Hull and York. It works with young people in the 16 – 25 age group, who for whatever reason find themselves homeless and as a consequence have nowhere to sleep.
A number of statutory organisations –commonly the Police - will contact SASH when such a young person presents themselves. SASH has a number of Host Families who undertake to look after the young person, providing them with a separate bedroom and a shower and an evening meal and breakfast. The young person can stay for a single night or a few nights (average stay is 6 nights) until something more permanent can be organised.
Anne is based in Scarborough and it is her job to ensure that this emergency accommodation is arranged.
Anne and Aimee gave us some ideas as to why some young people find themselves in this position. Quite often it is because of a relationship breakdown, and sometimes parents just evict their child. Frequently young people in this position have a complete loss of self-esteem, they are in trouble at school and the problems spiral.
SASH also has other facets such as a Supported Lodgings scheme when the young person can lodge for up to 2 years, but doesn't have the immediate support of a family.
There is also a scheme entitled 'SASH active'. This works in the same sort of way as 'Outward Bound' although the emphasis here is to enable youngsters to succeed/enjoy in a number of activities and build their self-esteem and boost their wellbeing.
All of the activities so far mentioned cost money (of the order of £530,000 per year), and Aimee 's job is fund-raising.
The pandemic has made all the above much more difficult with Hosts being more cautious and the disruption of education and employment, which has resulted in even more insecurity.
To get a fuller picture of SASH and its activities Google "Safe and Sound Homes", and there is information on a number of aspects of their work, as well as information about how to become a Host or donate to support SASH's work.
Christopher Case (member)
..................................................................................................


NEWBY & SCALBY COMMUNITY LIBRARY
Trustee Judith Woodroffe gave an inspirational update of the successful progress made by this valuable facility. A presentation had been made nearly two years previously BC (Before Covid), so this was a welcome opportunity for members and guests to experience a return to 'normality' with this start to its speaker programme.
Judith emphasised that membership gives access to all libraries throughout North Yorkshire and use of their facilities including book loans and the IT network. This branch has twinned its toilet with one in Afghanistan and as probably expected provides superior facilities to the mud hut depicted. A fee of £60 was paid which will enable improvements to be made to the one in the war- torn country, possibly by replacing the loose flap covering the entrance with a door! As many of us know through our international work the provision of a toilet in remote areas is a safety feature for females in that they do not have to carry out their natural functions in open areas such as bush land. A surprising piece of information for many of us provided by Judy is that the wearing of a brassiere is another personal safety factor in that it demonstrates the woman has some status in her society.
The service is maintained by a team of trustees and volunteers who have been extensively trained in the requirements of running a public facility. The local authority does provide seven hours per week of professional guidance. There is good usage by schools and a most valuable service during the Lockdowns of issuing books to care home residents.
Refurbishments to maintain the building and provide a well kept and used garden have been funded by book sales and grants.
Commencing in September it is planned to restart usage by various groups such as the Cartoon Art Class and several others. The opportunity to raise funds and publicity was taken during last weeks Cavaliers Community Fair in the town centre.
GOOD QUALITY BOOK DONATIONS WELCOMED
Jim Martin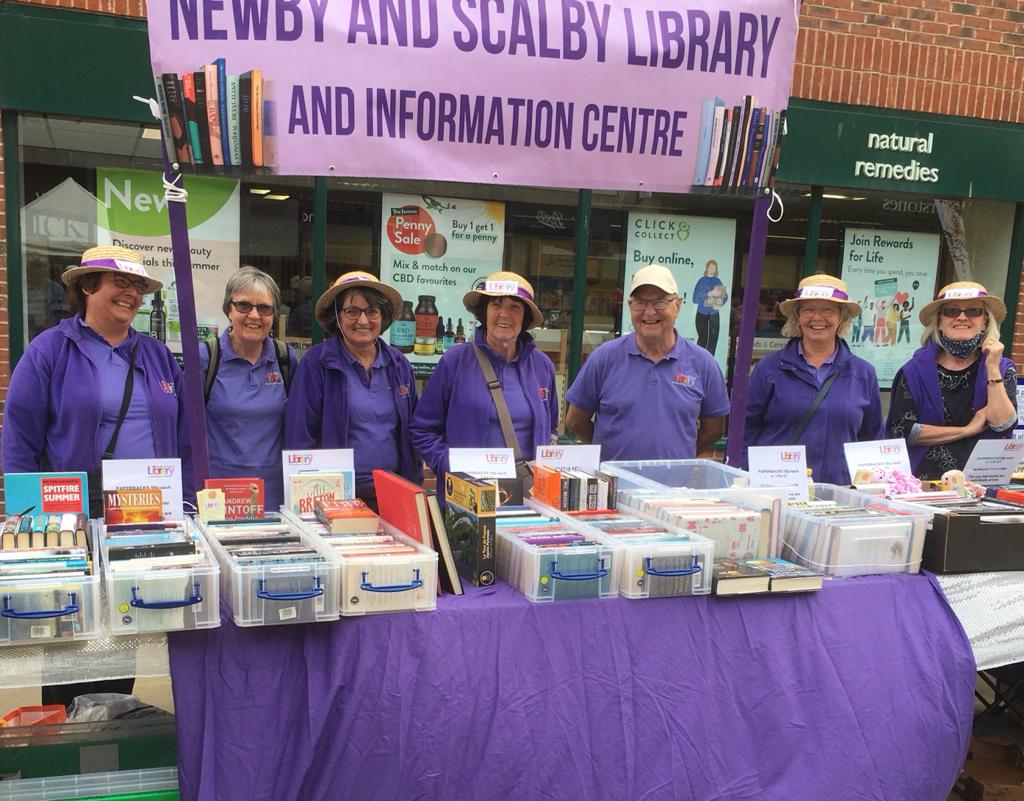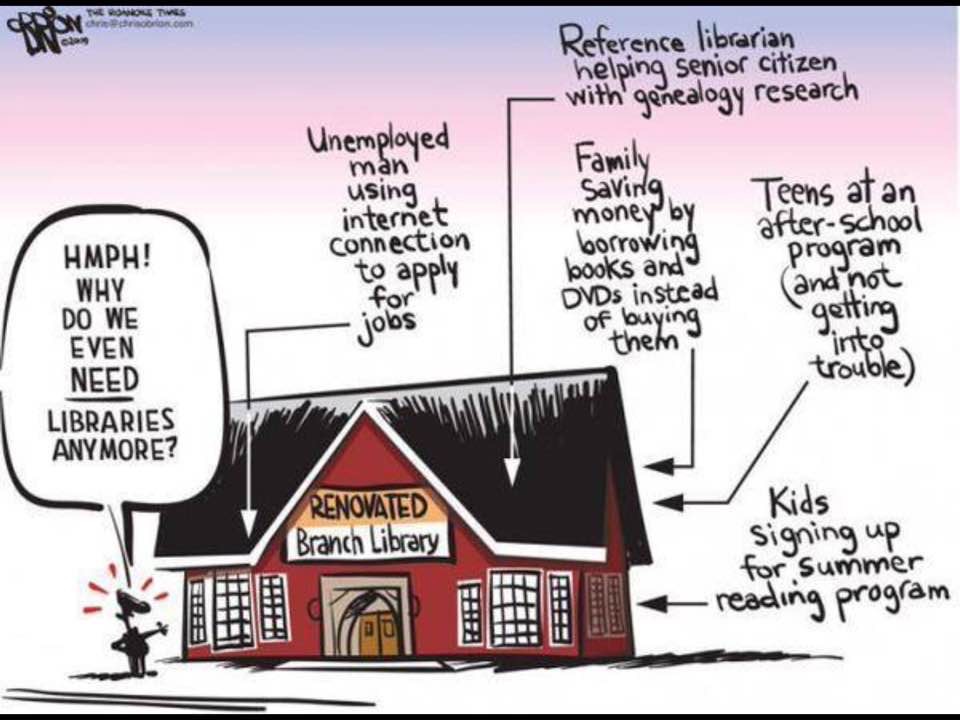 Rotary Cavaliers Annual Street Fair 15 Aug 2021
Another success for Rotary Cavaliers and charities, over 50 tables hired to 40 charities the weather was very kind to us and the atmosphere was brilliant. Cavaliers spent the previous day collecting tables from various locations and set them up from 7:30 am on the day, clearing the town centre at 4pm. Everyone enjoyed the day and the mayor spent time chatting to stall holders before declaring the top table winners, but as was said everyone was a winner on this delightful day. Some comments below from the prize winners.
'We had a very enjoyable day and raised an amazing £xxx which will be a great help towards out vet bills etc. All the stall holders seemed to be doing well and we hope they made lots of money too.We will see you next year all being well.'
'Thanks for the photo. Enjoyed the day. Took £xxx. plus which is very good. Thanks for the prize.'
'Many thanks for this Roger. We had a lovely day – the weather was on our side and there was a lot of
people around spend
ing money! '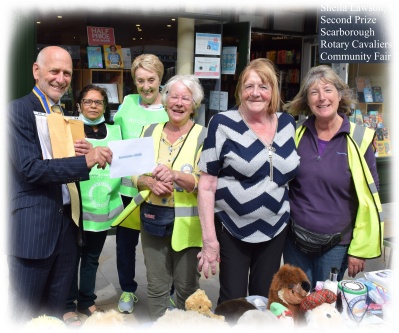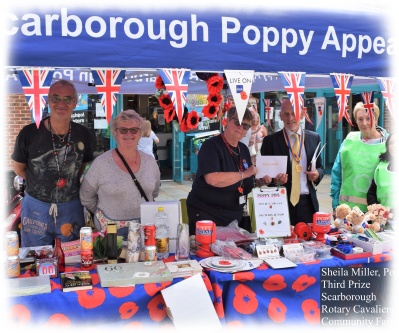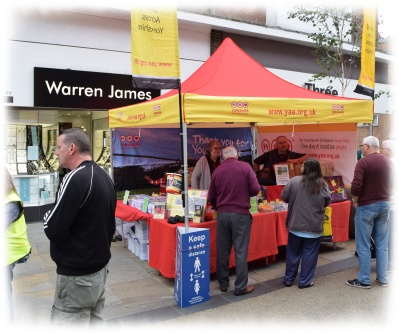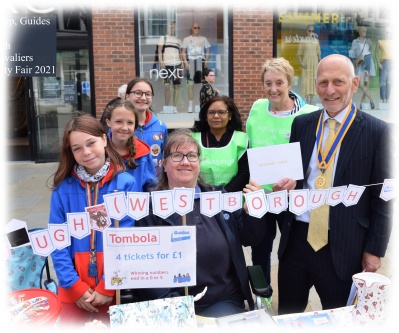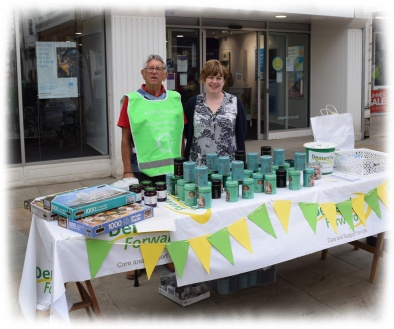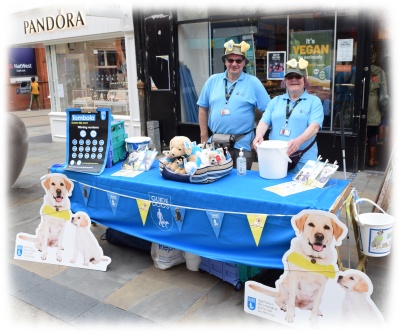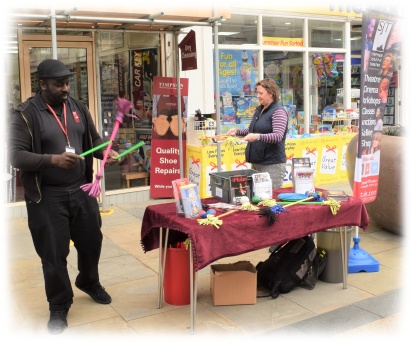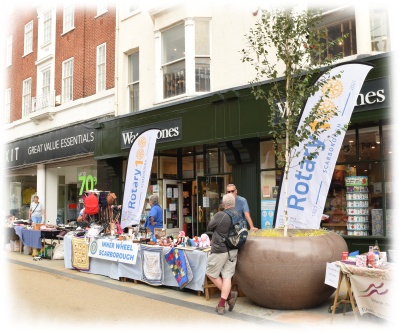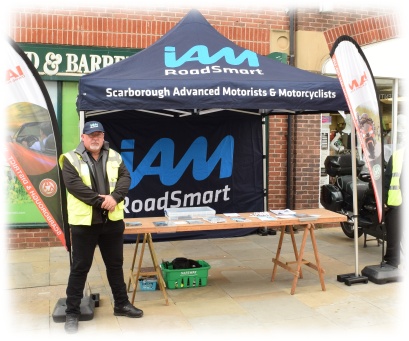 ==============================================================================
Seven areas of Rotary focus and support
On the second Wednesday in the month the Club is out and about visiting organisations in the area. On other Wednesdays we meet at the Downe Arms in an informal and welcoming atmosphere with good fun, fellowship and an evening meal.
Please follow our twitterings: (wip!)
Please look at our Facebook page and click the "LIKE" link :- Rotary Club of Scarborough Cavaliers
For a PDF introduction to our club, click: Scarborough Cavaliers - What do they do?