Featured pages
Welcome! The icons featured below link to pages about the Cavaliers areas of action. BELOW these & 'About us' are Links to Future Meetings & Recent Happenings
---
About us
CLICK to SEE: Future meetings programme RECENT HAPPENINGS: Reports of recent events (when available) follow:-
BBC TV Presenter extolls the virtues of from Field to Fork
BBC Countryfile presenter, Adam Henson delivered a talk on zoom to the club on November 25 on the importance of understanding where our food comes from.
Adam, who farms on the Cotswolds, is extremely passionate about farming and its role in the food chain. His father Joe took the tenancy of Cotswold Farm Park in 1962 when Adam was a small boy and from an early age he was hooked on food, farming and wildlife.
He is adamant that British farmers produce the best quality food in the world but is keen to make sure this message gets out to the general public, particularly children.
He would like to see a GCSE in agriculture introduced into the curriculum; so there is a greater understanding of food production amongst teenagers. Adam wants younger people to make informed choices of what they eat.
He highlighted what he called 'concrete children" that live in urban areas and are completely ignorant about the food chain and countryside life generally.
Education is vital and he quotes the old adage that "you are what you eat" and its impact on health and wellbeing.
Adam said his father who was a trailblazer and very innovative and entrepreneurial and told him to "give it a go" and try new things.
When he was growing up on the family farm with his 3 older sisters it was mainly about food production.
They are now paid by the Government to replace flower meadows and hedge rows, as the focus on farming is now not just about food.
He stressed that he wants people to be careful about what they eat and think about where their food comes from.
Buying locally is imperative and can really boost the local economy, as the money is recycled in the local area rather than supermarket takings which are mostly lost to the locality.
Adam finished off what was an extremely entertaining and information talk to 19 club members with a Q and A answering questions on topics such as global warming; Brexit; Covid-19; antibiotics; chemical usage as well as farming as a career.
MW
Image © Richard Cannon/Country Life Picture Library
Zooming into the Scarborough Scrubs Group
The club were entertained with a terrific presentation by the Scarborough area "For Love of Scrubs" group co-ordinators Charlotte Hill and Iona Calvert on the creation of the group at the zoom meeting held on October 28.
President Andrew opened the meeting by welcoming our special guest for the evening Councillor Mrs Hazel Lynskey, Mayor of the Borough of Scarborough, together with a number of the members of the scrubs group in the audience of 29 people, who had tuned into hear the talk.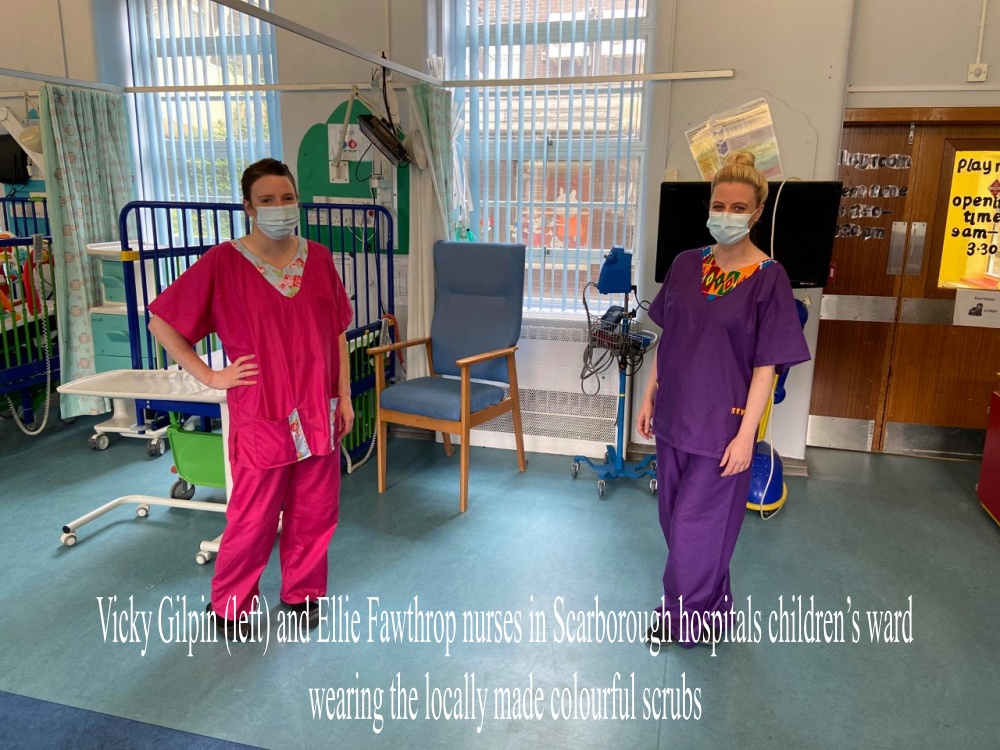 Charlotte began by explaining that the idea of establishing the scrubs group had been triggered by an A&E nurse in Boston Lincolnshire, Ashleigh Linsdell, who had a side-line in sewing and wanted to make scrubs for her department.
She had spotted that many hospital staff who would not usually wear scrubs were required to change into them several times a day to reduce the risk of spreading Covid-19.
To say that her idea soon spread is an understatement, as there now are about 70,000 scrubs makers across the country and 400 in the Scarborough area group alone, with 200 sewers at any one time.
Their Facebook group has over 500 members, with at least half of these sewing – some sewing up to 10 sets of scrubs a week.
To date she estimates that the group have made 3,500 sets of scrubs; 2,000 ear bags; 1,200 hats; 1,800 face masks and lots more wash bags.
More than half of the sets have gone to the town's hospital, with pink proving to be the most popular colour.
However, the group have proved scrubs across the Borough to local hospitals, district nurses, GP surgeries, care homes and Saint Catherines etc.
The most unique request came from monks in Muston, who requested 12 sets.
Lots of fabric was needed; so as well as donations of bedding from residents, they received help from local businesses, such as Scarborough Curtains, Morrisons and Prontaprint that helped with print to name but a few.
Interestingly, Noah Evans, the son of Chris Evans the TV presenter, raised over £122,000 by camping out for a month in his Surrey garden and almost a third of the Scarborough groups fabric came from Noah's fundraising efforts.
Charlotte then handed over to Iona who was responsible for the logistics of the group co-ordinating orders and ensuring that the finished article arrived at the right place at the right time.
It is fair to say that they task has taken over both co-ordinators lives working 18-hour days, 7 days a week for the past few months.
Tim Kirkup also played a huge role by acting as the group's press and PR guru but more importantly providing the laser machine that helped the group cut the material for the sewers.
Doreen Brook, one of the sewers, explained how being part of the group had helped her personally.
She had recently lost a loved one and the team ethos within the group had helped her through this difficult period of her life Doreen had made 122 sets of scrubs with lots of different colour combinations and had really enjoyed the experience.
Iona made the point that the colourful scrubs sets has helped to lift the spirts of staff and patients in the hospitals, especially in the children's wards.
They had provided face coverings to the wider community too and were charging £4 a mask but did not want to deny the disadvantaged in society; so simply asked people to pay what they could afford, they have so far raised £698 from 5 outlets across the Borough to go to their chosen charity.
Charlotte concluded by explaining that the group had more or less fulfilled their role as scrub makers and were looking for other things to do. In the future she is hoping to stage a big party for all group's member, as many have never met each other due to the Covid-19 pandemic.
The other idea is to hold an exhibition of images of the seamsters, one of which is Evie who is only 6 years old.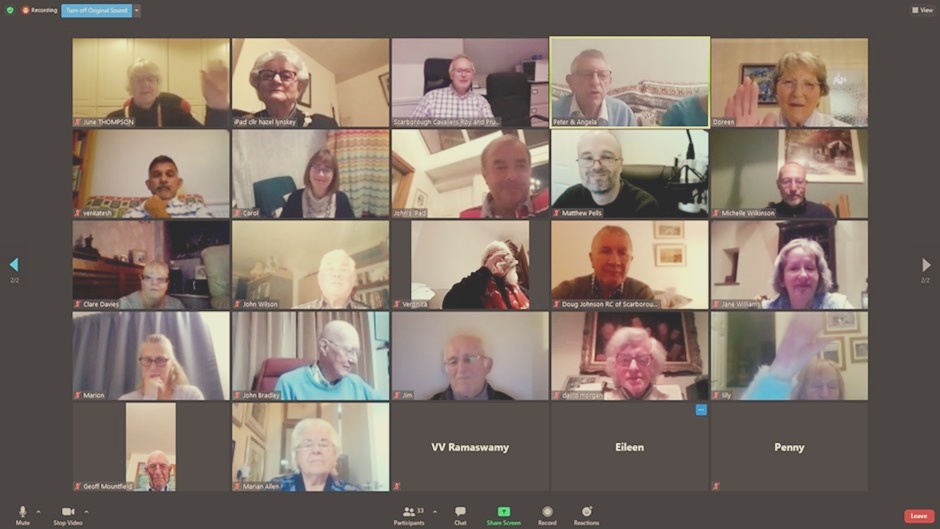 The mayor then thanked the group for their sterling efforts across the Scarborough area and announcing that the Group would be the recipient of one of 71 Borough Hero awards soon to be presented to people/groups who had performed outstanding community service during the pandemic.
Not only that but the Mayor admitted that the idea for these awards had in fact been inspired by the work of the Scrubs group, which she had been following since they first started their work.
Councillor David Jeffels, a North Yorkshire County Councillor, who was listening to the talk also offered to make a contribution of £300 from his ward community fund to the group.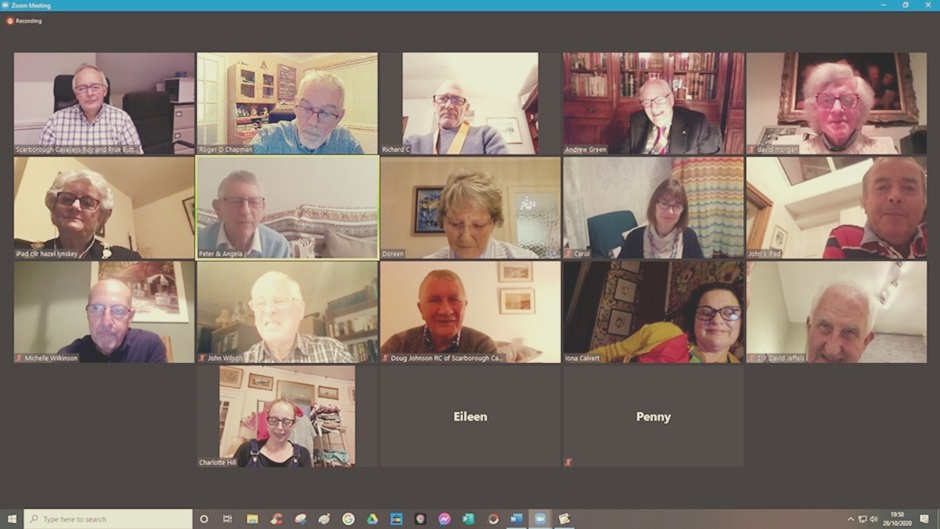 Bob Thompson then paid his own tribute to the group by highlighting the work of his own daughter, who was a nurse and had experience at first hand life on the wards during the pandemic during his vote of thanks on behalf of the club.
The club has acted as a material collection point, together with creating a Virgin Money Giving website to receive cash donations. In addition, a press release was issued by the club in June to help raise the profile of the group's work and encourage more fabric donation
Iona Calvert posted as folows on the Scrubs website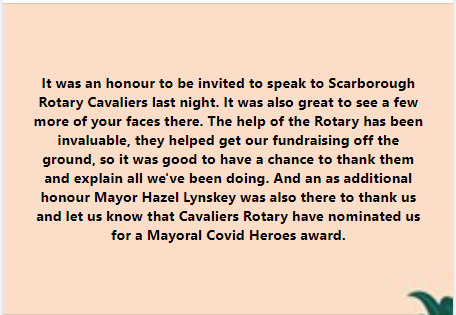 ---
Motor Neurone Disease presented by Jenn Dodd
23 September 2020
The presentation was via Zoom. To see the PDF of the excellent Power Point CLICK HERE
Jenn Dodd, the Regional Fundraiser for the Motor Neurone Disease Association, gave an excellent presentation on the work of the Association, beginning with particular reference to the current Covid 19 situation The lockdown and subsequent restrictions have presented challenges both in the ongoing support of approximately 5000 MND patients and in fund raising. Over £2million has been lost in fund raising so far this year compared with previous years, despite a host of creative ideas such as Run 21 (by 21st June) and mission 5000 (1 mile for every person with MND), both of which Jenn has herself engaged in
Jenn's explanation of the nature of MND and the various types was technical but clear even to those without her scientific background. She has the advantage of having spent some time working at Sheffield Institute of Translational Neuroscience, an important centre for research. The British MNDA works closely with research centres both here and internationally. In 2018 they hosted an International Symposium with 1300 attendees. Also important is their collaboration with other organisations such as Marie Curie and palliative care.
Certainly some progress is being made in finding treatment for MND. There has been a substantial increase in research papers worldwide. Gene therapy has proved a fruitful area of research, in particular in the treatment of children with a particular type of MND. Those interested can join the MNDA as a Cure Finder which, for a small fee, gives news of the latest developments.
Our thanks to Jenn for her very professional presentation - allbeit in isolation!
MND Association have a wealth of information for sufferers, carers & researchers - HERE
Our club meets weekly at the Downe Arms in an informal and welcoming atmosphere with good fun, fellowship and food
---
Please follow our twitterings: (wip!)
Please look at our Facebook page and click the "LIKE" link :- Rotary Club of Scarborough Cavaliers
For a PDF introduction to our club, click: Scarborough Cavaliers - What do they do?
Happening soon...
Meetings and events happening soon
Thu, Jan 21st 2021 7:00 pm
Council Meeting
---
Council members (& observers).
Wed, Jan 27th 2021 7:00 am
Business meeting - feedback from Council meeting of 21st Jan
---
Feedback from Council and discussion of future plans
Mon, Feb 1st 2021 7:00 pm
OPERATIONS COMMITTEE Zoom Meeting
---
Committee members meeting
Wed, Feb 10th 2021 7:00 pm
Zoom meeting with WAVE CROOKES
---
The Operations Director and Founder of "Seagrown", Scarborough's innovative aquaculture business, will give a presentation on the establishment and development of the company.
---
---
---
Rotary News
Be part of a global network of volunteers, trying to make the world a better place. Please also see the 'links & news' page for information from the local district and live feeds from Rotary International and Rotary International in GB&I.
Rotary serving communities through supporting foodbanks
---
Diversity is part of Rotary's core values
---
---
Meetings & Venue
Where and when:
We meet on Wednesdays at 1900
(
Visitors are welcome; please contact John Dudley on 01723 366 375 if you'd like to attend - or to come and speak to us.
)
Zoom and later The Downe Arms Country Inn
Main Road, Wykeham
Scarborough
The Downe Arms Country Inn Main Road, Wykeham, Scarborough YO139QB
YO13 9QB
01723 862471