Completed meetings and events 2019-2020
Wed 9th October 2019 Speaker Meeting at The Tempest Arms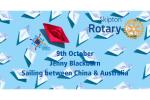 Jenny Blackburn - Sailing Between China & Australia
Wed 2nd October 2019 Speaker meeting at the Tempest.Arms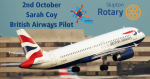 Sarah Coy - British Airways Pilot
Wed 25th September 2019 Speaker Meeting - Redevelopment of The Odeon Bradford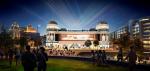 Sean Reynolds, The redevelopment of The Odeon, Bradford
Wed 18th September 2019 Fiona Protheroe - Friends of Aireville Park

The new Play Area is now open and has been very well received.
Wed 11th September 2019 Speaker meeting at the Tempest.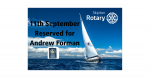 Ocean Youth Trust-Andrew Forman
Wed 4th September 2019 Speaker meeting at the Tempest.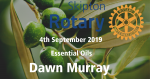 Dawn Murray
Essential Oils
Wed 28th August 2019 From Tardigrades to Broughton Hall...A Sick Life in Pharmaceuticals

David Newall - covers one of the greatest marketing opportunities ever missed..
Wed 21st August 2019 Speaker Meeting at The Tempest Arms

Our own 'Super Teacher', Brian Davies.
Wed 21st August 2019 - Mon 30th September 2019 New Member Month

If you are interested in membership of Skipton Rotary then please send us a message.
Wed 14th August 2019 The Reef Doctor

Roderick Stein-Rostaing The Madagascar Reef Doctor on Marine Conservation
Wed 31st July 2019 Speaker meeting at the Tempest.

Speaker Meeting
The Tempest Arms
Wed 24th July 2019 Salmon in the Aire - Simon Watts

Developing the Trust's DNAire bid to return "salmon to Skipton" and connect communities to the River Aire. Always keen to talk to people about the river and our project.
Wed 17th July 2019 Yorkshire Cancer Research - Andy Wilson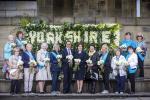 Every week in Yorkshire, 583 people are diagnosed with cancer. People are also more likely to get cancer and more likely to die from it than most other counties in England. We want to change this.
Wed 10th July 2019 Workplace

Workplace by Facebook. Easy to use Private web site designed to improve Communication within Skipton Rotary.
Wed 3rd July 2019 RNIB Speaker

Talking Books - Max Whiteley
future
calendar
district events
local events