Future Meetings and Events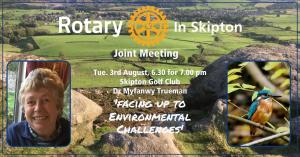 Tue, Aug 3rd 2021 at 6:30 pm - 9:30 pm
Joint Meeting
Our meeting next week will be a Joint meeting with Skipton Craven Rotary. It will be at Skipton Golf Club on Tuesday 3rd August at 6.30 for 7.00 pm. There will be a talk from Dr Mefanwy Trueman on Facing Up To Environmental Challenges.
Wed, Aug 11th 2021 at 6:00 pm - 9:00 pm
Club BBQ at Coniston Hotel
Burger in a bun overlooking the lake.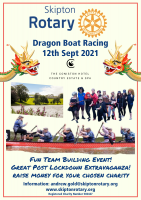 Sun, Sep 12th 2021 at 9:00 am - 5:00 pm
Dragon Boat Racing
Great Team Building Event at The Coniston Hotel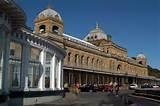 Fri, Oct 8th 2021 at 2:00 pm - Sun, Oct 10th 2021 - 12:00 pm
District Conference
Come along and join in the fun and fellowship probably via Zoom.
Fri, Oct 15th 2021 at 7:00 pm - 10:00 pm
City of Bradford Brass Band in concert
Concert in Skipton Town Hall. Tickets go on sale in September 2021