Completed meetings and events 2021-2022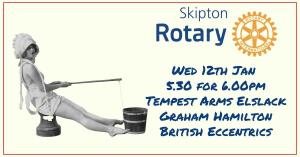 Wed 12th January 2022 Club weekly meeting
Our Meeting on Wednesday 12th January at 5.30 for 6.00 pm will be at The Tempest Arms Elslack. Our guest speaker will be Graham Hamilton : British Eccentrics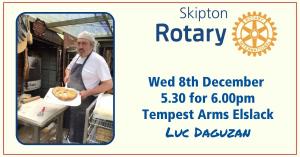 Wed 8th December 2021 Club weekly meeting
Luc Daguzan - former Le Bistro des Amis owner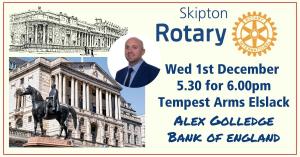 Wed 1st December 2021 Speaker Meeting
Bank of England Speaker
Alex Golledge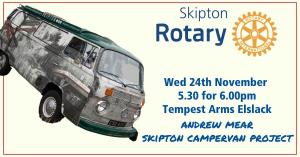 Wed 24th November 2021 Club weekly meeting
Andrew Mear - Skipton Camper Van project
Wed 17th November 2021 Club weekly meeting - outside visit to Burnley
9 to 5 the Musical - Burnley Mech. Inst.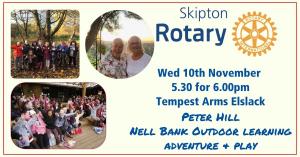 Wed 10th November 2021 Club weekly meeting
Peter Hill - Nell Bank Outdoor Learning Adventure and Play
https://www.nellbank.org/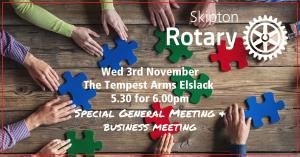 Wed 3rd November 2021 Club weekly meeting
SGM & Business Meeting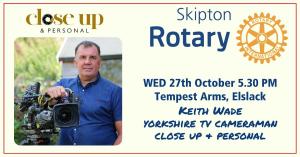 Wed 27th October 2021 Speaker Meeting
Our Meeting on Wednesday 27th October at 5.30 for 6.00 pm will be at The Tempest Arms Elslack. Our guest speaker will be Keith Wade.
Discover how to create your very own time capsule with Close Up And Personal - Keith's new venture with his wife, Claire.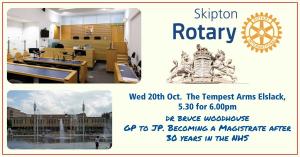 Wed 20th October 2021 Club weekly meeting
Dr Bruce Woodhouse - From GP to JP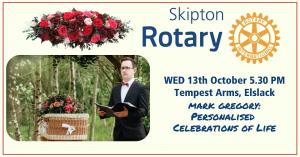 Wed 13th October 2021 Club weekly meeting
Mark Gregory - Lay celebrants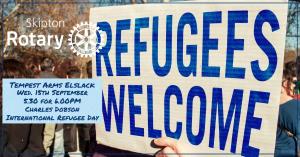 Wed 15th September 2021 Speaker Meeting
Our Meeting this week on Wednesday 15th September at 5.30 for 6.00 pm will be at The Tempest Arms Elslack. Our speaker will be Charles Dobson on 'International Refugee Day'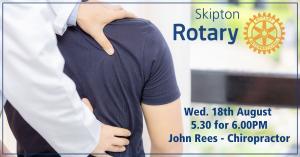 Wed 18th August 2021 Speaker Meeting on Zoom
Our Meeting this week on Wednesday 18th August at 5.30 for 6.00 pm will be at The Tempest Arms Elslack. Our speaker will be John Rees
DOCTOR OF CHIROPRACTIC: ILKLEY CHIROPRACTIC CLINIC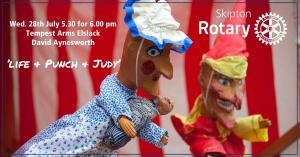 Wed 28th July 2021 Speaker Meeting
David Aynesworth
Life and Punch & Judy
At The Tempest Arms, Elslack
calendar
district events
local events