Completed meetings and events 2017-2018
Thu 7th June 2018 Council Meeting
Mon 7th May 2018 No Club Meeting
Wed 2nd May 2018 Wokingham Theatre Evening
TBA
Mon 30th April 2018 Club Meeting (Partners Evening)
'Ideas for Spring' Alan Goold Aborfield Garden Centre
Mon 23rd April 2018 Club Meeting
Personal Profile - Alan Essam
Fri 20th April 2018 - Sun 22nd April 2018 ERC Away Week-End, Worcester
Members away week-end
Mon 16th April 2018 Club Meeting
Stewart Ashton will be speaking about the work of the Bracknell Citizens Advice Bureau
Mon 9th April 2018 Club Meeting
Club Annual General Meeting and Business and Communication Meeting
Thu 5th April 2018 Council Meeting
Mon 2nd April 2018 No Club Meeting
Mon 26th March 2018 Club Meeting
HOST is an organisation that arranges for overseas students to spend a few days with a family in order to learn more about life in the UK.
Mon 19th March 2018 Club Meeting
It is 500 years since the Reformation and Rev John Edwards will explain its impact.
Sat 10th March 2018 Tree Planting at Savernake
ERC members will be planting trees at Savernake Park, Winkfield Row, Bracknell.
Thu 8th March 2018 Council Meeting
Sat 3rd March 2018 End Polio Now Collection
ERC member will be collecting at Waitrose Wokingham
Fri 2nd March 2018 Litter Pick at Lily Hill Park
ERC Rotary Members will be litter picking at Lily Hill Park in Bracknell RG12 2SJ - North Car Park
Tue 13th February 2018 The 5 Clubs Dinner @ Easthampstead Park
Crowthorne & Sandhurst Rotary Club
Mon 29th January 2018 Weekly Club Dinner
Partners Evening
Mon 22nd January 2018 Weekly Club Dinner
Personal Profile - John Binney
Mon 15th January 2018 Weekly Club Dinner
Business & Communications meeting
Thu 11th January 2018 Council Meeting
Mon 8th January 2018 Weekly Club Dinner
Speaker Kate Moss, The history of trees of Lily Hill Park
Mon 30th October 2017 Rotary Open Evening
Come and meet your local Rotary club find out about about the work we do supporting the community.
read more...
Sat 21st October 2017 Autumn Fair & Fashion Show @ Garth Hill College
A range of craft and clothing stalls. A fashion show will be held to show a range of clothing from ?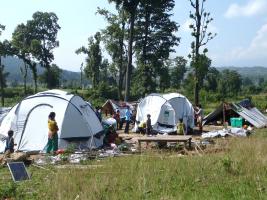 Sat 30th September 2017 Meet Shelterbox and Rotary
The Easthampstead Rotary Club, work in partnership with Fraser's Budgens @ Three Mile Cross, will be showing how Shelterbox provides emergency shelters and tools for families robbed of their homes by disaster and how we transform despair into hope.
read more...
calendar
district events
local events