Future meetings and events
Wed 11th March 2020 at 19.00 - 23.00 5-Clubs Dinner
Annual get together with other local RCs
Fri 13th March 2020 at 16.00 - Sun 15th March 2020 - 13.00 District 1090 Conference

Annual Conference at Newbury Racecourse
Wed 18th March 2020 at 19.45 - 22.00 A Charity Performance of Anne Boleyn

Hosted by Easthampstead Rotary Club and Wokingham Theatre, all proceeds go to our Easthampstead Rotary nominated charities.
Fri 24th April 2020 at 14.00 - Sun 26th April 2020 - 16.00 Away Weekend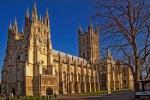 A stay at the Abbots Barton Hotel
Wed 29th April 2020 at 08.00 - 21.30 Rotary Open Golf Tournament

This year, our club charity golf tournament at Bearwood Lakes is in aid of the new Thames Hospice
Sun 3rd May 2020 at 10.00 - 12.30 Red Diamonds Sports Day
Red Diamond supports people and families living with disabilities in Bracknell & Wokingham.
Fri 8th May 2020 at 10.00 - 17.00 Wokingham May Fayre
Easthampstead Rotary Club will have a stall at the fair and we'll be looking to raise even more than the £450 raised last year for good causes
Fri 15th May 2020 at 08.00 - 19.00 Windsor Horse Show Endurance Event
The Endurance event sees competitors ride a set course around 120km of beautiful countryside taking in parts of Windsor Great Park and Ascot Racecourse. It is a test of skill and stamina for both horse and rider.
Sat 16th May 2020 at 19.00 - 21.00 The Caerphilly Male Voice Choir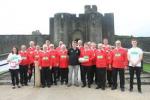 A charity concert at Holme Grange School, Wokingham RG40 3AL
Sun 24th May 2020 at 09.00 - 14.00 Bracknell Together Walk
Bracknell Together Walk is a community-based charity fun walk, with two route options, for people of all ages and abilities, starting and finishing at the iconic South Hill Park mansion at Ringmead, Bracknell.