Future meetings and events
Thu 24th December 2020 at 11.55 - Sun 29th August 2021 - 13.55 Rotary's 7th Area of Focus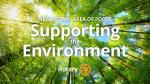 Supporting The Environment has been added to Rotary's area's of focus
Thu 4th March 2021 at 19.30 - 21.30 Foundation Evening

Foundation Evening with Terry Dean
Thu 11th March 2021 at 19.30 - 21.30 Tales of a Tour Manager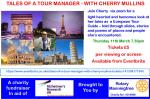 CAN'T GET AWAY ON HOLIDAY THEN HERES THE NEXT BEST THING.
The light hearted and humorous tales from European Tour Guide Cherry Mullins
Thu 18th March 2021 at 19.30 - 21.30 Holly Noon speaking about Alzhiemers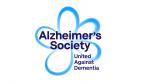 Speaker evening with Holly Noon on Alzheimer's
Thu 25th March 2021 at 19.30 - 21.30 Speaker evening TBA
Speaker Evening TBA
Sat 18th September 2021 at 19.00 - 21.00 Preposterous Stories
An evening of preposterous stories Produced and Written by Roger Stevenson. Come along for an evening of fun and laughter.