Future meetings and events
Tue 7th July 2020 at 20.15 - 22.15 Club Zoom Meeting
Karen Fewster will be giving a talk about Christian Aid
Tue 21st July 2020 at 20.15 - 22.15 Club Zoom Meeting
Roy Waight - Farnham Castle and its Religious Visitors
Sun 13th September 2020 at 09.30 - 16.00 Farnham Pilgrim Marathon

One of the most popular and scenic marathons in the area.
Sat 1st May 2021 at 12.00 - 16.00 Farnham Duck Race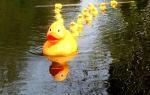 Farnham's popular Duck Race returns again, this time better than ever. With everything to keep families entertained from bouncy slides to children's entertainment. But the most exciting part is the series of Duck Races.
Sun 6th June 2021 at 10.00 - 16.00 Fesitval of Transport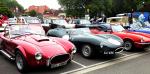 A must for all car lovers, and a great day out for all the family