Future meetings and events
Tue 2nd February 2021 at 19.30 - 21.30 Club Meeting on Zoom
Our speaker is the Mayor of Farnham, Pat Evans
Tue 2nd March 2021 at 19.30 - 21.30 Club Meeting on Zoom
Club AGM and Progress and Review Meeting
Sat 1st May 2021 at 12.00 - 16.00 Farnham Duck Race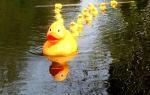 Farnham's popular Duck Race returns again, this time better than ever. With everything to keep families entertained from bouncy slides to children's entertainment. But the most exciting part is the series of Duck Races.
Sun 6th June 2021 at 10.00 - 16.00 Fesitval of Transport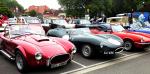 A must for all car lovers, and a great day out for all the family
Sun 12th September 2021 at 09.00 - 17.00 2021 Farnham Pilgrim Marathon

One of the most scenic, yet challenging events in the Marathon Calendar.
Here are some photos from the 2020 event run with Covid-19 precautions in place