Future meetings and events
Wed 23rd October 2019 High Wycombe's part in aircraft production
Speaker: David Scott - Author 'High Wycombe's Contribution to Aviation'
Wed 30th October 2019 at 19.30 - 22.00 Skittles
An evening of nine-pin skittles at Flackwell Heath Bowling Club.
Partners are welcome. Please book in on the tick-list by 16th October latest.
Tue 5th November 2019 Council Meeting
Wed 6th November 2019 Business Meeting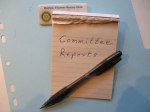 Wed 13th November 2019 Bekonscot Model Village
Speaker: Brian Newman-Smith
Fri 15th November 2019 Children in Need Collection

at Heathrow Airport
Sat 16th November 2019 Santa Fun Run Packing Day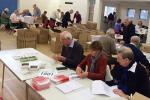 Members - Your help is needed
Sun 1st December 2019 at 08.30 - 11.30 Santa's Fun Run
Our annual major fund-raising event in Marlow
Fri 13th March 2020 - Sun 15th March 2020 District Conference
This year the District 1090 Conference will be held at Newbury Racecourse.
Wed 29th February 2040 - 02.00 Leap Day Celebration

The next occasion when Leap Day will occur on a Club Night