Future meetings and events
Wed 5th August 2020 - 01.00 NEXT MEETING - Business Meeting

Join the video conference from 7.30pm for an 8.00pm start. For details on how to join our meeting please log in to the Members Area. Alternatively contact Mike Cannon. Non-members please select the 'Contact' tab.
Sat 8th August 2020 Kid's Day Out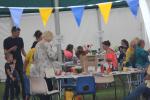 CANCELLED
Sat 8th August 2020 at 17.00 - 21.30 Progressive Picnic
Members will visit each others gardens taking their own food and obeying social distancing rules after which they will all join together at Higginson Park.
Wed 12th August 2020 - 01.00 My Life in the BBC
Speaker: Trevor Parkins who will relate some of his experiences while providing production facilities for BBC Television
Wed 19th August 2020 - 01.00 Interview with Patrick Lunt, voice-over artist

​Interview with Patrick Lunt, a voice-over artist
Sat 5th September 2020 Cookham 'Fun' Regatta
Unfortunately this event has been cancelled - Please visit the Cookham Regatta web site for details
Fri 13th November 2020 Children in Need Collection
Sun 6th December 2020 Santa's Fun Run
SFR 2020 - a "Virtually Real" event - RUN SAFE, RUN FOR CHARITY
Wed 29th February 2040 Leap Day Celebration

The next occasion when Leap Day will occur on a Club Night