Future meetings and events
Wed 28th April 2021 at 19.30 - 21.30 Members Meeting by Zoom every Weds
Weekly Zoom meetings start at 7:30pm and last about an hour.
The date displayed is for our next "with partners" meeting but normal club meetings are taking place every Weds at same time.
Sun 27th June 2021 at 09.00 - 16.00 Car Show at Thatcham Fun Day Sun 27th Jun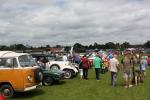 Sunday Jun 27th. A Display of Classic or Special Cars for All to Enjoy. Car sign up is available now (see below).
Sun 5th September 2021 at 10.45 - 13.00 Duck Race Sunday 5th Sep
Watch and cheer on your duck at our Duck Race, Sunday 5th Sep on the canal by the Rowbarge Inn Woolhampton.
Sun 5th December 2021 at 09.00 - 14.00 Santa Fun Run Sunday 5th Dec
SANTA FUN RUN more info to follow nearer the date event. Hopefully back to normal this year