About Thatcham and District Rotary
We support Local, National, and International charities, by involving ourselves in fundraising projects, and other not-for-profit organisations whilst having fun and making new friends.
The purpose of our website is to introduce ourselves as to who we are, what we do, and provide information on our forthcoming events.
We hope you find it informative and will encourage you to support our various events.
If you like what you see, and what we do, (view our Flyer) you may be interested in helping, or even joining us? If so and would like more information, please use the contact link at the bottom of the page.
Polio Day 24th Oct
Did you know it was Polio Day on 24th Oct?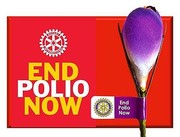 On 24th Oct, Rotary was part of a pledge at the World Health Summit in Berlin. Governments, NGOs and donors committed $2.6 billion worth of funding towards polio eradication efforts.That funding, which includes $150 million from Rotary, will protect 370 million children per year over the next five years in over 50 countries.
Since 1985 Rotary has spearheaded the campaign to eliminate Polio at a time when there were 1000 cases a day in 125 countries. Today the cases are down by 99.9%. Click on the Link to find out more about the work being done to eliminate this horrible disease.
Pakistan Floods
Severe monsoon flooding in Pakistan has left thousands of people with nowhere to live. The distaster has affected more than 33 million people.
The sheer scale of flooding is disastrous - peoples homes have sunk in flood water or been swept away. Around 1 million houses have been damaged or destroyed, leaving behind millions in need of urgent shelter.
To help the relief being given we have donated £600 to Shelterbox. If you would like to know more about Shelterbox work in Pakistan or perhaps make a donation please visit their website .
Results and Photos of the: -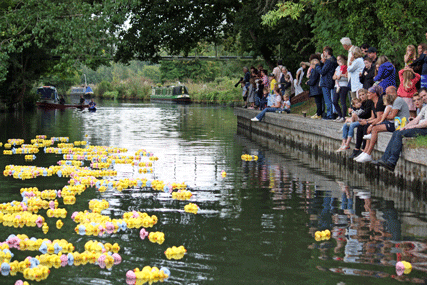 Thatcham Duck Race visit our Duck Race event page.
Young People and Children First is a Thatcham based charity giving homes to young people leaving care or homeless. (click link for more details of what they do). President Stephen Walker, made a visit and presented a cheque for £3,100 made possible by our fund raising efforts last year.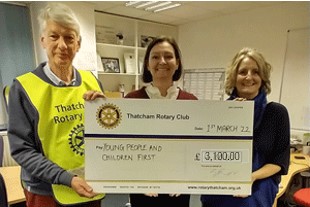 Visit our Support to Charities page to discover the charities we have supported over the last year. and visit our Future Events to see what is planned this year.
Thatcham Car Show - 2022
What a great day and great turnout for this years car show with a great variety of vehicles, Cars, Motorcycles, Lorries, Tractors, we had them all.
We ran our normal "Best at Show" Competition. The judging criteria used for selection differ from year to year, and this year was "Time Machine". In other words, were any of these vehicles to be transported back in time, they would have looked exactly right for the period.

Best and Reserve Best in the judges opinion went a bit further presenting a whole "period" tableau and the effort involved in each deserving of special recognition.
Best In Show: -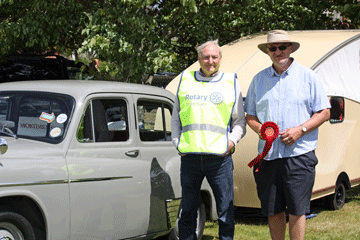 1952 Hillman Minx and Wessex Craftsman Caravan / Mr Dale Scutter from Tadley
Best Reserve: -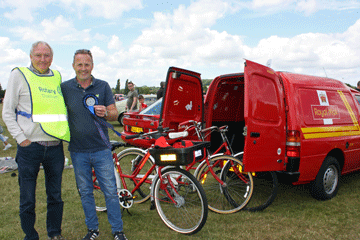 2000 Ford Escort van (Ex Royal Mail) / Mr Dave Saunders from Bracknell
View this years show photos, including other cars commended, click on LINK ; hope you like them, we think we got them all!!
It was good to see so many enjoyng the event - Thank You for Your Support
WHATS COMING UP?
Our next Family Fun Event is the Thatcham Santa Fun Run (Link to Photos); thank you to all who entered and those who came to support on the day last year and we hope to see you again this year. (Its the 4th Dec and same weekend as Thatcham lights switch on)
Sign up now open - click here for details of event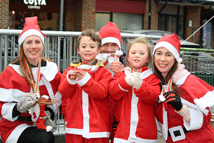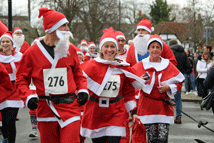 WE THANK YOU FOR YOUR CONTINUED SUPPORT.
HELP WANTED - If you like what we do, we are always looking for help, perhaps you would like to assist as a Friend of Rotary (or even join us), if you are interested and would like more information, please use the contact link at the bottom of the page.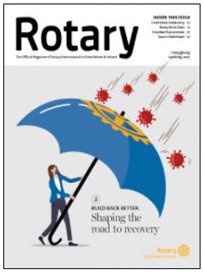 A Magazine is produced every 2 months.
Click on image to access content and view all the previous editions.
STAY SAFE AND WELL