We hope you like the look of our new website its still being tweaked but believe it is sufficiently reliable that our existing site will be "switched off" at the end of the month. WE THANK YOU FOR YOUR CONTINUED SUPPORT.
We support Local, National, and International charities, by involving ourselves in fundraising projects, and other not-for-profit organisations whilst having fun and making new friends. The purpose of our website is to introduce ourselves as to who we are, what we do, and provide information on our forthcoming events.
We hope you find it informative and will encourage you to support our various events.
Did you visit the Thatcham Rotary Car Show? Photos of the event are available form this Link. We hope you enjoyed the show and the photos.
Visit our Support to Charities page to discover the charities we have supported over the last year and visit our Future Events to see what is planned this year. (COVID permitting).
Have you noticed the Purple Crocuses in parts of Thatcham?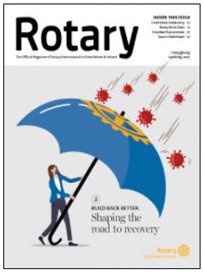 A Magazine is produced every 2 months click on image to access content.
STAY SAFE AND WELL