We support Local, National, and International charities, by involving ourselves in fundraising projects, and other not-for-profit organisations whilst having fun and making new friends.
The purpose of our website is to introduce ourselves as to who we are, what we do, and provide information on our forthcoming events.
We hope you find it informative and will encourage you to support our various events.
If you like what you see, and what we do, you may be interested in joining us? If so and would like more information, please use the contact link at the bottom of the page.
HAPPY NEW YEAR - A TIME TO REFLECT?
It's the time of the year to look forward, but after the restrictions of last year perhaps we should also look back and reflect on what we were able to achieve?
Well, it was a mixed year, some of our members and their partners continued to volunteer at vacination centres, and it was also a year when members were again able to become actively involved in supporting and hosting community events. Although not quite back to normal it was a great improvement on the previous year.
During the time of restrictions members continued to make monthly charitable donations up until we were able to restart our traditional fund raising events. This enabled us to continue supporting local good causes.
The full list of our charity support can be found here and includes the more recent donations to: -
Please use the links to visit their websites for more information on their activities.
Our support year started with the Thatcham Rotary Car Show (Link to photos) which we organised and ran as part of the Thatcham Town Councils Fun Day. The event was very well supported and enjoyed by so many, it was great to see after many months of restrictions.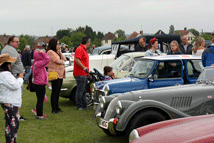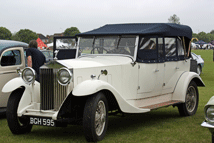 Our next event was The Great Thatcham Duck Race (Link to Photos) held on the stretch of river by the Rowebarge Inn at Woolhampton. Thank you to all who purchased tickets and to those that came and supported the event, it was good to see so many, not just supporting the event and helping us raise money for charity, but also seeing people being happy and enjoying sitting outside with their family and friends in good weather.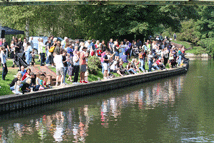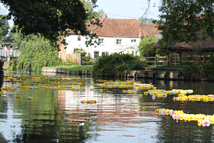 Thatcham Town Council held their Thatcham Festival Event on 9th-17th Oct, kicking off with the Big Thatcham Fest-Off in the High Street where members assisted acting as marshals for the road closures.
In 2020 we managed to run the Inter-School "Youth Speaks" Competition remotely, which was good to do, but last year with COVID safety measures in place we managed to run the competition (not quite as normal) at the Arlington Art Centre. Well done all the teams. (See report elsewhere on this page)
December is a busy but fun time of the year, and this year was no exception. We guess its inevitable for all the activities to kick off at the same time!!
Firstly, was the Thatcham Town Councils "Christmas Light Switch On" event, when once again members assisted with marshalling the road closures. Two members wives also had a stall selling jewellery and chistmas items for charity on the night and at market days leading up to Christmas.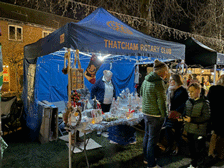 On the same day we received the Over 80's Christmas Food Parcels for distribution by Rotary Members and other organisations in and around Thatcham.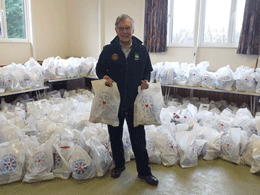 Finally, Rotary's Thatcham Santa Fun Run (Link to Photos); once again, thank you to all who entered and those who came to support on the day. With additional safety measurers in place, it was slightly different than past events but all who came seemed to appreciate being able to return to some kind of normality. Our thanks to McCarthy and Stone for their sponsorship and to our friends at Kennet Radio for providing the pre-start entertainment and the commentary of runners as they approached the finish line. (It was a great ad-hoc touch!)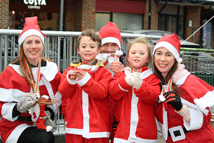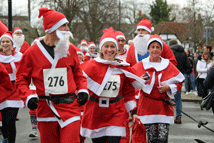 Whilst the above mentions the visible things we do, we also have members involved in the running of the Rotary's Thames Valley District, as District Secretary, and District Youth Services Officer who organises Youth Services and Activities (Click the links to find out more)
It is good to reflect but watch out for this years Thatcham Rotary community activities, particularly the Car Show, Duck Race, and Santa Fun Run.
WE THANK YOU FOR YOUR CONTINUED SUPPORT.
If you like what what we do, we are always looking for help, perhaps you would like to assist as a Friend of Rotary (or even join us), if you are interested and would like more information, please use the contact link at the bottom of the page.
BACK TO OTHER NEWS
THE SANTA RUN CAME BACK - THANK YOU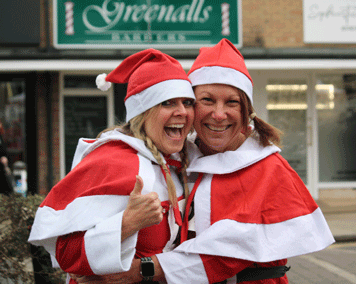 An event that included families (and in some cases their dogs) to enjoy.
What a great event and considering the circumstances a great turnout. You may have noticed we took lots of photos which are available for view here.
A BIG thank you to all the runners and those who turned out to give support.
Our thanks to Kennet Radio who did a great job of entertaining us with their music and giving a commentary of the runners coming to the finishing line.

Thanks also to Waitrose for supplying the bottled water for runners.
Finally another BIG thanks to: -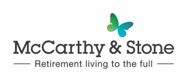 McCarthy & Stone this years sponsors
Did you visit the Thatcham Rotary Car Show? Photos of the event are available form this Link. We hope you enjoyed the show and the photos.
Thatcham Rotaract Club are having a sponsored relay, click here for more details and how you can give your support in their fund raising for the Mental Health Charity Mind.
YOUTH SPEAKS 2021 - "Back in the real world"

Kennet School and Mary Hare school took part face-2-face (but well socially distanced) in this year's Rotary Youth Speaks public speaking competition. After last year's Zoom based competition everyone was very happy to visit the Arlington Arts Centre once more – no-one more so than the judges Sarah Lyon, Andy Jones from Radio Berkshire and Andrew Wilson from the sponsors Horsey Lightly solicitors.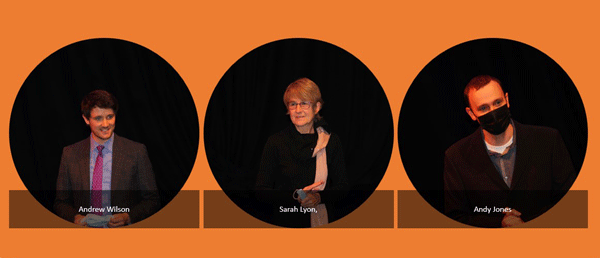 Organised by Thatcham Rotary, the topics debated a range from the Veganism to Human Rights and to Social Media. The joy of meeting in person seemed to fill all competitors with extra enthusiasm. The winners were Kennet School in the Intermediate Section and Mary Hare School in the Seniors.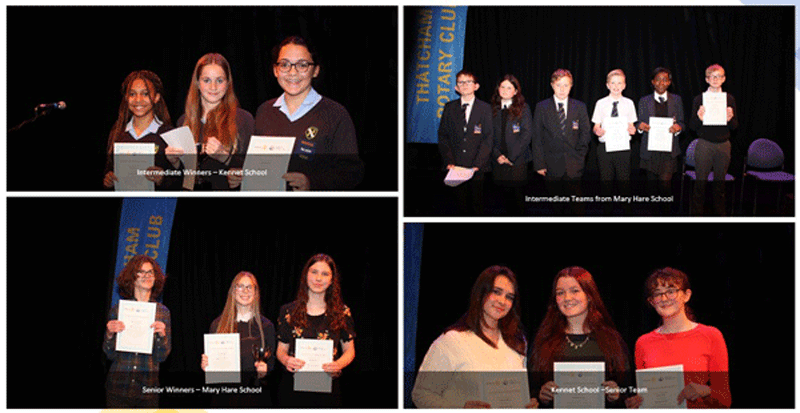 Visit our Support to Charities page to discover the charities we have supported over the last year. and visit our Future Events to see what is planned this year. (COVID permitting).
Did you know that Sunday 24th Oct was World Polio Day recognising the progress Rotary Clubs throughout the world have made in their fight to end polio for good. They have used their collective strength to defeat this devastating disease in almost all parts of the world. In the first 9 months of 2021 only two cases of wild polio have been reported, one each in Afghanistan and Pakistan. You may have you noticed the Purple Crocuses in parts of Thatcham planted by us in recent years to raise awareness. More than ever we need to remain committed to polio eradication and continue to raise funds and awareness to fulfil the promise of a polio free world. If you would like to donate please use this link.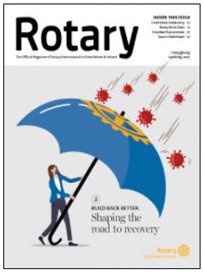 A Magazine is produced every 2 months.
Click on image to access content and view all the previous editions.
STAY SAFE AND WELL