Future meetings and events
Mon 21st October 2019 at 17.45 - 20.00 Club member Ed Spurway cycles Lands' End to John O'Groats

A 1,000 mile scenic route over 14 days averaging 70 miles a day, climbing nearly 70,000 feet, and using B&B's, youth hostels and home in Gloucester. The "LEJOG" end to end ride is one of the iconic cycling challenges on the planet.
Mon 21st October 2019 at 20.00 - Mon 28th October 2019 - 23.00 The tower of Gloucester Cathedral will be lit purple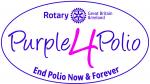 The tower of Gloucester Cathedral will be lit purple in support of Rotary's project to rid the world of polio. Started in 1985, this initiative has reduced the number of endemic countries from 125 to 3 and polio cases from over 1000 a day to 22 in a year
Mon 28th October 2019 at 17.45 - 20.00 John Simonett talking about Rugby then and now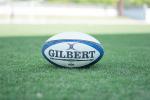 An ex Gloucester No 8 trained as a PE teacher, also has 1st Class Honours degree in psychology, a rare qualification for a Gloucester player! Another rare achievement of John's is that he captained Scotland to victory over England, albeit at U19 level!
Mon 4th November 2019 at 17.45 - 20.00 Ria Heap, James Hopkins Trust

Following member Liz Newey's visits to James Hopkins Trust, Liz asked Ria, Community Events and Volunteer Manager, to talk to us about how we might support the work of the trust. This is a trust we have supported for some time in various ways.
Wed 29th January 2020 at 19.00 - 22.30 SIX Musical - Divorced. Beheaded. LIVE!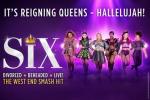 From Tudor queens to pop princesses, the six wives of Henry VIII finally take to the mic to tell their tales, remixing five hundred years of historical heartbreak into an 80-minute celebration of 21st century girl power